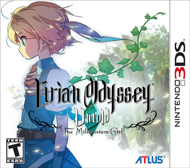 System: 3DS
Dev: Atlus
Pub: Atlus
Release: October 1, 2013
Players: 1
Screen Resolution: N/A
Fantasy Violence, Mild Language, Mild Suggestive Themes, Tobacco Reference, Use of Alcohol
Etrian Odyssey purists might suggest that these convenience-features make the game a bit too easy, and it's true that they make its Picnic Mode fairly irrelevant. While it was nice for reducing the amount of grind needed in Etrian Odyssey IV, Picnic Mode makes things too much of a breeze when combined with guild-keeper droughts and the ability to give powerful abilities to all characters using Grimoire Stones. Complete newbies to dungeon crawling might want to stick with Picnic Mode, but everyone else should be fine starting at normal difficulty.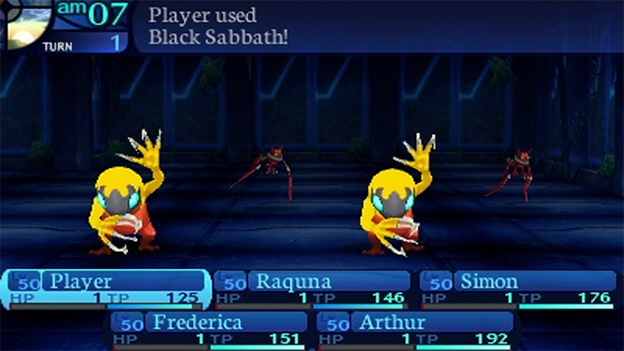 This time around, the Etrian team has really gotten a handle on enhancing its grid-based labyrinths with 3D. While the labyrinth textures in Etrian Odyssey IV are a bit fuzzy and can be almost dizzying with 3D turned on, Millennium Girl's wall textures are sharper. Instead of attempting to make the wall textures themselves look three-dimensional, a pop-up book approach has been used, with logs, branches, and other items sticking out from the walls. This not only looks great, but also it creates a more consistent visual style between the environments, monster models, and character portraits. While some monster models have been recycled from the previous game, newer models are a bit more detailed, and some of the FOE models (especially some of the optional "challenge" bosses) look quite impressive.
The original game's music returns largely intact, which isn't a bad thing at all. The original Etrian Odyssey has a lovely soundtrack, the only problem with it is that the game's combat theme can become repetitive after a while. I mentioned earlier that voice clips have been used well to enhance gameplay as well as story, and the vocal performances themselves are perfectly competent. The only issue is the Canadian-themed Raquna, the party's defensive knight (and heavy-drinking, maple-syrup ice cream-swilling) character who sometimes sounds like she's been hitting the BC bud.
Etrian Odyssey: Millennium Girl serves as an excellent example of how to refresh an old game and introduce it to a new audience. It keeps the basics that give the Etrian Odyssey series its identity, adds in the many improvements that have appeared in that series over its four entries, and provides new content, such as the redone labyrinth and Story Mode, to make the game feel fresh and new even to gamers who played the original. It's an even better introduction to the series than Etrian Odyssey IV, and fans who have been enjoying the Odyssey since the first game will find plenty to enjoy in its remake, too.
By
Becky Cunningham
Contributing Writer
Date: October 1, 2103
Game Features:


Etrian Odyssey Untold: The Millennium Girl offers two full-length experiences. The expanded Story Mode takes players on a journey to unravel the mystery of the Yggdrasil Tree's origins, and the Classic mode updates the original Etrian Odyssey. Both versions feature the same gameplay conveniences, updated 3D graphics, and StreetPass abilities as in Etrian Odyssey IV.

The biggest addition to Etrian Odyssey Untold: The Millennium Girl is Story Mode--a first for the series. Story Mode gives players five pre-made characters, each with their own personalities and dialogue to explore a side of Etria not seen in the first game. Adventurers must brave new dungeon layouts, floors, and enemies to find out the truth behind the Yggdrasil Tree and uncover amnesiac Gunner Frederica's secrets.

The animation studio MADHOUSE provides the opening animation and cutscenes, making Yuji Hinata's artwork look even more vibrant and attractive. Yuzo Koshiro will be returning to create the atmospheric music scores to dramatize the story as it unfolds.

A new Grimoire Stone system is added to the battle system, which allow players to utilize not only their allies' skills, but their enemies' skills as well. Also, all the nostalgic monsters and dungeons that were seen in the original Etrian Odyssey game have been revamped in 3D!