If there is one thing to take away from an event like the PlayStation Experience, it is that this is completely and utterly focused on meeting the fans' wants and needs. As I roamed the halls of the Anaheim Convention Center, I kept seeing things that were there because they would make people's dreams come true. From the opening ceremony and Capcom Cup to the often lavish booths and merchandise opportunities, the PlayStation Experience 2017, each moment was meant to inspire joy in the people attending. And, from what I saw on people's faces, it seemed to succeed.
Things kicked off with the PlayStation Presents arena event. Rather than a barrage of announcements and trailers, as there was at E3 2017 or the 2017 Paris Games Week, the PlayStation Experience 2017 offered a more relaxed approach. Sony's Shawn Layden and Sid Shuman hosted, gradually bringing out folks like Andy House, Mark Cerny, Hideo Kojima, Hermen Hulst, Cory Barlog, Siobhan Reddy, and Guillaume de Fondaumière. While a few games were announced, such as Firewall: Zero Hour and MediEvil Remastered, this was more about learning more about games we knew about and appreciating them. It was about discovering Horizon: Zero Dawn was Guerilla Games' best selling title. It was going over the Detroit: Become Human "Hostage" demo with the audience determining the actions. It was hearing anecdotes about Kojima and House's relationship. It was a relaxed start, setting the tone for a more personal experience.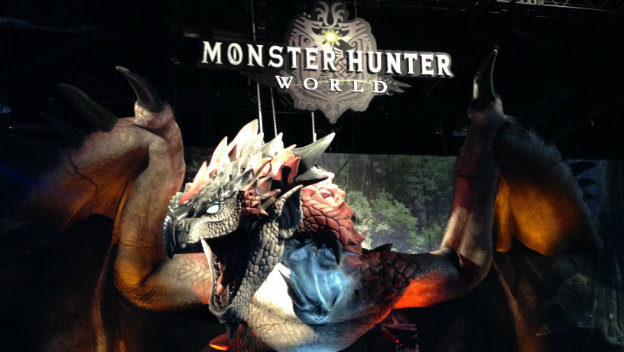 Once the doors to the PlayStation Experience 2017 opened on Saturday, it was even more evident how important it was to make this about the fans. The moment I stepped on the floor, I was struck by how similar this felt to my first E3 experience. When I entered, the first thing I saw was a giant series of PlayStation cross, circle, triangle, and square statues with a giant "PlayStation" sign above it. Capcom's Monster Hunter: World Rathalos statue, from previous events, towered over its booth. The Inpatient's fake mental institution was set up, complete with wheelchairs that would wheel people to their demo of the PlayStation VR game.
Providing lavish visuals seemed important here. It is obvious people expected to be wowed, and Sony and the other third party publishers attending were there to deliver. Detroit: Become Human had fake Android sale displays, with actors or attendees stepping into the showcase. People could scale a fake colossus and act as though they were Wander plunging a sword into a weak point. At the Spider-Man booth, people could post in various scenes that made them look like Spider-Man. Days Gone had plenty of Freakers dangling from posts, coming through trucks, and rattling against fences. People seemed to take great delight in posing on the motorcycle escaping a fake zombie bear. Sega's Yakuza 6: The Song of Life section recreated Kamurocho, while Ubisoft's Far Cry 5 booth had that rustic Montana feel. It was like games were being brought to life at the 2017 PlayStation Experience.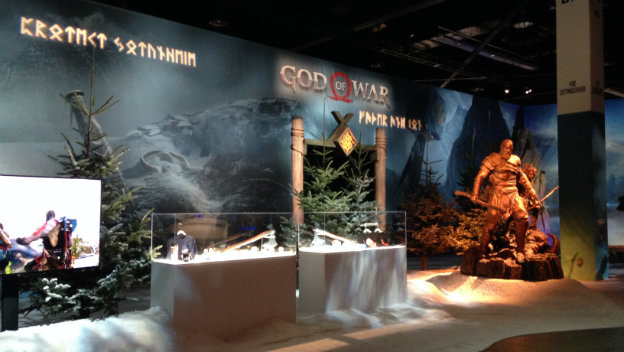 Of course, it was also about playing games. Some big names were absent. God of War and Days Gone weren't playable. But Detroit: Become Human, Far Cry 5, Monster Hunter: World, Shadow of the Colossus, Street Fighter V: Arcade Edition, Dragon's Crown Pro, and Yakuza 6: The Song of Life all were! People could take time to savor all of these major upcoming games. I was able to go through all of them, and it was an amazing opportunity to just enjoy huge games among people who were incredibly excited and enthusiastic about them. The joy was infectious.