System: PC, PS3, Xbox 360
Dev: Ubisoft
Pub: Ubisoft
Release: October 30, 2012
Players: 1
Screen Resolution: 480p-1080p
My ship is in a rather sorry shape after this pitched battle. There are splintered boards everywhere, and a number of conspicuous smoldering holes in the deck. She seems to still be seaworthy, though, and my target ship isn't in much better shape. The game instructs me to switch from cannon fire to chain shot so I can take out my target ship's sails. The chain shot flies realistically through the air, and after a few hits the enemy sails are in tatters. I then pull up beside it and am treated to a cut-scene of my motley crew yelling manly things as they board the disabled ship. Connor's tomahawk descends toward an unknown person just before the Assassin's Creed III logo splashes up onto my screen, ending the demo. Who was my target and why was I engaged in this naval skirmish? Ubisoft is playing the Assassin's Creed III story close to the chest, so we won't know until release.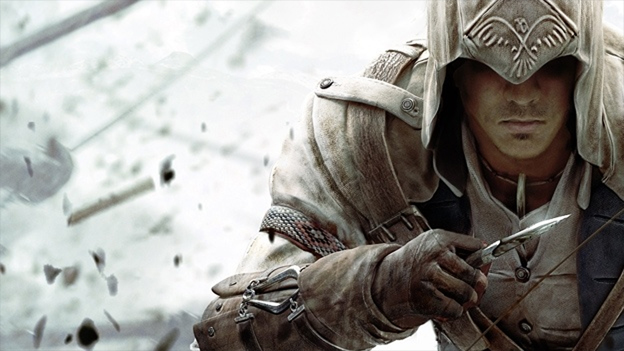 I'm not usually a fan of naval combat in games. I tend to find it rather plodding, and with too much emphasis on details like wind direction that, while realistic, don't necessarily create fun gameplay. I enjoyed what I was able to play of Assassin's Creed III's naval combat because it was fairly fast-paced and put its main emphasis on the action.
That's not to say that there wasn't plenty of juicy detail involved. I was impressed with the look, feel, and sounds of these Eighteenth Century ships. The physics involved in shooting cannons and chain shots were satisfying, and the way that Ubisoft designed the ships to be destructible without being too easily sunk was quite clever. I was able to get an idea of how damaged the enemy ships were by eyeballing them, and the visible damage my own ship took made me want to do a better job next time.
After the tremendous success of Assassin's Creed II, the next two games in the series were criticized for being too similar; not adding enough of interest to the series beyond their multiplayer modes. The addition of naval combat to Assassin's Creed III is one way that this game hopes to distinguish itself and spruce up the series formula. I'm happy to report that this new form of combat is not only fast-paced and fun, but adds to the historical experience of playing an assassin during the Revolutionary War.
By
Becky Cunningham
Contributing Writer
Date: September 4, 2012
Game Features:


As a Native American assassin, eliminate your enemies with guns, bows, tomahawks, and more!

From bustling city streets to the chaotic battlefields, play a critical role in the most legendary events of the American Revolution including the Battle of Bunker Hill and Great Fire of New York.

Experience the truth behind the most gruesome war in history: the American Revolution.

Introducing the Anvil Next game engine, the stunning new technology that will revolutionize gaming with powerful graphics, lifelike animations, immersive combat, and advanced physics.