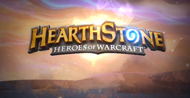 System: PC
Dev: Blizzard
Pub: Blizzard
Release: TBA
Players: 1-2
Screen Resolution: 480p-1080p
Untap, Upkeep, Warcraft!
by Jake Valentine
My very first stop at PAX East was the Blizzard booth. Yes, I wanted to try out Diablo III before the crowd grew, but I was also curious about their unannounced game. Sadly, I had to wait until they actually announced the thing because they had the booth blocked off until the end of their panel Friday morning. By the time I returned to their booth for the Friday Night Media Mixer, I had heard a lot of different opinions about Hearthstone: Heroes of Warcraft.
Some dismissed the new game as just some free-to-play card game. People expected more from a brand new Blizzard title. Heck, I even heard a report that the TwitchTV stream of the Blizzard panel had the viewer count plummet after the game's announcement. Others became intrigued by the fact that it was, well, a free-to-play card game. By the time I returned to Blizzard's booth, the tarps had been removed, a beer was in my hand, and I had an open mind. I absolutely adore (and miss playing) Magic: The Gathering. Would I share the same feelings for Hearthstone?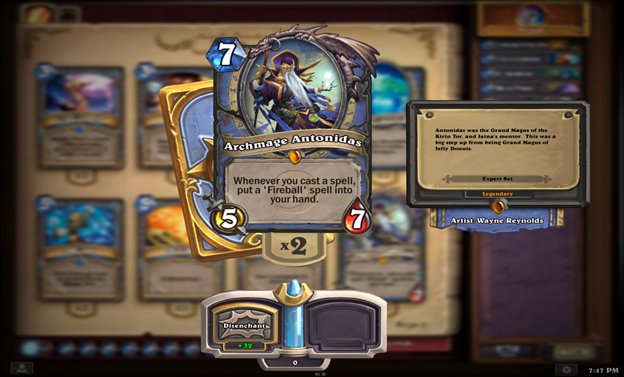 Absolutely.
The biggest thing working in Hearthstone's favor is the entire Warcraft theme. Before my play session, I was offered a choice of one of nine decks. Each deck represents one of the nine available classes in World of Warcraft. Monks aren't included just yet, though they may be added in with a future update.
Unable to play my preferred WoW class, I picked the Warrior Deck, represented by Garrosh Hellscream. After finding an opponent, the game began and immediately I discovered my favorite thing about the game. I was initially shown four different cards that would represent my starting hand. I, however, had an option: Keep all of my cards or remove some cards to attempt to get a better hand. There's no penalty for a mulligan and no going "gee, I hope this works out in my favor." The ability to pick and choose your starting hand from the get go immediately won me over and left me hoping the actual quality of gameplay would follow suit.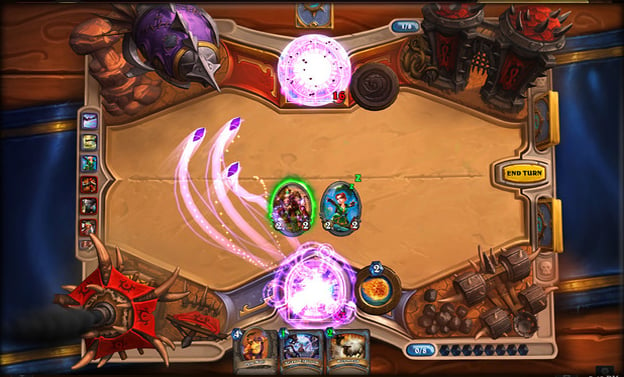 Like Magic, Hearthstone uses a resource system that allows you to play cards from your hand. Unlike Magic, these resources don't take up space in your deck. Each turn you'll gain an additional maximum resource available to spend; if it's turn four, you can spend up to four. This prevents the absolutely awful situation of top-decking mana in a time of dire need and keeps the game active. That being said, games still have a tendency to fall into circumstances of whoever has the better top-deck will ultimately win.
Perhaps the best thing about Hearthstone is the accessibility. Anyone who's played a collectable card game understands that knowing what's in your deck is one of the keys to victory. I didn't have that advantage at PAX, but it never really came back to haunt me. There weren't any cards that necessarily guaranteed my victory, meaning I instead had to rely on a constant stream of attacks to win.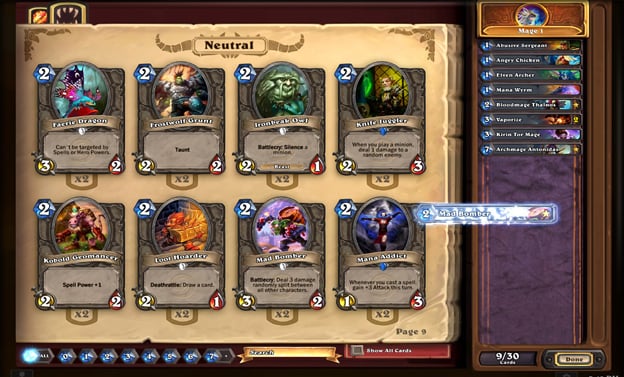 Hey, wait, that actually makes sense. I'm playing the Warrior Deck, so I should keep up a constant barrage of attacks. When playing the Paladin Deck I saw many instances of clutch heals and damage absorptions. Fittingly, the Paladin vs. Paladin matchup took the longest of all my games, something WoW veterans will understand. My point is that each deck's theme translates extremely well from the MMO to the CCG.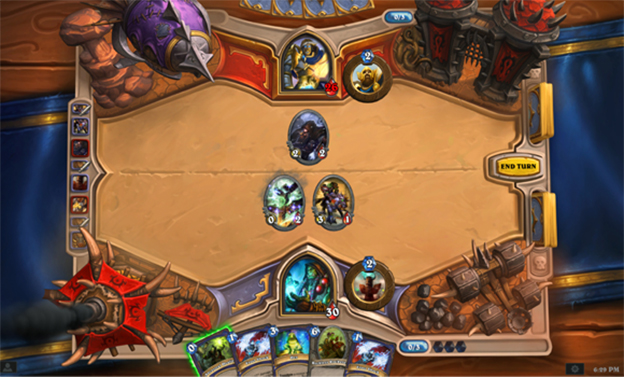 Hearthstone is not a shallow game. Like any other card game, there's plenty of unique mechanics found on the cards. It just doesn't come with the difficult learning curve found in Magic: The Gathering. While I didn't get any chances to try out some of the deck building or card pack purchasing, I'm hoping to get into the beta soon and fall victim to a new type of Warcraft addiction. My days of raiding with friends in Azeroth may be over, but my future as a card duelist is about to begin.
By
Jake Valentine
Contributing Writer
Date: May 1, 2013
Game Features:


Completely free to play.

Different decks offer different play-styles.

Will offer the same experience on both PC and tablets.