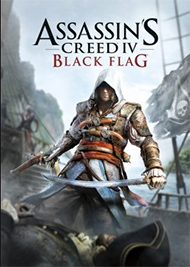 System: PS3*, Xbox 360, PC, PS4, Xbox One, Wii U
Dev: Ubisoft
Pub: Ubisoft
Release: October 29, 2013
Players: 1 (2+ Online)
Screen Resolution: 480p-1080p
Violence, Language, Sexual Themes, Blood, Use of Alcohol
Probably the biggest compliment I can give to the developers of Black Flag is that they did a fantastic job of refining the things that needed to be refined and leaving alone what didn't. Some might find the combat to be a bit stale, but the system still works well enough to make you look forward to fighting foes. In fact, many of the things fans have come to love, such as the combat, feel exactly the same. This is mostly a good thing, but there are a couple of remnants from previous games I feel we could have done without. For example, eavesdropping.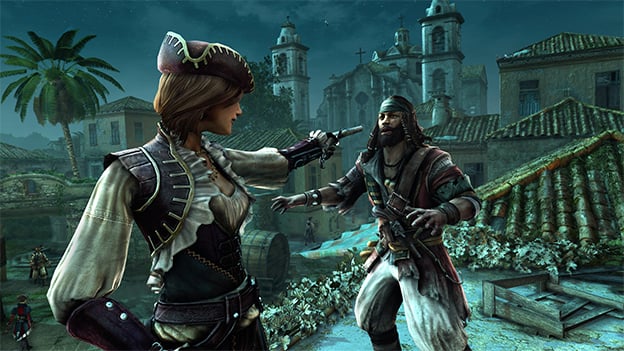 Eavesdropping is something I personally think should've been toned down from previous installments. While playing, however, I sometimes felt like Ubisoft actually increased the amount of these missions. But to its credit, the Black Flag eavesdropping missions do not feel as slow they do in Assassin's Creed III. In fact, nothing about Assassin's Creed IV feels slow. I'd say this is one of the most fast-paced storylines in the franchise. But don't let that fool you; the story is also a rather lengthy one. And it's gorgeous.
Black Flag proves the PS3 and Xbox 360 consoles still have a lot of punch in them. This game is, at times, incredibly breathtaking. The environments are in-depth and wonderfully alive. You'll find a random turtle on a beach, iguanas to hunt just off the shores of an island, and experience a lot of "holy crap did you see the whale jump out of the water?" moments. Much like the environment they live in, the characters are fluid and are obvious upgrades to the already impressive visuals of the series. Their believability is only further expanded upon by the voice actors who portray them. A lot of people feel Assassin's Creed III's Connor is too stale and stiff of a character, but I doubt there will be as many complaints this time around.
Assassin's Creed IV: Black Flag is more than just a sequel. It is an obvious attempt at stretching the series past the point of Desmond's storyline. I noted before to several colleagues that a way for them to do this would be through the model used in the PS Vita title Assassin's Creed: Liberation. It seems Ubisoft had a similar idea. With a tight story, wonderful characters, and the best visuals of the series, Assassin's Creed IV: Black Flag is a solid experience fans of the series would be remiss to miss out on. Hell, I'd even go as far as to say gamers as a whole would be remiss to not experience the world created. Plus, didn't I mention there were pirates?
By
Matt Walker
Editor-In-Chief
Date: October 29, 2013
Game Features:


EXPLORE AN OPEN WORLD FILLED WITH OPPORTUNITIES: Discover the most diverse Assassin's Creed world ever created. From Kingston to Nassau, explore 50 unique locations where you can live the life of a pirate.

BECOME THE MOST FEARED PIRATE IN THE CARIBBEAN: Command your ship, the Jackdaw, and strike fear in all who see her. Plunder and pillage to upgrade the Jackdaw with ammunition and equipment needed to fight off enemy ships.

MULTIPLAYER EXPERIENCE: Play with your friends in the ruthless and critically acclaimed multiplayer experience. Choose from an eclectic cast of characters from the Golden Age of Pirates and fight to the death in exotic locations.

A BRASH REBEL ASSASSIN: Become Edward Kenway, a charismatic yet brutal pirate captain trained by Assassins. Edward can effortlessly switch between the Hidden Blade of the Assassin's Order and all new weaponry including four flintlock pistols and dual cutlass swords.