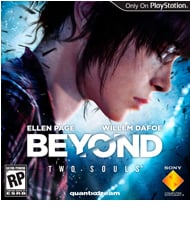 System: PS3
Dev: Quantic Dreams
Pub: Sony
Release: TBA
Players: 1
Screen Resolution: 480p-1080p
Beyond Normal Gameplay
by Angelo M. D'Argenio
Beyond: Two Souls is the newest cinematic game from Quantic Dreams, the guys behind Heavy Rain. First unveiled at Sony's pre-E3 press conference, Two Souls tells the story of Jodie Holmes, a young girl who is on the run from the law, and Aiden, the strange ghostly presence that follows her. Like Heavy Rain, Beyond will be based primarily on contextual cinematic gameplay. In fact, the development team is so committed to bringing you a Hollywood experience with Beyond: Two Souls that they have enlisted actress Ellen Page to play Jodie. But how does the game play?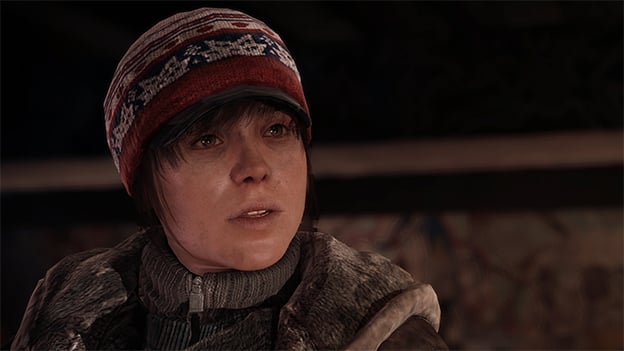 There are two main methods of control in Beyond. Players will either be in control of Jodie or Aiden at any given point in the game. Jodie controls a lot like the characters in Heavy Rain did. As she explores her surroundings, the player will be given button prompts through icons overplayed on the screen. Then, they will either have to press, hold, or rapidly tap buttons, or do the same with analog sticks or shoulder triggers, sometimes even being asked to shake or tilt the PS3 controller. Unlike Heavy Rain, Jodie will not suffer from "tank control syndrome." Instead, she will simply move when the analog stick is pressed, like any normal video game character. Everything in the game is controlled via these button prompts. Fighting is a quick time event. Examining evidence is a quick time event. Climbing a cliff is a quick time event. Just like Heavy Rain before it, the gameplay is entirely contextual.
When you switch to Aiden, things start to change. Aiden is not bound by a physical form, so he can fly, walk through walls, and essentially be wherever he needs to be. When you are controlling Aiden, Jodie moves on her own, progressing through the game even outside of your input. Aiden is tethered to Jodie, so he can only move about in a limited radius around her before losing all power (as signified by the screen going black and white and getting blurry). You can actually always tell where Jodie is because a blue tether line of energy connects her to you. You also never really get to see what Aiden looks like, as you control him in the first person.
Aiden has access to all the powers that you would think a poltergeist would have. He can move things around telekinetically, possess people, and see and hear things that Jodie cannot.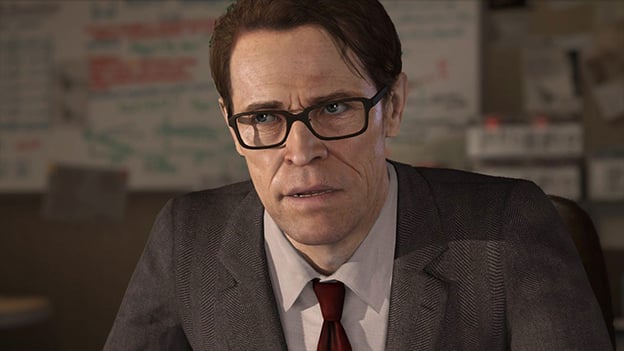 The story of Beyond spans fifteen years of Jodie's life, and as Jodie gets older Aiden gets more powerful. At the start of the game he can only produce effects that are similar to parlor tricks, moving items and turning objects on and off. As the game progresses, Aiden's tether to Jodie gets longer and he gets much more powerful. At one point Aiden becomes so strong he is able to tear down the spire of a clock tower to save Jodie from the police.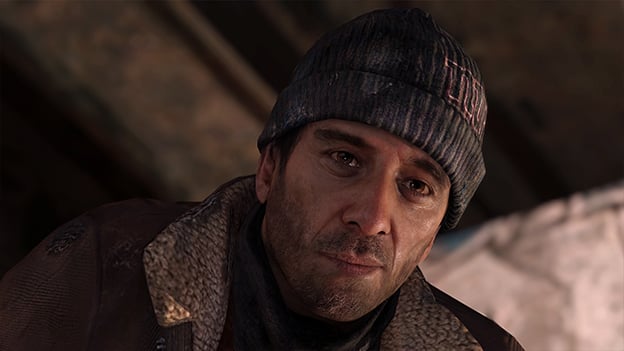 Aiden eventually gets the ability to possess other human beings, as mentioned earlier. At one point in the game, Jodie is being set upon but heavily armed members of the military. Aiden is able to possess the sniper in order to take out his whole squad. Similarly, he is able to possess a helicopter pilot in order to bring the helicopter crashing down. When Aiden possesses someone, the controls change to the classic Heavy Rain controls we are used to. All actions become contextual and quick time event based, just like when you are controlling Jodie.