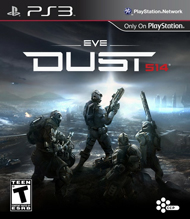 System: PS3
Dev: DEVELOPER
Pub: PUBLISHER
Release: TBA
Players: 1
Screen Resolution: 480p-1080p
Now, even though EVE Online is a paid subscription MMO, DUST 514 will be free to play with microtransactions. However, CCP has assured us this won't be "pay-to-win" (free-to-play developers always make that claim, don't they?). The way it works is that there are two types of currency: ISK and Aurum. ISK is the currency you earn while you play the game, and Aurum is the currency that you can pay real-world money for. Items will have both an ISK value and an Aurum value, so anything you pay real-world money for can still be earned in-game without spending a dime.
In DUST, you aren't tied into any sort of class loadouts, though you can custom build your own for quick access. (CCP had set up several custom loadouts for us to use so we could spend our time in the actual game rather than in various customization menus. From what we've seen, though, this customization looks incredibly deep.) You also have a skill tree that's said to function much in the same way the EVE Online skill trees do. Unfortunately, I wasn't able to get a whole lot of information on this particular aspect of the game, though I was told that players will be able to purchase skill books here with skill points earned through gameplay.
Besides earning skill points by playing the game, these also accrue naturally, even when the game is shut off. Of course, this is a very slow trickle, and we were told that it would take seven years to passively accrue enough skill points to be able to buy everything in the game. So completionists will definitely want to make sure they are playing steadily to keep their skill points flowing.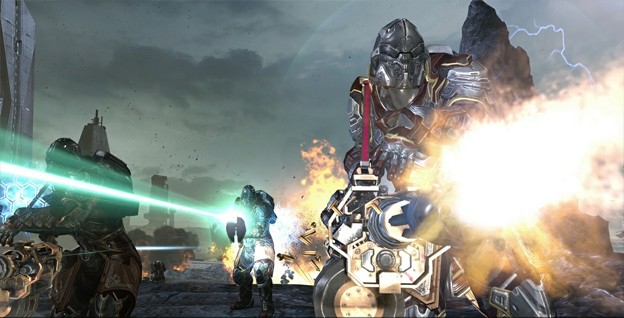 Interestingly enough, there are three different control styles that work with DUST. First of all is the traditional DualShock controller, which I played all my matches using. Then there are PS Move controls, which Josh Engen got to play around with, though he wasn't all that impressed. Thirdly, though—and this one will have PC gamers bouncing with joy—DUST fully supports USB keyboard and mouse controls.
DUST 514 is an incredibly complex title that may be a space shooter on the surface, but its connectivity with EVE makes it unlike anything I've ever seen before. Hop into this one when it goes into open beta later this summer. It's completely free, after all.
By
Josh Wirtanen
Editor / News Director
Date: June 21, 2012
Game Features:


DUST 514 marks a first for consoles as a massively multiplayer free-to-play shooter. Players can download the game from the PlayStation Network and play DUST 514 completely free of charge.

In DUST 514 players earn ISK, an in-game currency, by winning battles, doing missions and more. Additionally, players can buy Aurum through the PSN Store. Players looking to expand their experience can spend either ISK or Aurum on a variety of microtransaction purchases. That said, DUST 514 is not a pay-to-win game. Players purchasing items with Aurum will not result in an unfair advantage over players who only spend ISK, the in-game earned currency.

DUST 514 fully supports every aspect of the PlayStation ecosystem. It is available via download exclusively on the PSN network; its unique cross-platform play, persistent universe and free-to-play gameplay are only possible on the PlayStation 3.