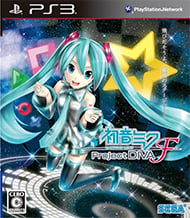 System: PS3, PS Vita
Dev: Sega, Crypton Future Media
Pub: Sega
Release: August 17, 2013
Players: 1
Screen Resolution: 480p-1080p
Mild Lyrics, Mild Violence, Suggestive Themes
Because You Always Wanted to Be a Green-Haired Diva
by Jenni Lada
The Hatsune Miku video games are powerful stuff. It's been years since I first played the original Hatsune Miku: Project Diva and heard "World is Mine" for the first time, yet even now, I'll sometimes hear the first few bars in my head and my fingers will start tapping out the note pattern on their own. It was the first Project Diva song where I got a perfect score, but not the last. Now, another song is about to be sung, and finally, all you people here in North America can experience Hatsune Miku: Project Diva F, a game that importers like me have been raving about for months.
But this isn't a review, so I'm not going to start raving about Hatsune Miku: Project Diva F. It's a preview, so I'm just going to tell you what's in store. Some of you may have already played the demo on your PS3s, since it's already available in the PlayStation Store. Don't worry. I'll only briefly go through the things you've already seen on your own.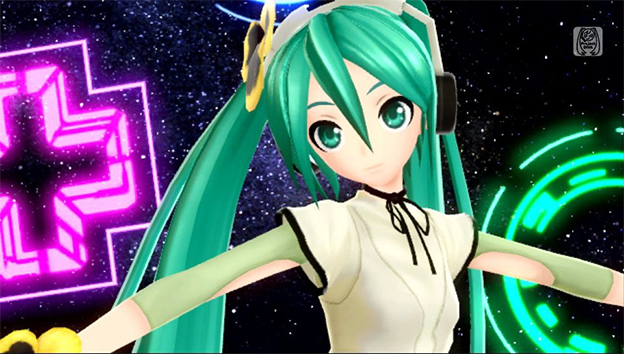 For starters, the official Hatsune Miku: Project Diva F demo only has three of the 38 songs available. They're all titles that were in the Vita version of the game, so they may even look familiar. The first is "Weekender Girl" by kz (livetune). It's an upbeat pop song with Miku dancing in front of an assortment of neon shapes. It's one of the easier songs, only registering 7.5 stars on the most extreme of the four difficulty levels and 2 stars on the Beginner difficulty. For beginners, I highly recommend starting at Beginner, even though it may hurt your pride.
Hatsune Miku: Project Diva F is different than other rhythm games in that the button indicators appear all around the screen in an effort to get players to see more of what's going on in the video rather than just watching a line of indicators at the bottom of a screen. Also, timing has to be worked out as well. There are standard button presses, which correspond to X, O, square, and triangle. There are also arrows, which mean someone must press both the arrow and the action button that corresponds to it at the same time. Finally, there are stars, which mean someone has to hit one of the analog sticks, simulating the thumbing of guitar strings.
The other two songs are slightly more difficult. One is "Tengaku" ("Heaven's Requiem") by Yuuya-P. This is a Rin song and has a rather neat feature. The ending of the video will be affected if someone performs well during a chance, timed portion of the song that fills the star gauge. This one is a power ballad, and if you're worried that the Hatsune Miku: Project Diva F track list is all pop, this song will help convince you that no, it is not. It's difficulty ranges from three stars at its easiest to eight at its most challenging.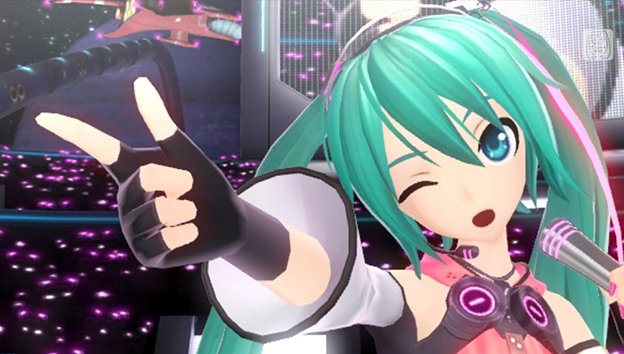 Meanwhile, "World's End Dancehall," the third song, is the one that will convince you Hatsune Miku: Project Diva F can get pretty hard. This is a duet with Miku and Luka, though "battle" is a more appropriate term. This is a Chinese-inspired, fast-paced song someone could dance to, and dance Miku and Luka do. The easiest level puts it at three stars, but it skyrockets to nine out of ten for the Extreme difficulty. Out of all of the Hatsune Miku: Project Diva F demo songs, it's my favorite. It really showcases how vibrant the game can look as well as how detailed a video can get.
Of course, if you don't care for the 38 included songs, then use your own. The Hatsune Miku: Project Diva series is renowned for allowing users to import MP3s from their own hard drives or memory cards into the game. They can then make their own music videos using the Vocaloids and included backdrops, deciding on dance moves and input patterns. The player sets up everything and can utilize props, different areas, and more to make a scene come to life. These original creations can then be shared with other Hatsune Miku: Project Diva F players, though they'll have to supply the MP3 to go with it.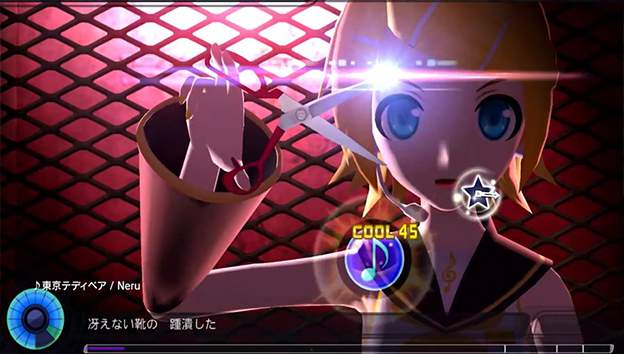 In fact, if someone has enough time on their hands, they can even change the shape of the Vocaloids' mouths to make them lip sync along with the songs. Let me tell you though, you have to be pretty dedicated to make that happen. I've tried making my own videos and patterns for my MP3s and even getting the dance moves to synch up properly takes an extraordinary amount of time and effort. That isn't even getting into how many times a song has to be played to make sure the inputs work.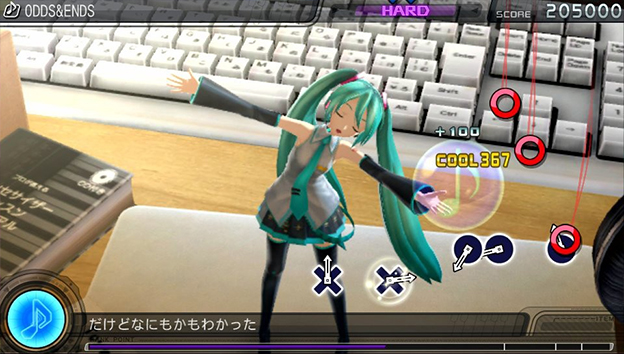 Aside from the music, there's a bit of a pet sim at play as well. Playing the various included songs awards the players points. These can be spent on modules and accessories, which change a Vocaloid's appearance when she or he is performing a song, or they can be spent on items that can be used in the Miku Room. Don't like the title? It's better than "Diva Room." That's what it's called in the Japanese version. Regardless, it's actually a fun little place to kill time and watch skits. If changing a Vocaloid's appearance bores you, you can buy them gifts or furniture for their rooms. You'll then get to see them play with the items. For example, if Len gets a sketchbook, Rin may stop by and he'll draw her. There's also a rock-paper-scissors mini-game here, which can be played with the characters to make friends.
The PS3 version of Hatsune Miku: Project Diva F is coming west in August, 2013, though San Diego Comic-Con attendees will probably get a really good look at it this weekend. You will be able to get it on a disc or through the PlayStation Store.
By
Jenni Lada
Contributing Writer
Date: July 17, 2013
Game Features:


Includes 38 popular Hatsune Miku songs

Includes 4 unique difficulties for every song to challenge players new and old

Over 90 costumes and 100 accessories

Create your own Miku videos in Edit Mode and share them online

Add Miku into your own photos in Studio Mode. Spend time with your favorite characters in the "Miku Room."