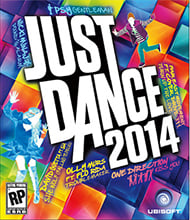 System: PS3*, Xbox 360, Wii U, Wii
Dev: Ubisoft
Pub: Ubisoft
Release: October 8, 2013
Players: 1 (2+ Online)
Screen Resolution: 480p-1080p
One of the best parts about the Just Dance franchise is the range of music plugged into the games. While pop music is easily the most prevalent category, you will find all other types of music to "get your groove on." This time around, Just Dance 2014 finally includes "Just Dance" by Lady Gaga Feat. Colby O'Donis, an oversight that has finally been corrected--it just makes sense to include that song considering it carries the game's namesake. More of my favorites are "Ghostbusters" by Ray Parker Jr., "Prince Ali" From Disney's Aladdin, and "Gentleman" by PSY. These licensed songs give the game a sense of familiarity and something that almost anyone can relate to, lending to it broad appeal. Of course, the music sounds great, and along with dancing, you can even gain bonus points for singing along with the lyrics that are provided at the bottom of the screen.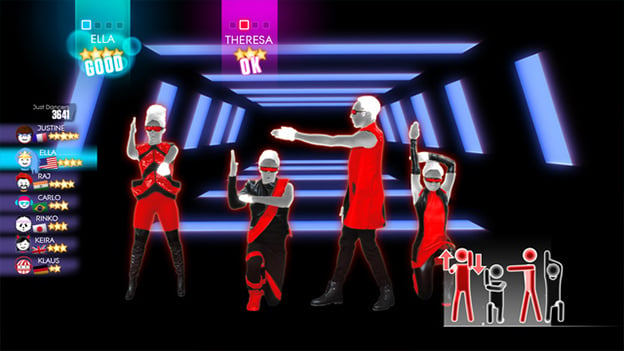 Visually, Just Dance 2014 is easily the best of the franchise. The backgrounds this time around are the sharpest and most engaging the game has ever had to offer, and the dancing avatars are varied and increasingly crazy. You can dance as a panda bear, a piece of fruit, a belly dancer, and a Voltron lookalike–just to name a few. The trademark neon coloring of the game works well here, helping to deliver an intense visual experience for onlookers and participants alike. It is just as much fun to watch others play this game as it is to play it yourself, something that most games do not accomplish, helping to make it one of the premiere party games of this generation.
Additionally, the online shop will offer tons of DLC content in the form of new songs, avatars, and other extras that have become expectations in Just Dance. You can even purchase some items in the shop with points that are earned in-game instead of having to fork out your hard-earned cash every time you see something you'd like to have. This gives some additional incentive to keep playing the game, complete different songs, and participate in all game modes.
I never expected my time with Just Dance 2014 to turn me into the world's greatest dancer, but I didn't really expect to enjoy it either. After leaving my own issues of dancing incompetence at the door, I was able to have a thoroughly good time and provide some laughter for friends and family, and that was very enjoyable. I can't say that I am going to start playing Just Dance 2014 on a daily basis, but I do believe this game has broken down a long-standing wall that I had been unwilling to demolish for a long time.
Will I play Just Dance 2014 again? Sure, after I recover from this last outing--I'm a little sore.
By
Joshua Bruce
Video Director
Date: October 8, 2014
Game Features:


World Dance Floor: Dance with anyone anywhere in the world in Just Dance's first-ever online multiplayer mode! Players join a virtual crew - made up of real-life friends or other Just Dance fans - and compete based on different themes ("Boys Vs Girls", "Crew Vs Crew"). Players can also track their standing on global leader boards, check out fun stats about other players around the world, and see community updates.

On Stage Mode: Own the spotlight in this new mode where one player will dance, lead 2 back-up dancers, and even sing if they want! As the star of the show, the player can take it seriously and show off how talented they are, or just goof off with friends.

Custom Sweat Mode: Players can personalize their Just Sweat workouts by creating custom playlists and tracking calories. There's also a new option to track calories in all gameplay modes, even outside of the dedicated Just Sweat mode.