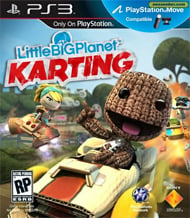 System: PS3
Dev: United Front Games, Media Molecule
Pub: Sony
Release: TBA
Players: 1
Screen Resolution: 480p-1080p
Sackboy Burns Rubber
by Josh Wirtanen
During E3 this year, we got the chance to hop into a kart and go several rounds in Sony's newest kart racer, LittleBigPlanet Karting. What we found was an incredibly well-refined arcade racing experience, one that could potentially top the king of karting, Mario himself. No, this isn't an exaggeration. LBP Karting takes everything good about MarioKart and LittleBigPlanet and mashes them together into one tiny little gigantic piece of arcade gaming goodness.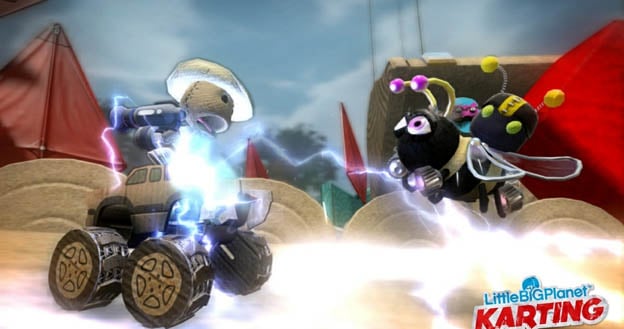 There were two different game modes on the show floor, and we got our chance to prove our skill in both of them. Battle Mode is basically deathmatch, setting players down into an arena and letting them duke it with various power-ups and "Weaponater" types. The player with the most "kills" (kills seems like an overly violent term in this context, doesn't it?) when the timer expires is the winner. It plays almost like a cutesy version of Twisted Metal. The stage we played on was made up of two airships with launchpads between them. We're not sure if this course will make it into the final game, but it certainly showed off the types of courses creative users will be able to build. (More on customization later.)
The other mode was your basic Circuit Race, which is exactly what it sounds like: three laps of quirky, power-up-enhanced racing. It's the type of race where a player could lag behind for the first two laps, only to win in the final lap with a little bit of luck in which power-ups they end up acquiring.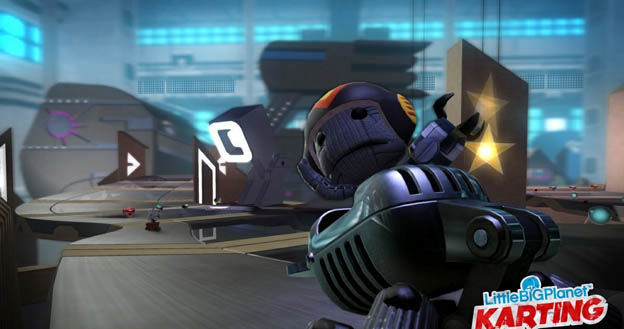 LittleBigPlanet Karting has this incredibly stripped-down control scheme that makes it a cinch to just pick up and play. X is your gas button, circle is brake/reverse, and square uses whichever power-up you have equipped at the time. Additionally, R1 is your drift button, and if you maintain a drift long enough, you'll be given a boost. Some jumps have sponges dangling above them, and in these cases, your L1 button will allow you to grapple the sponge to swing and gain additional distance on your jump. One last control feature—and one that is tons of fun—is the option to have your character to swing its arms to smack other players if they attempt to get too close with the L2 and R2 buttons.
After having actually gone a few rounds, I can honestly say that the controls feel good. They're incredibly simple, incredibly tight, and just plain fun to use. Kart racing fans definitely have reason to celebrate, especially with MarioKart Wii—probably LBP Karting's biggest contender at this point—relying so heavily on the Wii Wheel peripheral and offering alternatives that just don't feel as well-thought-out as a triple-A title's controls should.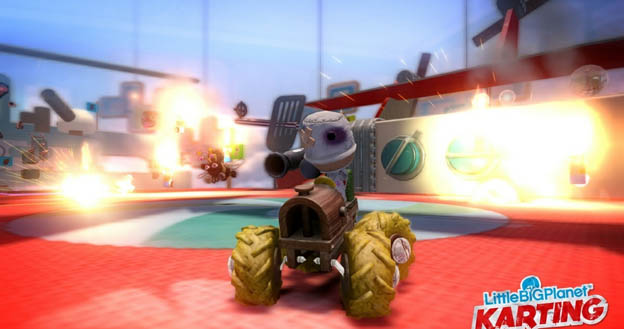 Now, the main draw of any LBP title is customization, and LittleBigPlanet Karting has this in spades. ModNation racers, eat your heart out. In LBP Karting, not only will you be able to create your own courses, but you can trick out your ride and dress up your Sackboy as well. We played our session with pre-made karts, but the ones we saw were pretty wild. In fact, we even saw a Sackboy in a duck costume driving an egg carton. If this isn't enough, you are even able to create your own Weaponaters and A.I. commands. When I asked whether or not we should expect to see the MGS paint gun from the original LBP show up, we were told it wasn't in the game already, but there's a chance we might be able to actually makes something similar ourselves. I guess we'll have to wait and see.
With the amount of quality content that regularly comes out of the LBP community, LBP Karting is a title we're confident will expand much faster than we can keep up with.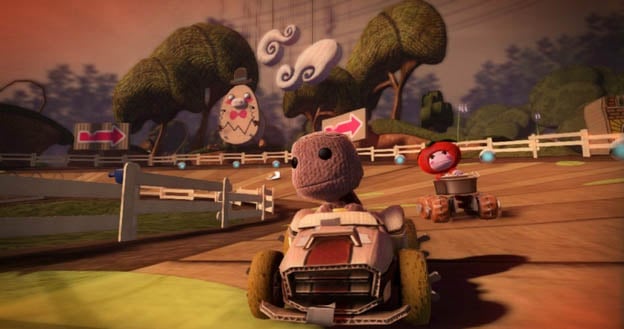 Next to customization, one of the things people love most about this series is its quirky personality, and that's definitely been preserved here. From the cuteness of the characters to the way they pop when they "die," LBP Karting just has that quaint vibe we've come to love.
LittleBigPlanet Karting has a lot of stuff that is downright impressive. From the simple and precise controls to the insanely deep customization of pretty much every aspect of the game to its cute-but-not-obnoxiously-so aesthetic, this is a title we're pretty sure we're going to fall in love with. There's no official release date yet, but rumor has it that it's coming to PS3 by October 31, just in time for Halloween. Is a Vita version in the works? Sony's not ready to say quite yet.
By
Josh Wirtanen
Editor / News Director
Date: June 11, 2012
Game Features:


Race through your favourite themes from the world of LittleBigPlanet, using an array of gadgets to bounce, grapple, or grab your way into first place. Battle your friends online via PlayStation Network or in split-screen mode, complete challenges, or dive into the community to discover new player-created tracks.

LittleBigPlanet Karting features a simple, powerful, and familiar set of Create tools that easily allow you to build your own tracks, design unique power-ups, or customize your karts.

Share your creations with the world, or play through a vast and fast-growing collection of community-created racetracks. LittleBigPlanet Karting offers you a new experience every time you play.

Every single creation in LittleBigPlanet Karting will be published on LBP.me, where you'll find dedicated pages for each track and creator. This makes it super easy to share your creations with the wider world, not to mention find cool things to play!