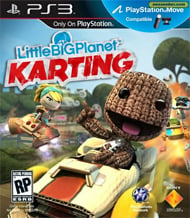 System: PS3
Dev: United Front Games, Media Molecule
Pub: Sony
Release: TBA 2012
Players: 1-8
Screen Resolution: 480p-1080p
To Race Or To Create?
by Sean Engemann
LittleBigPlanet brought something special to the Sony brand, with an unexpected embrace from the gaming community. The platforming adventures of Sackboy brought us a creative outlet with stretchable boundaries, and the rare ability to fuse cute and cool makes it a series that almost the entire PlayStation faithful audience keeps their eye on.
I was fortunate enough to get my hands on the just released beta version to take Sackboy for a spin. It's positively oozing with LittleBigPlanet charm, but I do have a couple big preliminary criticisms that I doubt will be addressed before the final build.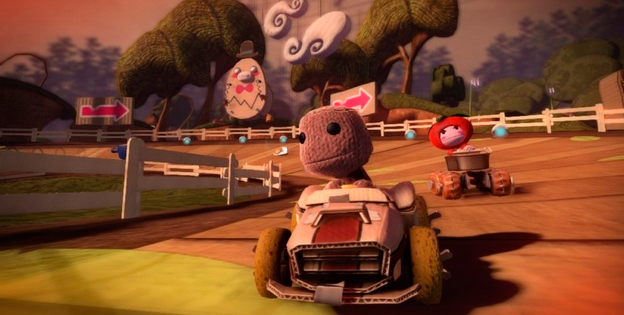 The action begins in your pod, where we find Sackboy in his birthday suit nestled in a generic-looking kart. As adorable as he is, my Sackboy needed a little more character before hitting the circuit, so I whipped out the Popit Menu and went to work. There were dozens of costume presets to choose from, but you could then go further with materials, facial features, and accessories. I started with a cowboy ensemble, then changed the skin to an Osaka Slide material, threw on some aviator shades, a chip mustache, orange trousers, and a trench coat.
Then it was time to pimp my ride, which started as a barebones racer called Formula None. I added some heft with a monster truck suspension, gear wheels, and a muscle car engine sound. For some quirky extras, I gave my kart a comfy chair seat and soda can pull-tab steering wheel. All of your creations can be saved for quick access, and can even be swapped out while free riding around the track and waiting for other players to join the race.
However, for the moment it appears as though every customization of your Sackboy and kart are purely cosmetic, and have no bearing on speed, handling, acceleration, weight, or any other technical attributes.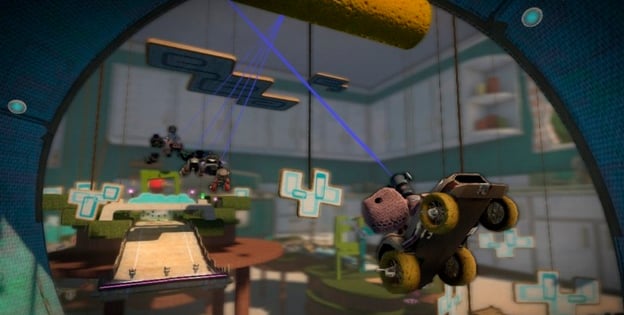 And so far I am not completely sold on the racing itself. The controls are simple and straightforward, and anyone who's played Mario Kart or ModNation Racers will pick it up instantly. When compared to those two games, we can see where LittleBigPlanet Karting has its issue. It's neither as challenging nor as tight in controls as Mario Kart, and the destructive tools you acquire by picking up Weaponators range from nearly useless to downright game-changing. Thus, unless you have a monumental lead in an exceptionally long course, it is easily possible to jump from eighth to first place (or vice versa) in a single lap.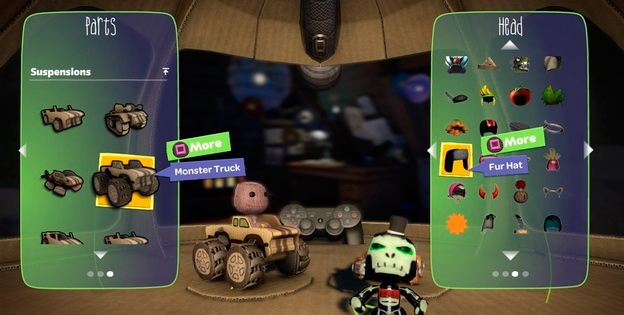 Finishing in the top three awards you with a score bonus, and that's on top of your overall time bonus and the sum of Score Bubbles you've collected throughout the race. The total of all of these will dictate your standing on the global leaderboard.