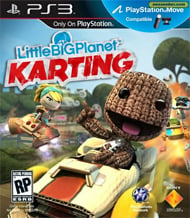 System: PS3
Dev: United Front Games, Media Molecule
Pub: Sony
Release: November 6, 2012
Players: 1-8
Screen Resolution: 480p-1080p
Cartoon Violence, Comic Mischief
Now, one thing that makes Mario Kart shine so brightly is its perfectly refined controls. Unfortunately, LBP Karting plays a bit more fast and loose than would be preferable here. Your karts tend to lack any feel of weight, and drifting in hovering vehicles is a bit hard to judge. I could defend this decision by pointing out the fact that Sackboy is just a wee little guy, and if he's driving in, say, a sardine can with bottle caps for wheels, then his cart should feel light. But that would be insulting the intelligence of gamers who have decades of kart racing experience under their belts, and who know what a solid kart racer should feel like. This isn't exactly it. Still, the controls aren't horrible by any stretch of the imagination. Besides, LBP and tight controls have never really been synonymous in the first place.
The audio design is spot-on here, with all your favorite sound effects, some returning tunes from the old games along with some new ones (including a chiptune track I happen to personally be fond of), and, of course, Stephen Fry's soothing voice explaining the game mechanics to you. It never truly feels like a tutorial when Mr. Fry is chattering away, does it?
Ultimately, I guess it's hard to stand by any claims that LittleBigPlanet Karting could be seen as a huge evolution to the genre; it does take some age-old ideas, though, and coat them in adorable LBP paint. Still, it offers both a substantial kart racing experience and a heaping serving of that LBP flavor we've grown to love. It's not perfect, but it's an absolute blast. In fact, I've already seen it win over some first-timers to the LBP fold. If you own a PS3 and have any sort of fondness for LBP or kart racing, this one should probably already be on your holiday wish list.
By
Josh Wirtanen
Editor / News Director
Date: November 9, 2012
Game Features:


Your favorite customizable Sackboy returns with new driving abilities to guide you through a completely new fast-paced adventure.

Race through a whole new 3D world filled with a mix of familiar and unique Craftworld environments and themes. Experience competitive races, objective-based missions, boss battle challenges, and the ever-competitive arena modes.

Share your creations with the rest of the community and contribute to the inevitable thousands of new tracks and experiences created by fans just like you.

In the creative mood? Customize your Sackboy and Karts with tons of options unlocked throughout the game. And for all you future game designers, take control of the new CREATE tools and create your own tracks, missions, games, and adventures, just like you did in all the other LittleBigPlanet games.