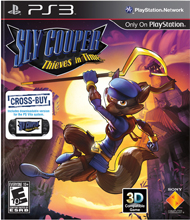 System: PS3, PS Vita
Dev: Sanzaru Games
Pub: Sony
Release: February 5, 2013
Players: 1
Screen Resolution: 480p-1080p
Alcohol Reference, Cartoon Violence, Suggestive Themes, Use of Tobacco
In fact, these Hideouts boast more features than ever before. Each historical period will have an appropriately themed hideout, but all are well-stocked for Sly's adventure. There's the aforementioned treasure wall and a costume gallery for the display of collected costumes. The Cooper Van awaits to take Sly back to previously visited historical periods, in which the player can use the powers of newly acquired costumes to find hidden treasure. There's even an arcade room in which players can participate in minigames (some of which are multiplayer) that are presumably unlocked during the adventure.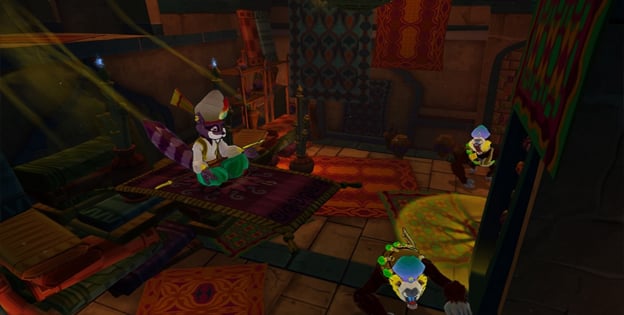 Sly's colorful time-bending adventure will be enhanced by HD cel-shaded graphics. The series has used cel-shading technology from the outset, but the capabilities of the PlayStation 3 mean they're looking sharper than ever before. The voice acting should be good, as well. Sly, Bentley, and Murray retain their classic voice actors, and minor character roles have been staffed by a who's who of quality video game voice actors like Steve Blum, Nolan North, and Yuri Lowenthal.
It looks like the Sly Cooper: Thieves in Time development team has been careful to offer a modern Sly adventure that stays true to the look and feel of the original Sucker Punch Games while adding new elements like time travel and costumes. It's great to see this classic 3D platforming series revived intact and developed with such obvious love for the source material. It looks good on paper, so here's hoping that platforming fans receive many hours of sneaking, jumping, treasure-hunting, and silly bantering fun when Thieves in Time comes out in February.
By
Becky Cunningham
Lead Contributor
Date: January 8, 2013
Game Features:


Epic boss battles, high action, and new stealth moves provide the deepest and most thrilling Sly experience to date!

Features a humorous time-travel storyline and engaging puzzles.

A variety of playable characters await, each with their own unique play style.

Fully playable in eye-popping stereoscopic 3D.

PlayStation 3 and PlayStation Vita Cross-Play is available.