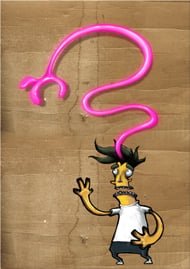 System: PS3, PS Vita
Dev: Zoink!
Pub: Ripstone
Release: November 19, 2013
Players: 1
Screen Resolution: 480p-1080p
Violence
Did that situation sound ridiculous? Well, it's actually one of the more sane situations. My favorite quest run was in the fourth chapter. The psychiatrist Ray wanted to see had gone to see another psychiatrist, because he was mourning the sudden death of his lobotomist father. Ray needed to give him the chance to speak to his ghostly dad--except, the psychic working at the adjacent circus was busy with the magician and his wife's ghost. He cut off her legs during their act, and she was quite frustrated, to say the least. She wasn't going anywhere until she got some legs, so Ray had to go through a circus of characters with similarly strange issues, until he finally got the legs, so he could get the psychic's magic hat for the other shrink.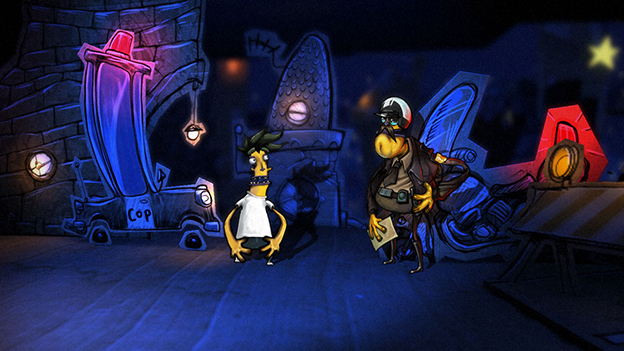 Was it complicated? A little, but not overly so. Really, I felt the only difficulty in Stick It to the Man only comes from the platforming elements, and not for the reason that one would suspect. During the third chapter, The Man finds out about Ray, and sends his goons after him. Relatively simple jumps become more difficult, because if Ray enters a mook's line of sight, he will be chased. If caught, players go back to the last save point. Some enemies can't be avoided, so instead, Ray must read their minds to make them spawn a distraction sticker. For example, one could get a Zzz sticker, which puts a guard to sleep, or a Ray mask, which will make all the baddies chase after whoever is wearing it.
The main problem stems from the PS3 version's control scheme. The stickers are applied by holding the right analog stick so the correct surface is selected, then pressing R1. Except, these guards tend to congregate near the thumbtacks (which Ray uses to quickly jump from one point to another), and the analog stick controls are finicky enough, where even the slightest movement can change the target, causing Ray to jump to the spot instead of apply a sticker. Which means redoing the entire scene--reading a guard's mind, getting a sticker, applying it again--to move on.
Stick It to the Man is a little short--I beat it in one sitting. Once it was done, I didn't feel any need to return. I might return to the world when the Vita version is released, to see if the touch-screen control scheme makes the experience tighter, but I already know how Ray's story goes. It was satisfying, yes, but most won't feel a need to go back again.
Stick It to the Man may be brief and potentially better suited to the Vita, but it is big on charm. It has a distinct visual appeal and characters. So much so that I didn't mind when the puzzles were a little too easy, the difficulty a tad cheap, and the story short. I had a good time and almost wished I had an invisible, pink, spaghetti arm of my own.
By
Jenni Lada
Contributing Writer
Date: November 27, 2013
Game Features:


Ray can suddenly change the world with stickers, transforming his paper universe by tearing it, folding it, and using the crazy stickers he finds (along with his awesome new powers) to solve mind-boggling puzzles!

Read bystanders minds to determine what they want, and make their dreams come true.

Keep an eye out for The Man's cronies, and be ready to evade capture and stick it your pursuers.