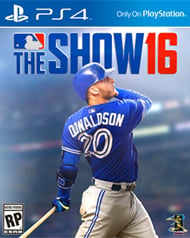 System: PS4, PS3
Dev: San Diego Studio
Pub: Sony
Release: March 29, 2016
Players: 1-4 local, 2-8 online
Screen Resolution: 480p-1080i
Content is generally suitable for all ages.
The game modes' improvement and the addition of mini games are always a nice to see from a yearly released franchise. However, if the stellar game modes didn't have a rock solid set of gameplay mechanics backing it, then they would have been nothing more than a beater with nice rims and sweet sound system. The good news is, MLB The Show 16 controls well. The batting and pitching mechanics are highly intuitive and change depending on the particular situation. For example, if your pitching with a guy like Jake Arrieta, but you've managed to load the bases up with no outs, your ability to throw strikes becomes increasingly hard as a result of the stressful situation. The same can be said if you're up to bat with runners in scoring position, and you're down by a few runs. Getting a base hit becomes much more difficult. The game seems to bend a flex depending on what's happening and how you respond to each situation that's presented.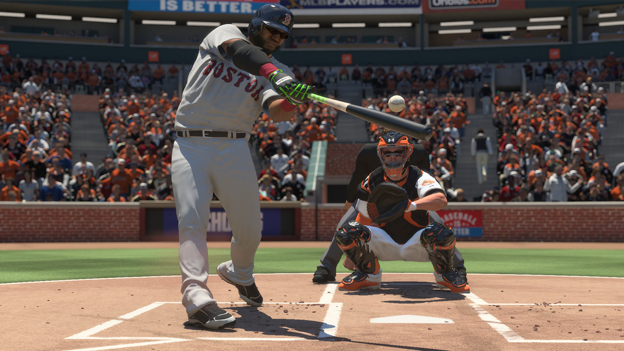 Yes, MLB The Show 16 truly has something for everyone, regardless of your level of baseball fandom and your skill when it comes to playing virtual baseball. One really intriguing aspect of the game comes in the ability to adjust the difficulty settings on the fly. If you're new to the series or game of baseball, it allows you to get in at the ground floor with the Beginner and Dynamic settings. Beginner features pitchers throwing nothing but strikes over the plate, while the Dynamic difficulty will adjust to your playing ability and progressively increase as your skills and knowledge of the game develop over time. Players can also opt for fielding and baserunning assistance until they get their feet firmly planted.
Needless to say, I haven't been this excited for a sports game in a long time, especially when it came out of nowhere. I was completely blown away when I fired up MLB The Show 16 game for the first time and haven't been able to put the thing down. Developer San Diego Studio clearly pulled out all the stops on this one with the amount of detail and thought that went into crafting this simulator of perfection.
The visuals and upgrade player models, beautiful broadcasting packages, improved game modes, and the epic homerun celebrations are just a few of the reason this game is truly awesome. There's no better way to get amped up for the upcoming baseball season than with MLB The Show 16. This year's version is worth every penny and will go down as the best baseball simulator ever created. It will hold you over until the Cubbies hoist the World Series trophy in October.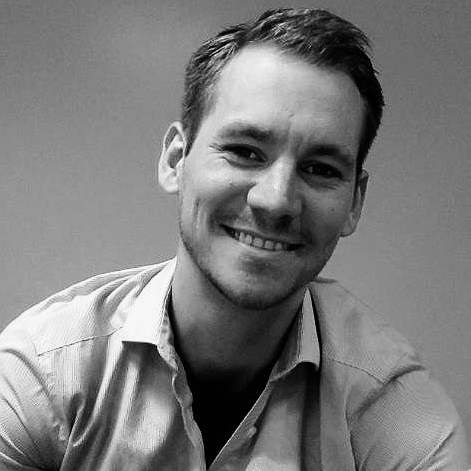 By
Patrick Tretina
Contributing Writer
Date: March 29, 2016
Game Features:


ShowTime – Experience baseball's most epic plays like never before. ShowTime takes critical in-game Road To The Show moments and slows them down to give you maximum control. Make Gold Glove plays and come through in the clutch with this empowering tool that allows finer, more focused user control.

Immersive Road To The Show – With a curated in-game environment and a revamped training system that includes Gameplay Perks, The Show 16 offers a far more personalized experience that acknowledges key moments of your career as you travel from a nobody to the Hall of Fame. An improved "Topps Prospect Showcase" includes Bowman Scout Day and a new 20-80 scale scouting report. Streamlined game logic maximizes the time spent in situations that matter.

Revamped Franchise Mode – From the field to the front office, take the reins and run a big league ball club in Franchise Mode. A new Player Morale system, based on factors such as role and coaching staff, will have a profound effect on your team's on-field performance. Our improved Budget system now includes the authentic MLB Competitive Balance Tax and Revenue Sharing. All of this, plus improvements to Free Agent logic, GM goals, scouting and more make Franchise the deepest experience yet in The Show 16.