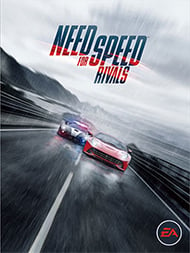 System: PS4*, PS3, Xbox 360, PC, Xbox One
Dev: Ghost Games
Pub: Electronic Arts
Release: November 15, 2013
Players: 1 (2+ Online)
Screen Resolution: 480p-1080p
Mild Violence
Visually, Need for Speed: Rivals really shines, especially on next-gen. The environment is sharp and interactive; leaves and trash blow through the wind around you, and the cars look absolutely gorgeous. Additionally, Ghost Games really nailed the "speed factor" in rivals. Meaning, through the visuals, they have achieved a feeling of speed that becomes increasingly frantic the longer and faster you drive without slowing down. This is something that the series has always done astoundingly well, and Rivals is no exception. However, one thing is missing from the visual formula that I always find annoying if absent–real-time car damage. When you're involved in a big wreck, your car will show damage as it lands in pieces after its 150 MPH collision, but is then magically restored to its former glory and returned to the road, even though it is still technically damaged and may require you to drive through a repair station. This annoyance is minor, but it did make it difficult to keep track of my car's durability sometimes, and well, I just want to see the damage effects, especially on next-gen.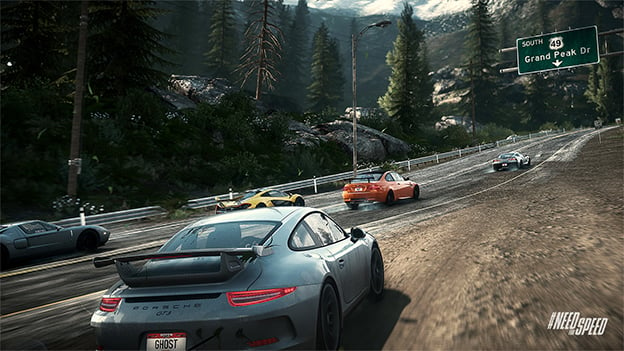 As with many games of this type, EA delivers a solid soundtrack for you to tear up the streets of Redview County to. A hip-hop/pop mix littered with other genres to fill it out, the soundtrack is diverse enough to have a little something for everyone, without being distracting to the gameplay. The rest of the soundscape does its job admirably, with a collection of sounds and effects that keep you immersed in the game.
Overall, Need for Speed: Rivals delivers the most solid racer to come from EA in a long time. The ability to play as both Cops and Racers is a welcome gameplay diversity that gives you the power to choose how to play the game. Back that up with a seamless multiplayer, a solid audio foundation, and killer visuals, and what you get is one of the best racing games to come out in recent years. Whether you choose to be a Cop or a Racer, either way you're going to have a lot of fun, which is what gaming is all about.
By
Joshua Bruce
Video Director
Date: November 20, 2013
Game Features:


HIGH STAKES RIVALRY - Watch the stakes grow through a new scoring system that lets racers risk their speed points to shoot for higher multipliers and greater rewards, or bank their speed points safely when they return to a hideout. The more risk you take on, the faster you can progress, but get busted by the cops and they take your speed points as a reward. Hundreds of thousands of speed points can be at stake at every turn and at every bust--will you go from hero to zero?

ALLDRIVE - This revolutionary new feature lets you seamlessly join a world where your friends are already racing and chasing. Single-player and multiplayer are no longer isolated game modes. There are no lobbies, no waiting; everything is seamless. You and your friends can all share the same game, same race, and same chase. Paths cross and experiences merge: Imagine your race and your friend's pursuit colliding, creating a world where no two events will ever feel the same. Don't want to play with others? Then simply choose to make Redview County yours alone and dominate the advanced racing and cop AI.

YOUR CAR, YOUR IDENTITY - Power up your car with the latest upgrades in pursuit technology, and personalize your bodywork with fresh paintjobs, liveries, custom license plates, rims, and decals to show off your car to the world. With millions of potential combinations, you can save different configurations and keep a variety of car packages on alert to leave your mark no matter the situation.

COPS VS. RACERS - Racers are lone wolves out for their own glory, driving agile cars built for high speed racing and epic chases. Cops work in teams to hunt down and bust racers using the full power of the police force. Intense racing moments are made even more thrilling with access to upgradeable pursuit technology customized to each side. Racers use this technology to evade cops--using tech such as turbo bursts, jammers, and electromagnetic pulses. Cops will be armed for aggressive busts, deploying shockwaves, jammers, and calling in police roadblocks or helicopter support. Each side has a different set of supercars, technology, tasks, and career milestones. Switch sides whenever you want to get that car you need, the tech you want, and the role you crave in a progression system that is different for each side.

NETWORK - Network will be the hub for continuing your racing and chasing with access to stats, leaderboards, and content uploads direct from the game. Breakdown what's happening in your friends' worlds in real time, join groups to team and engage on the forums. Share your progress and images with your social networks. Prep for your next gaming session as you build playlists, and add your latest rivals to your friends list. Engage with Need for Speed: Rivals from the web, tablet, or mobile in Overwatch, a mini-game that connects you with the console/PC game by letting you help or hinder your friends to earn points towards exclusive paintjobs.