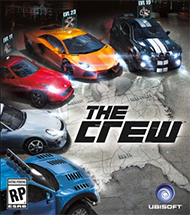 System: PS4, Xbox One, PC
Dev: Ivory Tower
Pub: Ubisoft
Release: TBA
Players: 1
Screen Resolution: 480p-1080p
Hangin' Out At E3 With The Crew
by Jake Valentine
"How does The Crew stand out against all the other racing games on the show floor?"
This was the question I asked during my ten-minute or so hands-on demo with Ubisoft's open-world racer. It was a question I absolutely had to ask. The E3 2013 show floor was filled with racers: Driveclub, Gran Turismo 6, Forza Motorsport 5, Mario Kart 8, Need for Speed Rivals, and more. I had to know what set The Crew apart from the others.
I got two answers: first, its play style. This isn't a full simulation in the form of a Gran Turismo or Forza, so it's not really in that type of league. Heck, even Driveclub, the quasi-simulation racer I previewed yesterday, handled more realistically. While not a true arcade racer (I'm not able to take hairpin turns at 150 miles per hour; I have to break or crash into the wall), there's still some illusion of simulation. I like this: it's accessible with a hint of challenge. I can also imagine that the amount of customization The Crew promises to offer will suit the style of the game well, but there's more on that later.
My second answer? The map size.
"It will take an hour and a half to get from coast to coast in the game," I was told.
I didn't believe him for a second: "If I drive from the east coast to the west coast, it will take me ninety minutes?"
"That's correct."
Well, that's one way to set your game apart: offer an absolutely gigantic world to explore. This is where The Crew has you covered. The demo offered a small glimpse of this. Three different systems were connected to each other as each player performed two missions: a solo mission and then a teamed mission. For example, I competed in a traditional race, but others might have had different tasks depending on the locations they selected. After completing the race, I entered the game's free-drive mode. The free-drive mode allowed me to explore the city as I saw fit. Before long, however, a countdown appeared on my screen. I was soon transported to Miami for a teamed mission.
Well, I wasn't; I was already in Miami. But my squad mates were.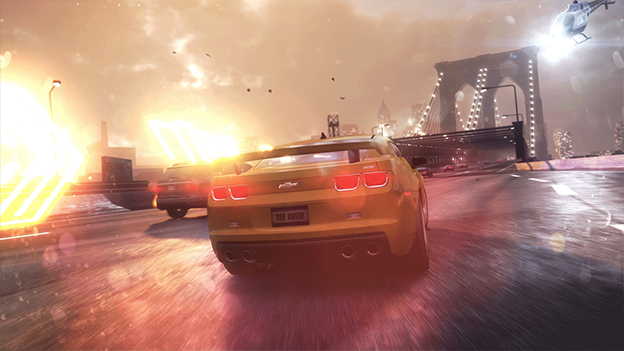 Together, we had to take down a runaway vehicle by any means necessary. To prepare for this encounter, our cars were automatically tuned and customized to handle the probability of an off-road experience. During this time, the developer on hand noted that this wasn't indicative of the final build. He said that I'd be able to do all of this myself when the game releases to retail in 2014, but the process was done automatically to help speed the E3 demo along.
The team missions played like something straight out of Burnout--take out the targeted driver by ramming into them. Or, in our case, I swerved in front of the driver while my teammates surrounded him.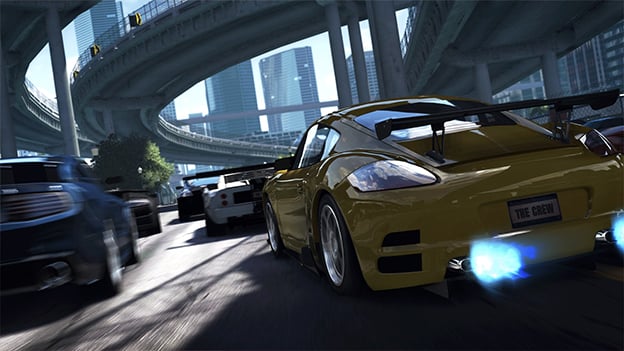 The developers were impressed with my tactic, and their reaction to my tactic of choice led me to believe that there will be many missions that require multiple strategies. Simply ramming into the driver isn't that effective due to the fact that I wasn't able to predict his driving habits. I was only able to cut in front of him because I took a shortcut and went into his only possible route.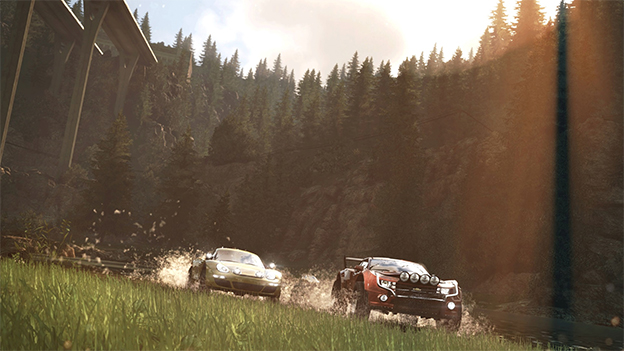 To be honest, if The Crew wasn't announced, I probably wouldn't have been thinking, "Hey, I'd really like an open-world racer on my Xbox One or PS4." Even after I watched Ubisoft spend twenty minutes on the title during their press conference, I still wasn't convinced. But The Crew is something I could enjoy, provided I find stable playing partners. It's not the best racing game I've played this week, but it's certainly enjoyable.
By
Jake Valentine
Contributing Writer
Date: June 19, 2013
Game Features:


Ubisoft creates an open-world racer for next-generation consoles.

Race across the entire US, including New York City and Los Angeles.

Race solo, or complete missions as a team.