System: PS4
Dev: Naughty Dog
Pub: Sony
Release: TDB
Players: 1
Screen Resolution: 480p-1080p
Drake's Back
by Angelo M. D'Argenio
E3 2014 brought about the official reveal of Uncharted 4: A Thief's End. I don't think there was any other reveal that was more hyped with less info. All we have for now is a trailer and some statements from Naughty Dog and Sony to go on. Unfortunately, that means most of what is out there in terms of actual gameplay and story details is really just speculation. But harmless speculation never hurt anyone right? Here's what info we could gather up from Uncharted's E3 showing this year.
First of all, we were given an official synopsis of the Uncharted 4 plot. "The next generation of Nathan Drake will explore what it means when Drake is forced back into the world of thieves. He will embark on a globe-trotting journey in pursuit of a historical conspiracy behind a fabled pirate treasure. It's his greatest adventure yet and will test his physical limits, his resolve, and ultimately what he's willing to sacrifice to save the ones he loves."
Unfortunately it's not clear why he was forced back into the world of thieves. However, we do know that this is looking to be an "end" to Drake's story. Note that this doesn't mean that this will be the last Uncharted ever made, but likely that there will be lots of powerful plot points that will inexorably change Nathan Drake's life. Someone is going to die…
We know what the graphics will look like. Naughty Dog has said that they are targeting the new Uncharted to run at sixty frames per second in 1080p resolution.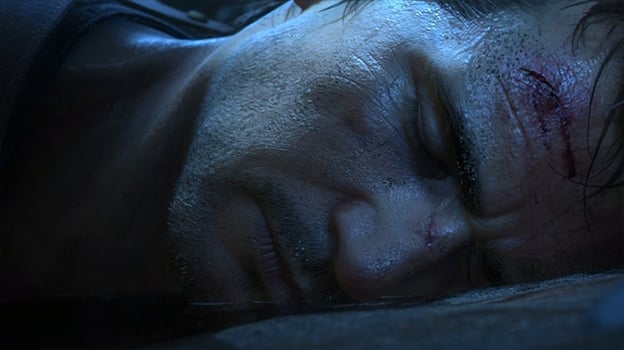 We also know that the PS4's technology is letting them push the boundaries with Uncharted 4, more than ever before. In specific, the team said that they went back and examined what they wish they could have done with Uncharted 1. They are using Uncharted 4 to bring all those unfulfilled game development dreams to life.
As I said before, we only really got a trailer for Uncharted 4 at the Sony Press Conference at E3 this year. So in lieu of more statements from Sony and Naughty Dog, let's talk about the trailer itself.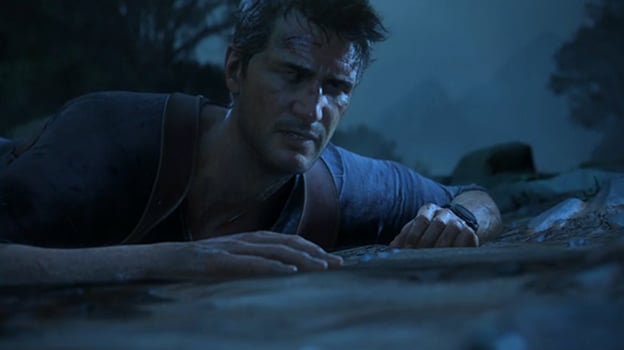 The trailer opens on a black screen that abruptly cuts to Nathan Drake passed out unconscious with a gash in his head. "So… what do you think?" we hear as Drake's voice narrates over the footage. "It's a lot to take in kid" another voice, Sully's voice, says. "Where do I even start? You've been out of the game for a long time. Maybe I need to remind you the type of people we'd be crossing here."
Drake starts waking up as his own voice cuts in to the narration again. "Sully I know the risks. But come on, it's a surefire plan!" Drake reaches for his gun as Sully comes back in. "Heh yeah… If there's one thing I've learned in all these years it's there's no such thing as a surefire plan."
As Drake reloads his gun the conversation continues. "I don't really have an option here. You know that. Yeah, maybe you're right, I've been out of the game but… I need back in. So can I count on you? One last time?"
At this point the camera pans back and shows where Drake is. He is walking through a forest amid several ruins. Strewn about are cages, corpses, and an all-around bad scene. "Alright kid… let's go do it." Sully says before the camera fades out.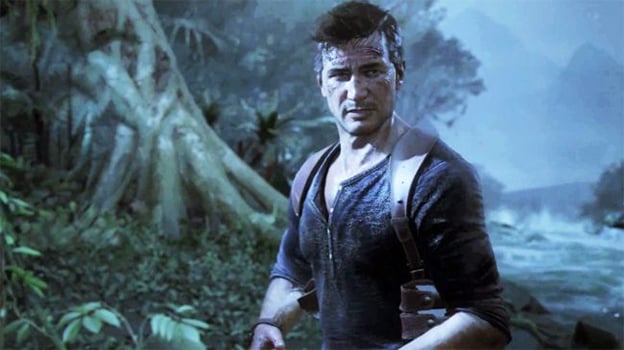 At this point Uncharted 4 is more hype than substance, but that's not necessarily a bad thing. Frankly, we will have to wait a long time to see some concrete gameplay anyway. The game has a 2015 release date, which means that we will likely see it at next year's E3. Hopefully we will have more concrete info for you then.
By
Angelo M. D'Argenio
Contributor
Date: July 25, 2014
Game Features:


Brand new story pushing Drake into new adventures.

1080P 60FPS graphics.

New gameplay based on ideas that could not be fulfilled in the original Uncharted.