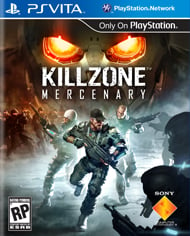 System: PS Vita
Dev: Guerrilla Cambridge
Pub: Sony
Release: September 10, 2013
Players: 1-8
Screen Resolution: 544p
Bending The Line
by Shelby Reiches
The Killzone series has never been about choice. Linear shooters, they've been more notable for their technical accomplishments than for anything related to storytelling or world-building.
There's a Vita entry in the works, though, and given the limitations of the hardware, it will have a devil of a time living up to what Guerrilla Games has managed on the PlayStation 3, much less what they look poised to accomplish on the PlayStation 4 with Killzone: Shadow Fall. That shouldn't matter, though, as long as the gameplay is something players can get behind, no?
As such, Killzone: Mercenary will be taking a more open, fluid route than its forebears. Set after the end of the original Killzone, it stars Arran Danner, a former UCA soldier and current gun-for-hire who takes on contracts from both sides of the ISA/Helghast conflict. The events of the game, which kick off with a scrubbed evacuation mission, will cover not only the aftermath of the original game, but also other major events of the Killzone trilogy, if from a different angle.
Whether this means that these events will be experienced from the Helghast side of things, or simply through a different set of eyes, remains to be seen. What it does mean, though, is that the player will have some element of control over the direction of Danner's destiny. How far this control will extend, or what sort of impact it will actually have on key events within the Killzone mythology, is a somewhat murkier factor. Guerrilla Cambridge has confirmed that there will be nine missions, each an hour in length; are they directly continuous or are there nine missions to be chosen from in a given playthrough? Most likely the former.
The one area in which players have already been assured of their agency, though, is in their loadout. A currency system is in place, which appears to be influenced by actions performed within missions, and can be used to purchase weaponry that suits different tactics and play styles. Aiming for the long-range approach? Grab a sniper rifle. More interested in getting up close and personal? Shotguns and assault rifles. What if you want to sneak around and take out your enemies from behind? That looks to be an option. And, of course, there is the explosive ordnance for when something bigger than you comes along.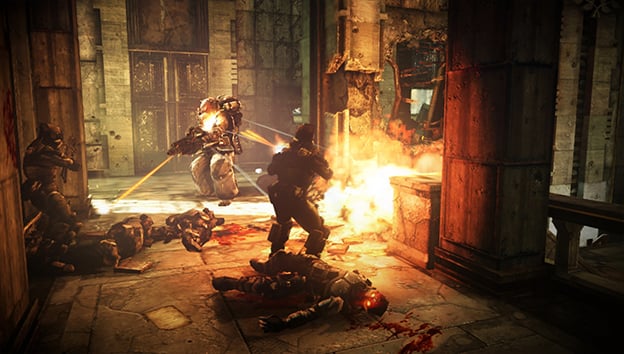 It appears that death isn't the only solution to one's problems, if a tranquilizer gun in the trailer is any indication; but Killzone: Mercenary certainly seems determined to make it an enjoyable one. In addition to guns that, in general, are supposed to "feel slightly more powerful" than their past analogues, the game features melee kills that range from the fairly typical stabbing someone from behind, to the burying one's knife in the opponent's groin before slicing their throat. There it also a Mantis drone one can control that incapacitates enemies with a pair of pointed blades to the temples.
All of this is rendered on a modified version of Killzone 3's engine, with the volumetric smoke, reflective metal, and high-resolution environment textures that that implies. Judging by the gameplay trailer, this pays off in spades. The visuals are a welcome change from the sophomoric efforts of Resistance: Burning Skies and Call of Duty Black Ops: Declassified, both of which were built by Nihilistic. Luckily, Nihilistic's name is nowhere to be seen on this portable Killzone entry. Instead, the developer at work is Guerrilla Cambridge.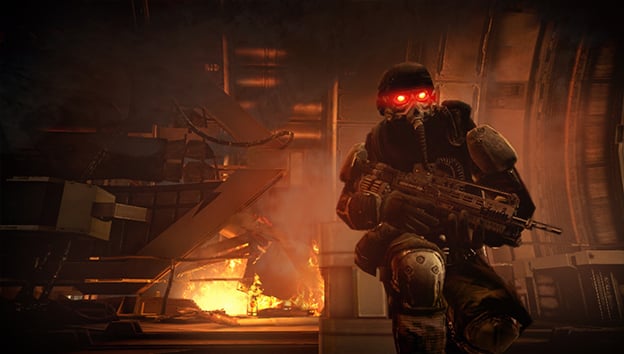 Guerrilla Cambridge is a sister development studio to Guerrilla Games, the latter of which is hard at work on the PlayStation 4 Killzone entry. It's a bit closer to in-house than most portable entries in big-name console series tend to get, but it still raises the question of whether or not this developer can live up to the team that actually created the franchise. Looking at Guerrilla Cambridge's pedigree, though, and including those games released when they were still Sony Computer Entertainment Cambridge Studio, provides a glimmer of hope. They are responsible for the MediEvil games, including the PlayStation portable rerelease of the original and, while they've had their less-than-glorious projects (24: The Game comes to mind), they are also the team that built the PSP version of LittleBigPlanet, which is a faithful and enjoyable companion to its PlayStation 3 big brother.
For now, I find myself cautiously optimistic. Killzone: Mercenary seems like a technically proficient first-person shooter, though there might be some concern that it's pandering to the Vita's various touch capabilities, such as back-touch based sprinting (which didn't work well in Resistance, either). The gameplay trailer also features a few swipe interactions here and there, and word has gotten out that some weapons use the touchscreen for an alternate fire mode, but it's all still a far cry from the sort of touch-based and gyroscopic abuse that happened on the first wave of Vita titles.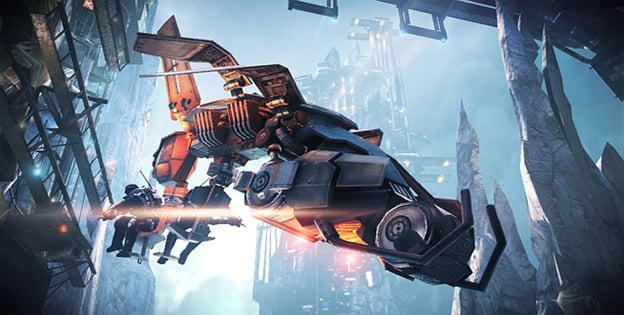 From the handheld's inception, the appeal of its twin-stick setup has been how it would allow for traditionally dual-analog gameplay styles to be played on the go without a loss of control. Chief among those games is the shooter, which demands analog aiming for accuracy and speed. With any luck, Killzone: Mercenary will make good on the Vita's promise.
By
Shelby Reiches
Contributing Writer
Date: May 20, 2013
Game Features:


Full Campaign Mode: Play through 9 massive single-player missions with multiple difficulty settings. Completion of each mission unlocks additional challenges and special objectives.

Breathtaking Visuals: Built on the same Killzone engine used on PS3, Mercenary's stunning graphics and smooth gameplay show off Vita like no other game.

Robust Multiplayer: Intense combat for up to eight players boasts a wealth of compelling modes including Deathmatch, Warzone and more. Dynamic Rankings keep the competition fierce.