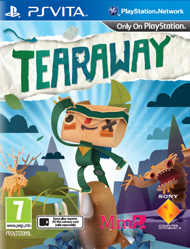 System: PS Vita
Dev: Media Molecule
Pub: Sony
Release: TBA 2013
Players: 1
Screen Resolution: 544p
Papercraft With Media Molecule
by Josh Wirtanen
Yesterday, I got the opportunity to hang out in Hollywood with the creative hipsters from Media Molecule. While I spent most of my time making papercraft with the insanely talented Tom Kiss (he's like a papercraft Jesus), I also got to play a bit of Tearaway, the upcoming project by the same folks who brought you LittleBigPlanet.
Now, if you've already heard of Tearaway, I'm sure the first thing that caught your attention was the art style—the entire game world looks like it was made out of paper (hence my epic arts and crafts session with Tom). While that's an interesting premise in and of itself, what makes Tearaway so intriguing is the way this paper aesthetic informs every other aspect of the game.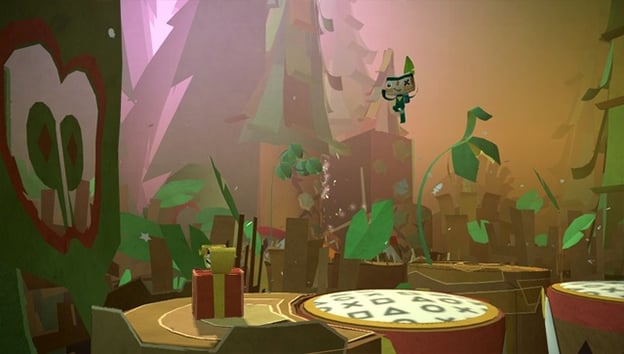 Your little character moves about the game's stages carrying a message just for you, which is tucked safely inside its cute little envelope head. All the while, there are all sorts of "papery" goings on, like streamer-like strands of paper that blow in the breeze and entire environments that fold in on themselves.
Actually, that last part was especially important in what Media Molecule is currently referring to as "dungeon stages." Everything I got to see concerning these stages was just proof of concept, but there are some incredibly cool and innovative ideas here, like entire rooms that would fold out as if they were pages in a pop-up book. These "dungeon stages" take place in more confined spaces, and actually remind me quite a bit of papercraft versions of some of the more closed-in sections of the 3D Mario games.
Of course, Tearaway isn't necessarily a platformer, as the design is more like a super cute explorable open world. During a presentation before my hands-on time with the game, the mousey little Rex Crowle, lead designer on the game, referred to the gameplay style as having "playground areas to explore," as well as "dramatic pinch points."
While those are fairly accurate descriptions of what I got to play around with, they're also sort of nebulous explanations of abstract concepts. So let me just explain what I saw.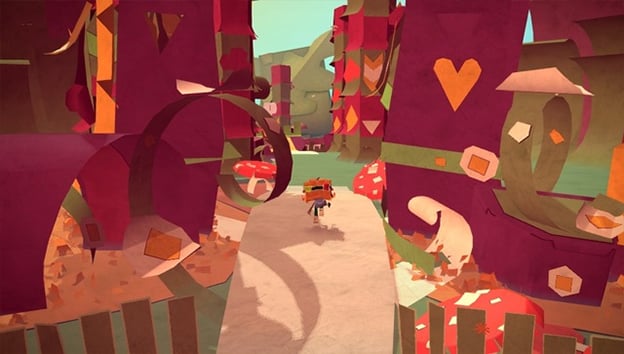 The area I got to explore was called Wendigo Fissure, which was a portion of a larger game area called Sogport. Sogport is actually a paper island amidst this sea of glue. And, as Crowe explained, a sea of glue can be incredibly dangerous for "a tiny paper thing with tiny paper lungs." (I got to experience the truth of this firsthand, as I carelessly steered my character off a ledge into the gluey sea, where he drowned. All sorts of sadness was had, I assure you.)
But in smaller doses, this glue actually helps you out, as it can be found lining walls for extra stickiness, allowing you to walk up them like the clever little paper spider you are.
Along the way, I was confronted with the Wendigos (the creatures for which Wendigo Fissure is named), which seemed perfectly content to gobble me up if I got too close. To avoid them, I could distract them with pebbles that they would eat while sneaking past them, or I could use the pebbles to lure them into traps.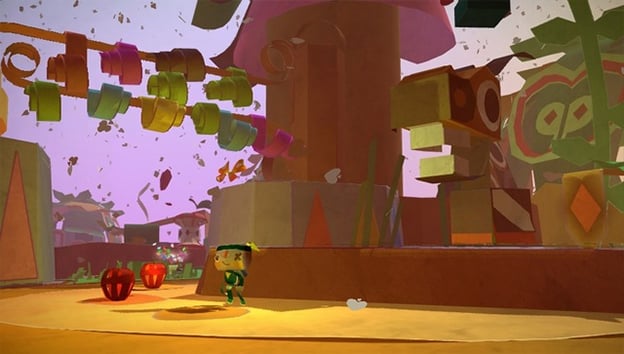 While the gameplay felt fine and good, it was certainly more LittleBigPlanet than Mario, meaning the controls aren't über precise and the jumps can feel a bit floaty. Additionally, I noticed some serious problems with the camera, which the folks at Media Molecule explained were still being jiggered out.
Still, the art direction is fabulous, and the environments are extremely fun to explore. The whole thing is just oozing with creativity.
Oh, and I was shown the sort of cutscenes we could expect for story sequences, which would play out like pages in a pop-up book. Instead of having a story moment that players will have to sit through, Tearaway's cutscenes are interactive. They'll have little tabs in the background for you to play with while the story is progressing, making them far more entertaining than the run-of-the-mill cutscenes we're growing so tired of.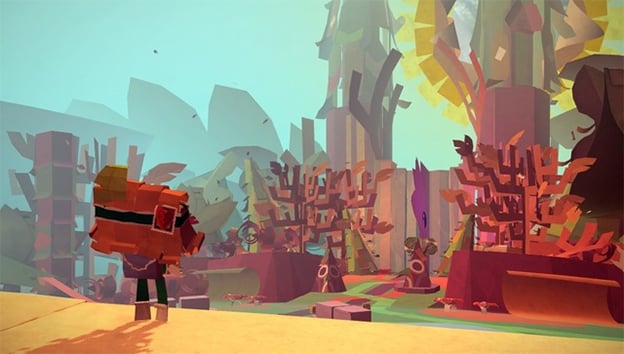 Personally, the thing that I was most impressed with was the sound design, which is absolutely fantastic. Those of you who are familiar with the LittleBigPlanet franchise should already have a relatively good idea of what to expect—hipster indie music coupled with adorable little sound effects—but what I thought was the coolest touch was the way the music would crescendo and decrescendo as the character moved about different areas of the stage. For example, I would jump into a pit and the music would suddenly swell, then eventually fade back into the background. There would be another dramatic swell once I climbed out of the pit. It definitely creates this weird sense of space, and it leaves you with this great impression that your actions have some effect, if even a fairly meaningless one, on the environment.
While I didn't get to personally meet the sound director, Tom and I gossiped about him a bit during our papercraft session, and I was left with the impression that he's this sort of brooding creative genius who obsesses over each and every sound that goes into the game. With how well the sound elements in Tearaway work, this is a mental image I'm tempted to believe.
Tearaway is simply brimming with insanely creative ideas that make the player smile, and it uses the touchscreen interface in some clever ways that make the game seem like a natural fit for the Vita. I can't say when exactly to expect this one to hit shelves, but I assume it will be a while yet, as everything I saw was in a fairly early stage of development. Still, this seems like it could easily be the sort of breakout hit that the Vita so desperately needs.
By
Josh Wirtanen
Editor / Social Media
Date: January 31, 2013
Game Features:


In Tearaway, You'll conquer adversity and discover magical papery surprises. But you're holding more than just a PS Vita in your hands — you're holding the paper world itself!

Using the god-like powers inherent to someone who can hold an entire world in their giant hands, you can make your presence felt using a wide range of godly powers that take advantage of all the PS Vita's bells and whistles — some subtle and some epic.

Anything you see in Tearaway's papercraft world can be created in the real world from bits of paper!