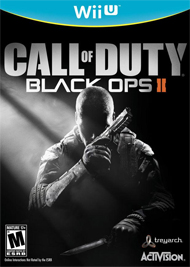 System: Wii U*, PS3*, Xbox 360*, PC
Dev: Treyarch
Pub: Activision
Release: November 18, 2012
Players: 1 (2+ Online)
Screen Resolution: 480p-1080p
Blood and Gore, Intense Violence, Strong Language, Suggestive Themes, Use of Drugs
The GamePad can also be used as a second screen when you're playing with a friend. So, you can kiss the splitscreen goodbye when you're fighting off a horde of zombies or those other mindless monsters: online gamers.
But if you're not into the GamePad controller, Nintendo has also released its Xbox-like Pro Controller. The Pro Controller feels great in your hands, but there's a tiny snag: The buttons are below the thumb pad, which is different than the 360 and PS3 controllers. You'd think that such a small change wouldn't be a big deal, but it actually takes a fair amount of getting used to if you're accustomed to the other setup.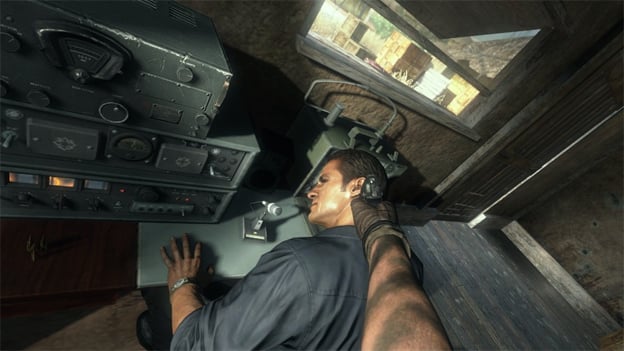 The only other thing that separates Black Ops 2 on the Wii U from its cousins is the absence of Call of Duty: Elite. Now, I understand that the Wii U is a newcomer, and therefore still has a few bugs to be worked out, but the fact that Elite is missing tells me that Activision doesn't take the Wii U as seriously as the PS3 and 360.
Like I said, Call of Duty acts like a thermometer for the hardcore gaming market, and the fact that Elite is missing makes me wonder if Activision thinks that not enough players will notice the difference to make the port worthwhile. Consequently, I'm forced to question whether or not third-party developers are truly on board with Nintendo's latest system.
But, aside from the difference in control setups and the absence of Elite, the Wii U edition of Black Ops 2 is identical to the others. The single-player campaign is identical, Zombies Mode is the same, and the multiplayer component hasn't changed. So, for the first time in gaming history, a Nintendo console has delivered a strong Call of Duty performance. But given the significantly smaller player base and controller-based learning curve, the Wii U may not deliver the optimum Call of Duty experience.
The real question you'll have to ask yourself when you're deciding which system to purchase Black Ops 2 for is "How often do my bowel movements interfere with my gameplay?"
By
Josh Engen
News Director
Date: November 29, 2012
Game Features:


All-New Create-A-Class: Create-a-class has been re-imagined, introducing players to a new "pick-10" allocation system, allowing an unprecedented number of combinations of create-a-class content. Players no longer have to take content from each category; instead, trade items from one category for extra items in another—any combination of 10 items makes almost anything possible.

New Score Streaks: Score Streaks reward players for helping their team win the game: capturing flags, defending your teammate with an assault shield, and getting kills and assists are all examples of actions that help your team win and thus give you score. Each action has a different value and can influence the theater of operations.

eSports via League Play: COD: BO2 introduces League Play, offering skill-based matchmaking and seasonal ladders. Play a small number of matches to get your skill rating, and from there, you'll be placed into a division with players of similar skill. Keep winning and you'll move up in rank—steady progress will move you up the ladder and into upper divisions. Skill-based matchmaking ensures that you are challenged but not out-gunned. League play is for everyone. Additionally, CODcasting is part of the mix, allowing fans to commentate their favorite games.

Upgraded Weapons, Attachments, and Equipment: Near-future warfare means upgrades in technology that soldiers will use in the field. Additionally, weapon perks are now built into the attachments.