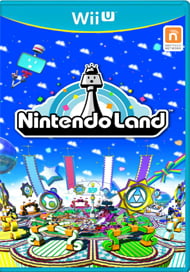 System: Wii U
Dev: Nintendo EAD
Pub: Nintendo
Release: November 18, 2012
Players: 1-5
Screen Resolution: 480p-1080p
Cartoon Violence, Crude Humor
Some of the titles are a little more successful than others. Captain Falcon's Twister Race, which is based on the F-Zero franchise, is a lackluster affair that's dedicated to racing around a track by simply twisting the GamePad like a steering wheel. It feels excessively slow most of the time, only managing to be exciting for brief moments when you come across a speed pad.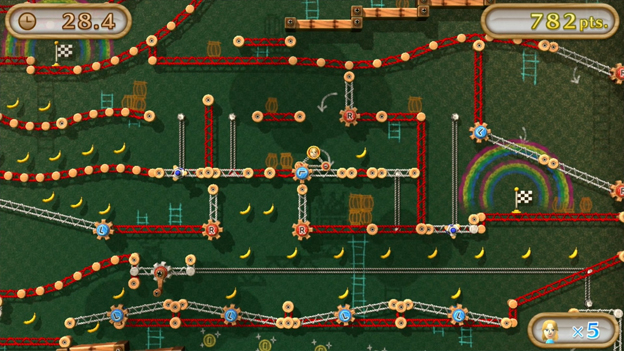 In all, Nintendo Land features six single-player attractions, three that support solo and multiplayer gameplay, and three that are multiplayer only. Most of them do an amazing job showing off the Wii U's functionality and asymmetric gameplay, but it's not unusual for an awkward moment to find its way into the attraction.
Aside from the minigame attractions, Nintendo Land also features a large tower in the center of the park. By clicking the tower on the GamePad, players are transported to the top and given access to a Plinko-meets-Space-Invaders game that accepts the coins they've been collecting within the minigames. If you successfully pass one of the game's stages, a prize is shot from the top of the tower and lands somewhere in the park. The prizes are simply franchise-based decorations that have some kind of limited functionality. I managed to collect several of these prizes, some of which were useful, while others were the opposite.
It's not surprising that Nintendo is touting Nintendo Land as the Wii Sports of their latest console. However, Nintendo Land may not be able to find the same kind of generalized appeal that its predecessor enjoyed. Then again, that surface-level enjoyment has been replaced with an extraordinarily deep experience that showcases the Wii U's hardware and manages to deliver an experience that's both enjoyable and long-lasting.
And when was the last time you actually played Wii Sports?
By
Josh Engen
News Director
Date: November 19, 2012
Game Features:


A fun and lively virtual theme park filled with attractions based on popular Nintendo game worlds.

Each attraction features unique and innovative gameplay experiences made possible by the Wii U GamePad controller.

Players can play solo, compete against other players, or even team up to play cooperatively.

Up to five players can participate in dynamic multiplayer modes in select attractions.