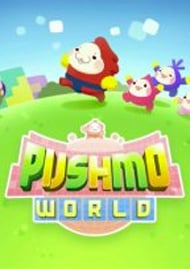 System: Wii U
Dev: Intelligent Systems
Pub: Nintendo
Release: June 19, 2014
Players: 1
Screen Resolution: 480p-1080p
Pushmo World uses the extra screen real estate on the Wii U to create charming backdrops against which the action takes place. Players will be pushing and pulling blocks in a forested village, windy valley, lumberjack camp complete with mine cart ride, ocean pier and more. The colors are bright but not too vibrant, and the characters are all cute as a button. It's almost as though the game's visual design was meant to lure players into a false sense of security just as they meet their first diabolically difficult Pushmo. In addition to being attractive, the graphics support the game's function well. There are various ways to survey the puzzles, and the blocks are colored so that you'll never have trouble distinguishing one from another.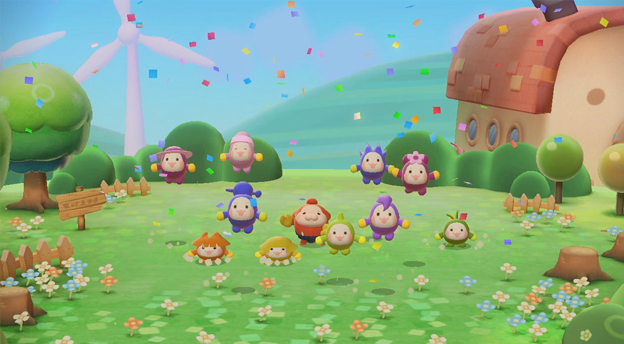 The game is less impressive in its sound design, but the music and effects aren't really the game's focus. The background music is lively but unremarkable, and the sparse effects are the usual bleeps and bloops. It all works well with the game's overall character, even if a more imaginative score would have been a nice background to the puzzle solving.
For puzzle lovers, you can't do much better than Pushmo World. It's a great deal with tons of challenging puzzles, lots of variety packed into a simple premise, and tons of play value via the World Fair. The best puzzle games are easy to learn but difficult to master, constantly challenge the player to think in new ways, and ensure that players can't be permanently stumped on a single puzzle. Pushmo World does all that and more with style and charm. Go pick it up on the Wii U and get ready for block-pulling bliss.
By
Becky Cunningham
Contributing Writer
Date: July 2, 2014
Game Features:


Take on 250 fun puzzles, including colorful mural stages.

Visit Pushmo World Fair to play and rate custom Pushmo puzzles from around the world.

Create custom puzzles in Pushmo Studio with a robust selection of tools.

Share your puzzles seamlessly via the World Pushmo Fair feature or QR Code patterns.

Earn Stamps for your Miiverse posts.

Puzzles shaped like real-world objects, animals, and Nintendo characters will impress your eyes and challenge your brain.

Unlock special Mysterious Pushmo with new twists on gameplay, such as yin-yang blocks and timed blocks.