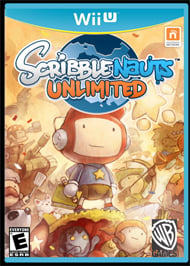 System: Wii U
Dev: 5th Cell
Pub: Warner Brothers
Release: November 19, 2012
Players: 1
Screen Resolution: 480p-1080p
Cartoon Violence, Comic Mischief
Similarly, when given a challenge to create a robotic dinosaur out of three different parts, my finished dinosaur looked nothing like one that had been created using razor blades, a jet engine, and a puppy dog tail. I understand that the game's creators can't account for everything players can think of, but in this game's case I think they erred too far in the direction of providing flashy animated results instead of reflecting the player's choices accurately in the game world.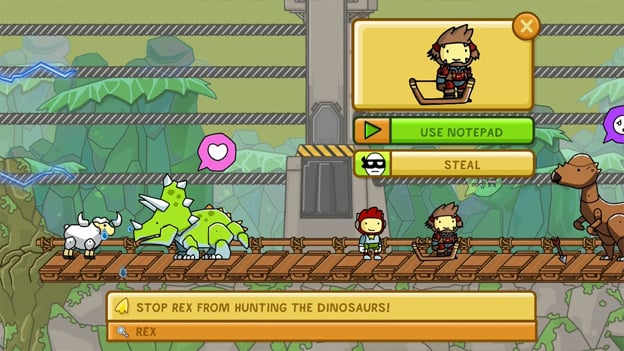 Scribblenauts Unlimited is available for the 3DS, Wii U, and PC. I'd personally recommend the PC version because it's currently priced at half the cost of the Wii U version, and I'm not convinced that the game is worth its sixty-dollar console price tag. The Wii U allows for sidekick play and includes some Nintendo-themed objects, many of which players have re-created using the object editor and put up on the Steam Workshop anyhow.
On the non-portable systems, the game's graphics are in HD, and its cute minimalistic art style looks extra crisp. The different themed areas are stuffed full of people and objects, giving players lots of opportunity to set up amusing scenarios. Dynamic music and fun sound effects add to the experience, though the music isn't the kind you'll want to listen to outside of the game itself.
Of all the three Scribblenauts games, this one is the most like a toy rather than a game. Writing out the most obvious objects in order to collect starites can easily make the experience overly simple and boring. Scribblenauts Unlimited is all about playing around with the colorful world, coming up with crazy solutions to peoples' requests, and goofing off with the object editor. At this point, the series has probably gone as far as it can without major improvements in artificial intelligence, but that will be more than sufficient for people who enjoy this kind of sandbox gameplay. It's a good game, especially at the PC price point, but it's unlikely to hold the attention of achievement-oriented gamers for long.
By
Becky Cunningham
Lead Contributor
Date: December 3, 2012
Game Features:


All-New Unbound World: Explore an open universe with unlimited hours of fun using every level as your playground.

Create original objects, assign unique properties, and share them with other players online. Use them in game or modify them as you like!

Store previously summoned objects and your own creations in Maxwell's "magic backpack" for easy access and future use.

Each world comes with a comprehensive list of hints, including the new "Starite Vision" helper highlighting all nearby starites and starite shards.