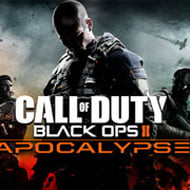 System: Xbox 360*
Dev: Treyarch
Pub: Activision
Release: August 27, 2013
Players: 1-16
Screen Resolution: 480p-1080p
Blood and Gore, Intense Violence, Strong Language, Suggestive Themes, Use of Drugs
The last map in the multiplayer package is "Pod," which oddly reminds me of a MOBA (Multiplayer Online Battle Arena) map. From each spawn point, you essentially have three options–left, middle, or right. Although each path is slightly skewed from being this basic, they are undeniably laid out this way. The failed utopian community that once existed here is green with overgrowth and not much else. The open pods serve as bunkers, while other obstacles keep you on one of your three tracks. However, the simple design of this map, coupled with the strategic placement of shortcuts to other lanes, makes this map the most frenetic of the bunch.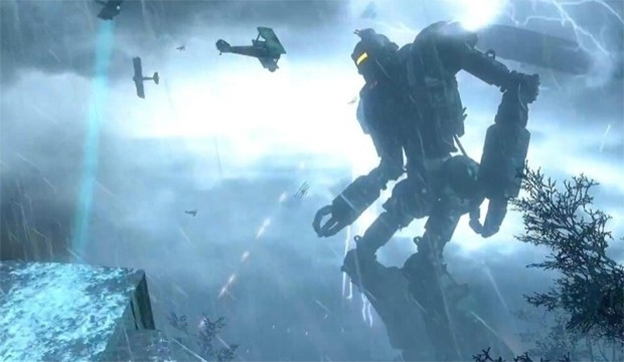 But enough of the same old multiplayer, let's talk about zombies! The new Zombie mode included with Apocalypse is called "Origins." Most likely because it brings back the original cast from the very first Zombies map on Call of Duty: World at War, and possibly because this installation in Treyarch's Zombies goes back to explain the origination of the zombie threat. But either way, "Origins" is by far the best reason to give Activision fifteen bucks of your hard-earned cash for this DLC. In my opinion, this is the definitive Zombies experience within CoD. This chapter in zombie lore has Nazi zombies, Templar Knight zombies, trench warfare, huge outdoor environments, weather effects, a tank to ride on, and giant robots that can squash you if you're not careful. This is the biggest Zombies yet, and it doesn't disappoint. Just don't forget to get your Jugger-Nog before wave 8!
So, is Call of Duty: Black Ops 2 - Apocalypse worth it? Well, that depends. Are you looking for fresh, new, and exciting multiplayer maps? If so, you won't find them here. But are you looking for the most complete and sprawling Zombies experience ever to come out of Treyarch? If you answered yes, stop what you're doing and get it. Now.
By
Joshua Bruce
Video Director
Date: August 30, 2013
Game Features:


"Pod": A failed utopian community from the 70s has left stacks of dilapidated residential pods nestled into an abandoned cliff side. Its residents long gone, the modernist compound now hosts frenetic combat as players must run atop the pods and navigate their multi-tiered interiors for a strategic edge.

"Frost": Fresh snow meets explosive gunpowder in this snow-capped European city, where the bridge over a frozen canal separates it into two sides, requiring players to employ multi-level traversal strategies to outsmart and ultimately outshoot their enemies.

"Takeoff": Though marooned in the middle of the Pacific Ocean, this remote launch site is all about the close-quarters combat, combining tight corners with open spaces for combat encounters reminiscent of the multiplayer map "Stadium" from Call of Duty®: Black Ops First Strike.

"Dig": Two archeological dig sites in Afghanistan have unearthed the perfect playground for combatants eager for hectic, unceasing battle, as this re-imagining of the fan-favorite Call of Duty®: World at War map "Courtyard" delivers two major chokepoints, a wide-open layout, and raised platforms.

"Origins": The most horrifying and imaginative Zombies experience yet. Players will be deployed to Dieselpunk-stylized World War I-era France where they will encounter the return of the four original heroes from the very first Zombies map, as well as hordes of zombies that have overrun trenches and fields, as well as the ruins of a mysterious and ancient location.