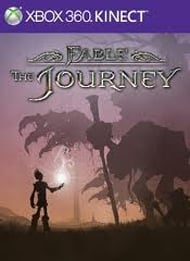 System: Xbox 360
Dev: Lionhead Studios
Pub: Microsoft
Release: October 9, 2012
Players: 1
Screen Resolution: 480p-1080p
Mild Blood, Mild Language, Violence
The demo culminated in a battle against a massive enemy troll, recognizable from previous games in the series, though appearing far larger from the game's first-person perspective. Here, there was some degree of player-controlled movement, as the demonstrator shifted between cover points around the troll, which were gradually worn down by its attacks. Every so often, minions would come forth to split the player's attention as he attempted to wear down the troll until it had sufficiently loosened a heavy, overhanging object to the point where, with a carefully targeted spell, the object came crashing down and the troll was pinned to the floor.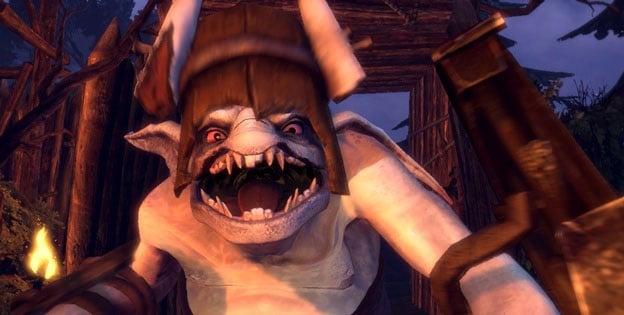 There doesn't appear to be anything conceptually wrong with Fable: The Journey. It's not revolutionary, but the gameplay it aims to offer could certainly serve as a satisfying distraction for a gamer who just wants to feel like a spell-slinging warlock for an hour or so. The problems come twofold, though: lack of ambition and lack of execution. As a Kinect game, Fable: The Journey looks to play things fairly safe, using a familiar structure for its play that seems to break it up more into minigames than a cohesive whole. The horse-chase sequence and run through the temple felt fairly disconnected from one another, the only other gameplay on offer a map and, according to the developers, a potential horse-grooming sub-game that doesn't sound as though it would really impact the other gameplay.
Fable: The Journey's execution worries me because it seems fairly inexact, which has historically been a problem for Lionhead. The Fable games, while ambitious and intricate in many ways, experienced technical woes and possessed a multitude of rough edges. Fable: The Journey looks to be no exception, though in this case even the core concept simply doesn't look that appealing.
By
Shelby Reiches
Contributing Writer
Date: July 6, 2012
Game Features:


A captivating narrative - Fable: The Journey immerses you in a role-playing experience like never before with a deep storyline and a slew of compelling characters and creatures. In this action-packed adventure you'll develop a lasting bond with your horse through an emotion-filled journey that will uncover the mystery behind Theresa, who has appeared in all previous games in the franchise.

Heart-pounding action - Thanks to the controller-free experience of Kinect, you'll be able to quickly wield magic in ways you never dreamed possible. Use your power to create deadly weapons to obliterate your enemies, leverage spells to slow your enemies' attacks, or heal your beloved horse with the power of your hands. Pick up the virtual reins and race against the clock in your horse and carriage, battle your way through a barrage of enemies and attacks, and collect items throughout your journey to improve your skills and power.

An all-new Albion - Built on the Unreal Engine 3, "Fable: The Journey" breathes new life into the world of Albion with stunning graphics and vivid detail. Explore uncharted realms and learn more about the history of Albion along your way.