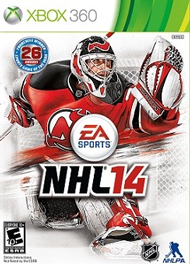 System: Xbox 360, PS3*
Dev: EA Sports
Pub: Eletronic Arts
Release: September 10, 2013
Players: 1 (2+ Online)
Screen Resolution: 480p-1080p
Season Mode is the classic sports-game mode where you play through the schedule of a team. The similar General Manager Mode takes you through a season but opens up some extra team-managing shenanigans to engage in. Another mode lets you transplant NHL legends to the modern era and play their career. At their core, these game variations are like different spices on the same dish. They don't offer enough originality to engage players not interested in or bored by the core game.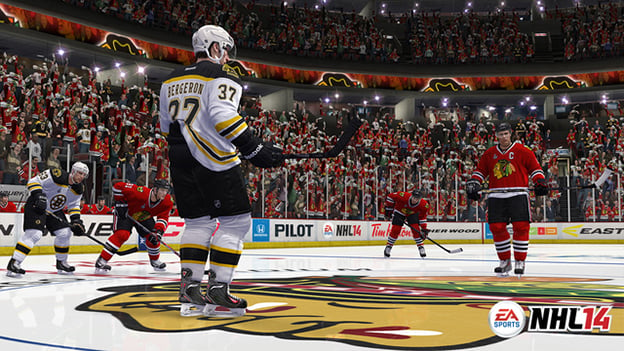 Versions of these game modes, however, exist in the online content of the game. GM Connected takes the General Manager Mode online, and players can be created in a similar style to Live the Life in the EA Sports Hockey League. Essentially, most of the game can be played online with others. This increases the fun of the game; nothing satisfies quite as much as planting a friend into the ice. One major part of the game not included in the online content is NHL 94 Anniversary.
The graphics and sounds of NHL 14 compliment each other well. The life-like figures take full advantage of the capabilities of current-gen systems. The fluid skating motions never break. The appropriate skating sound accompanies players as they take a long zag or stop suddenly for a U-turn. The spot-on sound effects, combined with the realistic visuals, create a compelling representation of a hockey game.
All in all, NHL 14 is a very polished game that takes full advantage of its subject to create an intense, thrilling sports title. Its brutal, energetic nature offers a unique experience that most gaming versions of sports lack, and it's definitely my favorite sports game of the year. I recommend this game both to hockey fans and non-fan gamers. Although I had never played an EA Sports NHL game before today, I'll definitely be playing one tomorrow.
By
Justin Cloyd
Editor
Date: September 10, 2013
Game Features:


NHL 94 Anniversary Mode -- Celebrate one of the most iconic entries in the NHL franchise with the inclusion of NHL 94 Anniversary Mode. The mode, which is included in all copies of NHL 14, gives players a new way to get into old-school NHL action. All built within the NHL 14 game engine, NHL 94 Anniversary Mode has off-the-charts speed, big goals, bigger hits, and takes fun to a whole new level. The mode also offers nods to its hockey video-gaming roots through a retro presentation style including blue ice, classic star-shaped player indicators, organ music, and much more.

NHL Collision Physics -- Developed from the same core technology that powers Fifa's critically acclaimed Player Impact Engine, NHL Collision Physics introduces bigger, more thrilling hits and truer-to-life collisions. A new left-stick control scheme makes delivering a game-changing hit simpler and more rewarding than ever.

Enforcer Engine -- There is a code in hockey; when it's broken, you have to respond. A first for the NHL franchise, Fight Night technology delivers a new 3rd-person experience, physics-based punch targeting, and player size differentiation to every fight, creating the most authentic and electrifying experience yet.

True Performance Skating -- Built on the breakthrough innovation that introduced physics-based skating and over 1,000 new skating animations to EA's NHL franchise, the second year of the True Performance Skating features improved acceleration, explosive first-strides, quicker pivots, and enhanced lateral skating, resulting in greater player responsiveness and unprecedented control.