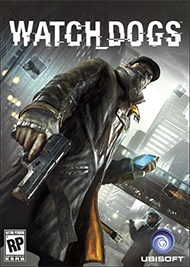 System: Xbox 360, PS3, PS4, PC
Dev: Ubisoft
Pub: Ubisoft
Release: TBA 2013
Players: 1
Screen Resolution: 480p-1080p
Watch Dogs At PAX East
by Angelo M. D'Argenio
This year at PAX East, Ubisoft said that they were going to give us a whole new look at Watch Dogs. And they did. Sort of. You see, Watch Dogs was one of the most exciting games at E3 2012, but unfortunately they did not have a playable demo ready. Then the game made a magnificent splash at Sony's PS4 event, but once again they did not have a playable demo. Now, Watch Dogs made another a huge splash at PAX East 2013 but, unfortunately, Ubisoft still did not have a playable demo ready. They had a new trailer showing off tons of new gameplay and were more than happy to answer questions, but seriously, Ubisoft, when are we going to get to play this game?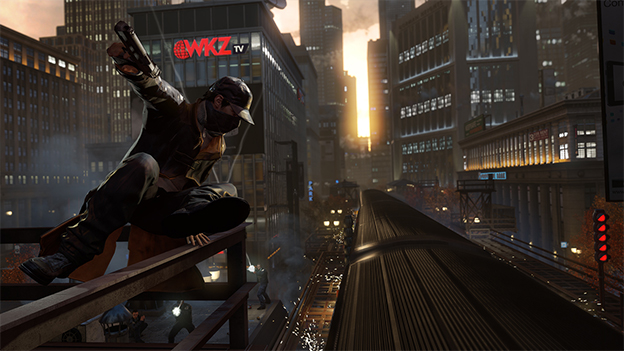 So when Ubsioft said we were going to get a new "look" at Watch Dogs, they must have been talking literally. The trailer that we saw was the same trailer we saw at the PS4 event, but from a different point of view. The weird thing about it was that it was the point of view of the CTOS or City Operating System. But we still got to see Aiden Pearce wander around the city in his sketchy trench coat and scarf, wrecking all kinds of havoc.
What was interesting about the CTOS view was the amount of data that it showed. Everything that Aiden saw, the CTOS saw from different angles. It showed full readouts of character data, computer data, environmental data, and more as Aiden beat up an assailant, hacked an ATM, and skillfully evaded the cops. Throughout the trailer, the CTOS narrated Aiden's moves and explained the decisions that the player took.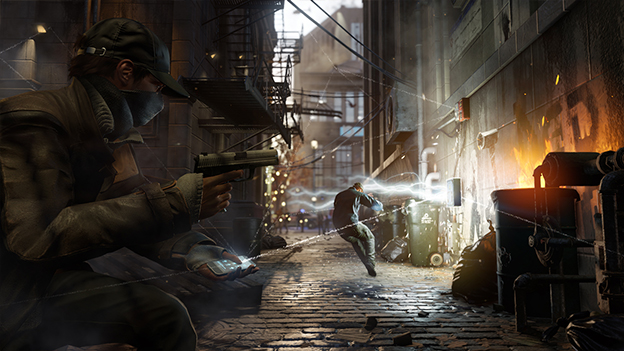 After the trailer, I asked an Ubisoft representative whether or not this CTOS viewpoint would be used in the actual game. I was told that it couldn't be confirmed, but that players will have the ability to watch each other's game progress through a pulled-back point of view. The game is still supposed to have full integration with mobile devices, and these too will allow you to keep surveillance on your friends and even interact with their games in different ways. This CTOS point of view is likely an early look at how you can do that.
The trailer has one really important piece of info for us: It's not just the CTOS that is watching Aiden. Someone else is hijacking the CTOS's systems and keeping surveillance. The CTOS was unable to tell whether this mysterious new figure was friend or foe, and Aiden himself seems entirely oblivious to this new entity's presence. Perhaps it is an as-of-yet unmentioned antagonist for Aiden. Perhaps it is some sort of rogue hacker looking after Aiden and making sure he doesn't get caught. Or perhaps it was just a way for Ubisoft to remind us that we will be able to hop into other players' games and watch them. Either way, we can't wait to see what Ubisoft has up their sleeves.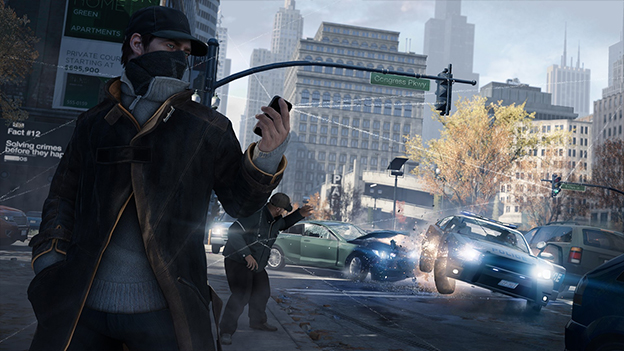 Ubisoft also made mention of a brand new simulation aspect of the game. Everything you do is going to be monitored by the game's city simulation. If you, say commit a robbery, then that robbery will be on the news, which means photos of you will be spread to the authorities. It also means that the robbery itself will be shown on TV and social networking platforms, causing the general populace to crowd around TVs and check their smartphones a short while after the robbery was committed.
Not only that, but the way you play will also be recorded. If you play completely amorally, then people will react to you with fear, while playing the sort of rogue vigilante may get crowds to support Aiden, even if he is close to getting caught.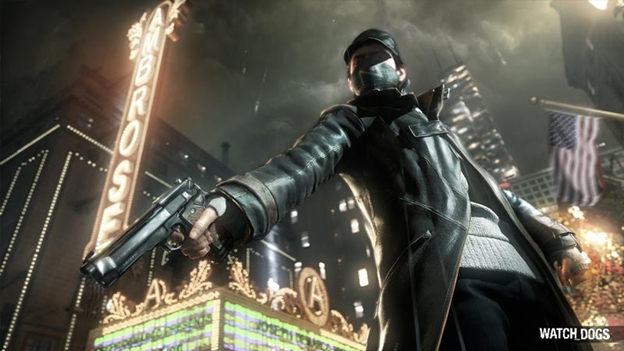 The simulation goes on even when you aren't completing missions in Watch Dogs, which allows for multiple solutions to different problems. For example, you can spy on random people that you don't even know about. If one of them is, say, an arms dealer, you can use this info to get weapons. Similarly, if one is a government agent, you can bribe him to evade the authorities. Of course, you can always just spy on normal people as well, if you are twisted like that.
As interesting as this new trailer, presentation, and Q and A were, there's one thing we still desire. We have seen Watch Dogs at numerous events now, but we still haven't actually gotten a chance to get our hands on it. Is this mobile-connected, Internet-ready, hacking-based open world cyperbunk sim really all it is cracked up to be, or is it mostly smoke, mirrors, and Photoshop? We shall see as we get more info about Watch Dogs in the days leading up to E3.
By
Angelo M. D'Argenio
Contributing Writer
Date: April 9, 2013
Game Features:


Full city simulation.

Drop-in/drop-out online gameplay.

Mobile connectivity with Android and iOS devices.