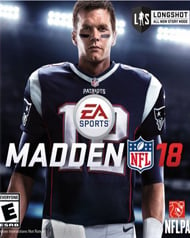 System: PS4, Xbox One
Dev: EA Tiburon
Pub: EA
Release: August 25, 2017
Players: 1-6 Player
Screen Resolution: 480p-1080p
Content is generally suitable for all ages
Longshot is not a good teaching tool. It overwhelms the assumed casual player with terminology and doesn't do a single thing to introduce the controls or fundamentals. When you actually play football in specific moments, it feels far too difficult for first-time players and doesn't always let you try again if you mess up. Since messing up matters, that's a frustrating obstacle. But it does get you to care, and maybe you care enough to play through once, go learn how to play Madden better, and come back to try to find the perfect ending or all the endings.
Get through Longshot, and Madden NFL 18 guides you into the third pillar of the Madden for Everyone thesis. Once you finish Longshot, you get some goodies for Madden Ultimate Team, or MUT. MUT is the sandbox, the mode you want to play for incentivized play that isn't too far into the nerdy stuff (that's what the sim-like Franchise is for), but with more depth than the pick up and play modes. In MUT, you develop a team as you go, based on various Loot Crate-esque packs of players, unlocked by earning in-game cash, and smelting down players you don't want for upgrades. New to Madden NFL 18 is MUT Squads, a mode that lets up to three players band together and play MUT as a co-op experience.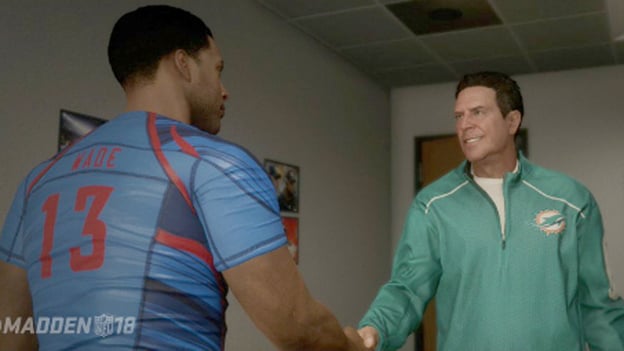 In MUT Squads, everyone pools their resources and then distributes roles. One player gets to be the defensive captain, one the offensive captain, and the other gets to be the coach. These players get the respectively pick the plays and interact with the game in the context of their chosen role. When the game is over, the roles are not locked in; you can swap freely. This is where Madden truly excels as a game that is more accessible. It succeeds in its goal because of its modularity. There are countless options for any number of scenarios, with a mix of players of varying skill levels.
If you don't know what you're doing, play Longshot and figure out if you're into it or not. Maybe go through some tutorials, maybe get a more knowledgeable friend to walk you through the basics, and play some couch co-op together. Once you get your feet wet, get into MUT Squads and let your buddies play offense and defense, while you pick head coach and continue learning. Or you're already familiar but you aren't great, so you set the game to arcade mode, play Longshot a few times, then build up your MUT game to a huge OVR rating. Or, of course, you're a huge Madden nerd and you're tweaking the minutia in the options for hours before you even start playing. Madden NFL 18 wants to be a Madden for everyone, and it's built to allow a player of any skill level to mold their experience around themselves.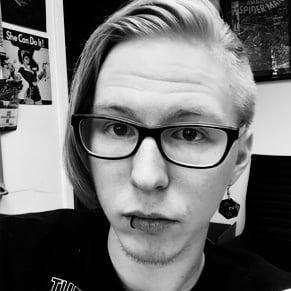 By
Lucas White
Contributing Writer
Date: 08/17/2017
Game Features:


Powered by Frostbite: See stunning new stadium exteriors surrounded by vast cityscapes and watch the spectacle of NFL game day come to life in our most photorealistic game to date. All-new firework displays, player run-outs and stunning weather elements deliver Madden like you've never seen it.

Longshot: For the first time in franchise history, Madden NFL 18 introduces Longshot, a football redemption story you can play. After three years away from the game, lead forgotten prospect and former five-star high school quarterback, Devin Wade as he tries to overcome the loss of his father and take one last shot at his dream of becoming an NFL player. Bolstered by his best friend Colt Cruise and NFL Legends, your decisions will determine if Devin hears his name on Draft Day.

MUT Squads: Lead two friends to victory in this all-new online team play experience by selecting roles on the field and merging each players' Ultimate Team line ups of current NFL stars and legends to play cooperatively vs. other players.

Play Now Live! Take the field with your favorite team or play the best weekly matchup using live updates containing the latest rosters, custom commentary and up-to-date stats from NFL.com then continue your season all the way to the Super Bowl from Play Now.