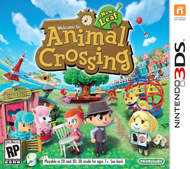 System: 3DS
Dev: Nintendo
Pub: Nintendo
Release: June 9, 2013
Players: 1-4
Screen Resolution: N/A
There's A New Mayor In Town
by Jake Valentine
In past Animal Crossing games, your arrival in town meant one thing: doing chores for Tom Nook. That's all going to change with Animal Crossing: New Leaf; this time, you'll be the Mayor in charge of the entire village. You'll have to make tough decisions to shape your town, add various objects to spruce it up, and, of course, converse with your neighbors before they send you hate mail. At PAX East, we were given a guided tour of what to expect when the game ships next month. Let's take a look, shall we?
The first stop on the tour was the office. As Mayor, you'll have lots of power. Sadly, it doesn't appear that you'll be able to abuse it in the way Tom Nook abused his power by enslaving the town's human citizens. But night owls such as myself will enjoy being able to pass certain ordinances, such as the one that allows shops to stay open late. As you'd expect from a game in the Animal Crossing franchise, you'll also be able to customize your town with Public Works Projects. Clearly, your house will only be the beginning; designing the entire town will be the next step on your path to global domination.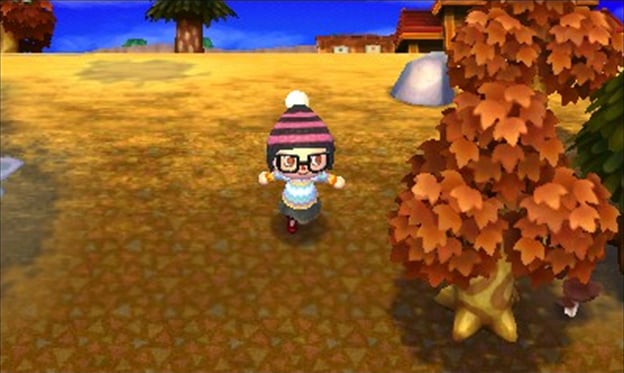 Next up on the tour was Main Street, a convenient road filled with all of the game's shops, including a museum and a club. At the club, DJ K.K. spins records. (No word on whether or not dubstep will be included.) One of the newest shops is called Nook's Homes, where you'll be able to customize your actual house. New roofs, siding, mailboxes, and other goodies will be available for purchase.
Timmy and Tommy run the general store, a garden shop is also available, and the Able Sisters make their return as well. Their clothing store will allow you to try on the items before you actually wear them, but there isn't a dressing room. Hmm, that must be odd for the customers. One cool note about the clothing store is a handy QR machine that allows for the sharing of various designs online.
Continuing down Main Street, we stumble across Kicks. Kicks is an entirely new store that sells shoes. Because, you know, "kicks" is slang for shoes. The barbershop and the game's Street Pass feature, Happy Homes Showcase, closed out our tour of Main Street. At Happy Homes Showcase you'll be able to visit the homes of the people you Street Pass.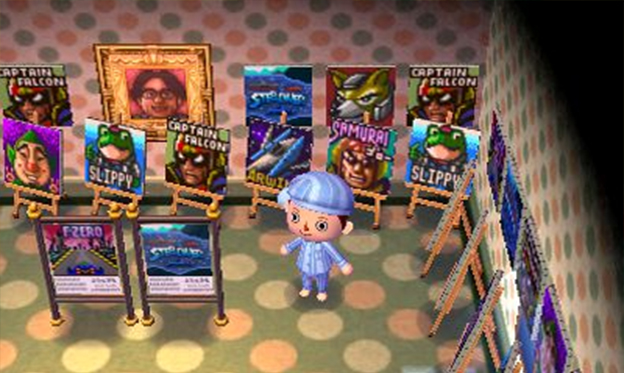 Re-Tail is another new store. It's a thrift shop that's actually located in the game's village. Your neighbors will offer their unwanted goods that you'll have the ability purchase. Likewise, you'll be able to sell your unwanted goods. In addition, one of the shopkeepers will be able to re-skin your furniture. If you're connected with friends wirelessly, they will be able to visit your thrift shop.
Our tour continued with a focus on the options available for customizing. A tree-lined path and a sushi bar were featured in the demo house. The Nintendo rep playing also mentioned a new category of items that can hang from the wall, such as lanterns.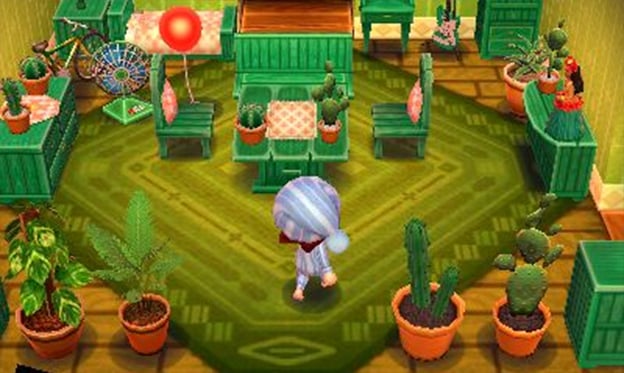 But let's say that you become tired of your duties as Mayor. What if you want a vacation? Fret not, because Kapp'n will take you to a tropical island. As the boat ventured onward, Kapp'n sang his song. The rep promised a variety of songs, so you won't hear the same tune constantly. Once we arrived, something was immediately pointed out: the island uses a different currency. Medals, not bells, will allow you to purchase goods on the island. You'll pick these medals up by performing mini-games. The better the score, the bigger the bounty.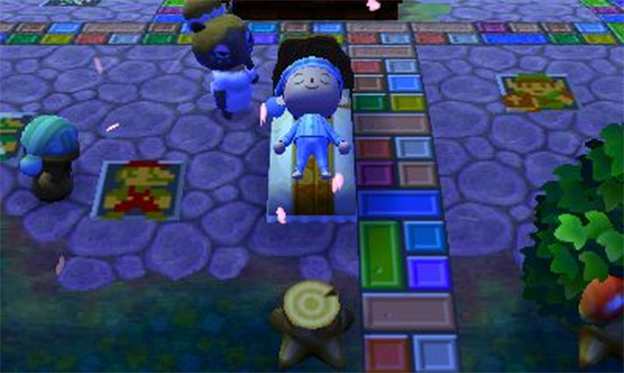 But don't think that's all that you'll be able to do while on vacation. Like on the mainland, you can venture out and explore the island. On the island you'll chop down trees, catch bugs, and pick tropical fruit. The main focus during the demo, however, was the ability to swim through tropical waters with the wetsuit. The rep showcased the main feature of swimming: Your character will dive underwater and chase down bubbles and shadows, somewhat similar to fishing. Items such as octopi and seaweed will be available to catch.
That concluded our tour of Animal Crossing: New Leaf. The tour highlighted familiar gameplay with new features that allow more customization in not just the homes, but the entire town as well. We'll see just how much we missed the world of Animal Crossing when New Leaf is released next month.
By
Jake Valentine
Contributing Writer
Date: Msy 7, 2013
Game Features:


Create your own happy place - As the mayor, you get to make the big decisions that shape your town. Add new features, decide which facilities get built, change shop hours, and more to let you experience Animal Crossing however you like.

New discoveries await you every day - Time passes in Animal Crossing just as it does in the real world, 24 hours a day, 365 days a year. No two days are the same, with things happening at all hours and events happening throughout the year.

Freedom to live life at your own speed - Is your passion fishing? Fashion? Fossil digging? Gardening? YOU can decide where you spend your time, whether it's on your own or interacting with the animal townsfolk.