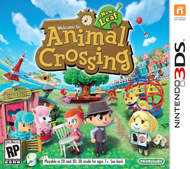 System: 3DS
Dev: Nintendo
Pub: Nintendo
Release: June 9, 2013
Players: 1-4
Screen Resolution: N/A
Comic Mischief
All this gameplay is wrapped in a lovely package. Strolling around town presents the illusion of walking along rolling hills, which is complemented perfectly by the 3D display. The player's field of view seems to have been reduced a bit as a result, but one becomes used to that compromise fairly quickly. The graphics are delightfully detailed, with subtly fuzzy textures on the villagers and insects that can be identified at a glance. The animation work is also great, giving life to the villagers and the bugs and fish that the player catches. The textures on some of the returning carpets and wallpapers don't look as sharp as those on the new stuff, but impressive sights like the museum's aquarium section make up for that small oversight.
Animal Crossing's music is solid as usual, with a variety of background tunes playing depending on the weather and time of day. The sound effects are improved in this version, combining with the graphical improvements to breathe life into the town. Running around in a storm is a great way to experience the new effects. Hearing the sound of the downpour overlaid with the player's splooshy footsteps and the occasional crash of thunder really brings one into the experience. As usual, there's no voice acting, with all characters speaking (and sometimes singing) in a garbled non-language. This may annoy some, but it's become a beloved series tradition at this point and works better in Animal Crossing than it does in, say, The Legend of Zelda.
It can be difficult to explain Animal Crossing's appeal to the uninitiated. What's fun about a game in which the major goal is to hang out and do whatever you want? It's all about the charm, detail, and good old-fashioned love that Nintendo has poured into its little village. Animal Crossing: New Leaf gives players more ways to customize that village and interact with its many inhabitants than ever before. It's the pinnacle of the series, inviting people of all kinds to take a load off and spend a little time diving for scallops, re-upholstering furniture, installing a new fountain near the town square, and joining up with their friends for a bug-catching contest. Pick up this game, and be prepared to spend far more time with it than you anticipated.
By
Becky Cunningham
Contributing Writer
Date: June 4, 2013
Game Features:


Create your own happy place - As the mayor, you get to make the big decisions that shape your town: add new features, decide which facilities get built, change shop hours, and more. Experience Animal Crossing however you like.

New discoveries await you every day - Time passes in Animal Crossing just as it does in the real world, 24 hours a day, 365 days a year. No two days are the same, with things happening at all hours and events happening throughout the year.

Decorate your house inside and out - Choose from furniture new and old, carpets, wallpaper, and enhanced design tools to customize your house inside. Choose from new house layouts and remodel your home's exterior as well. Change the outside wall, the fence, your mailbox, and more to transform the look of your house completely. Living in a castle is not just a dream in Animal Crossing.

Freedom to live life at your own speed - Is your passion fishing? Fashion? Fossil digging? Gardening? YOU can decide where you spend your time, whether it's on your own or interacting with the animal townsfolk.

A tropical island full of fun - Take a break from it all on the tropical island where on your own or with friends you can join tours filled with fun activities. You can play alone or connect with up to 3 other players to play them together locally or over the Internet.

Share your creativity by showing off your home – Exchange custom home data when you tag with other players via StreetPass. See houses of players you've passed in the Happy Home Showcase. Get inspiration for your own creativity, or place orders for furniture you want for your own house.

Receive special items via SpotPass - Occasionally, Nintendo will release special SpotPass items that will be delivered to you via the in-game post office.