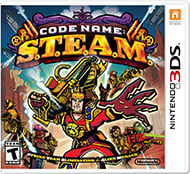 System: 3DS
Dev: Intelligent Systems, Nintendo SPD
Pub: Nintendo
Release: March 13, 2015
Players: 1
Screen Resolution: N/A
Blood, Fantasy Violence, Mild Suggestive Themes
Picking Up S.T.E.A.M.
by Jenni Lada
I didn't bother with Code Name: S.T.E.A.M. at E3 2014. The meeting to see it was at the Los Angeles Convention Center after the shuttles started running. I'd been running around the show floor since 9am, up since 7am, and due to the hectic schedule, all I'd eaten in that period of time was some crappy pasta salad a friend saved me from the Official Press Lunchbox. I had the vaguest idea of what the game was, but by that point I didn't care. Steampunk literary characters and presidents fight aliens couldn't capture the attention of someone who was done for the day. Sorry, Abe.
I continued, blissfully unaware of Code Name: S.T.E.A.M.'s virtues until the January 2015 Nintendo Direct. It was then that I realized my mistake. Code Name: S.T.E.A.M. wasn't some strange IP I could ignore. This was a strategic RPG from Intelligent Systems, the developer of my beloved Fire Emblem, Advance Wars, and Pushmo games. Its gameplay was akin to the Valkyria Chronicles games I'd cherished. Most importantly, the inclusion of Abraham Lincoln as a commanding officer wasn't a one-shot dose of weirdness. The entire game was going to rely on displaced characters as harbingers of doom. Code Name: S.T.E.A.M. is a game no one can ignore.
Not that an alien menace bent on attacking London, nay the world, is something that shouldn't be taken seriously. Abraham Lincoln and his Strike Team Eliminating the Alien Menace are the only ones capable of stopping the threat. (I know, the team name is ridiculously literal, but go with it.) The group has to use its state-of-the-art weaponry and strategic thinking to pick these invaders off. Which means someone like the Cowardly Lion is going to be working with a president of the United States. That sort of silliness feels difficult to resist. I mean, it's a winning premise.
But, there's a reason it didn't win me over right away, and perhaps it's the same reason that held back others too. One of the reasons I'd initially shuffled Code Name: S.T.E.A.M. into my "That's Nice, We'll Talk About It Later" list is because Nintendo made a big deal of hyping up the third person shooter elements. The 3DS isn't the go-to system for that kind of game, and Mass Effect aside, it isn't my forte. However, that's really only one element of gameplay. You go into third-person shooter mode when launching attacks with characters like Tom Sawyer, Tiger Lily, and John Henry. The rest of the time, you're helping arrange these characters and get them to a goal in a third person, turn-based, strategic affair. A goal lies at the end of each area, and reaching it while wiping out aliens is key to success.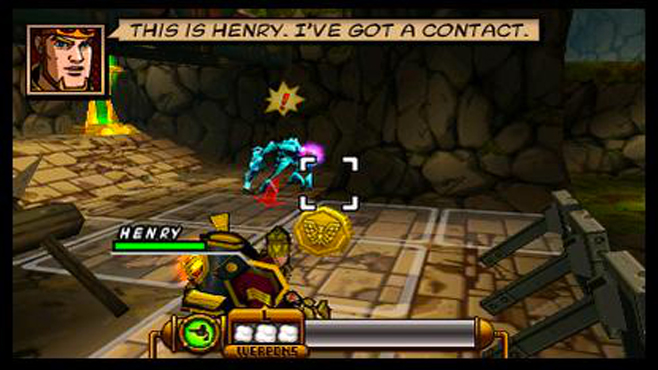 Except, getting to that goal isn't as easy as directing characters to move within their range, as in Fire Emblem and Advance Wars. Code Name: S.T.E.A.M. doesn't have steam in the title and the steampunk trappings to appeal to the Hot Topic crowd. It's a gameplay element. The characters' suits and weapons are steam powered. Completing an objective isn't as simple as walking over and doing it. The character has to have enough steam. Since steam is used for movements and attacks, it comes down to judiciously using every element to ensure success.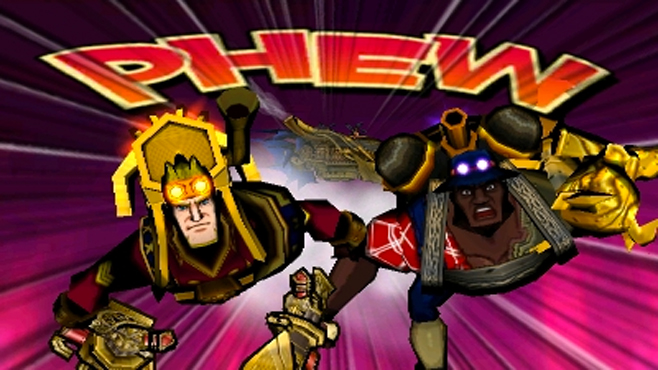 Fortunately, it isn't as though every round will be a struggle as a player fights through the story or against another player. There will be opportunities to replenish both health and steam in the midst of battle. Each character will also have something of a "panic" move. This one attack won't require steam, but will only be able to be used once in each level as a last resort. Likewise, people will have chances to save as they go, so someone could save during a firefight, realize later a mistake was made, and load up the previous save. In this way, it seems like Code Name: S.T.E.A.M. could encourage players to experiment and grow.
Then, there's the Amiibo factor to consider. Code Name: S.T.E.A.M. will allow players to bring Marth, Ike, Robin, and Lucina into the fight. Tapping the Amiibo for the respective character to the New 3DS XL will allow him or her to join the battle as a playable character. Their movement and abilities will even use steam, like the other characters. The twist is, if they fall in battle, you can't use them again until the next fight. I guess you could consider it a nod to Fire Emblem's permadeath system. Though really, the most exciting thing about this element is that it will entail a rerelease of the incredibly rare Marth figure.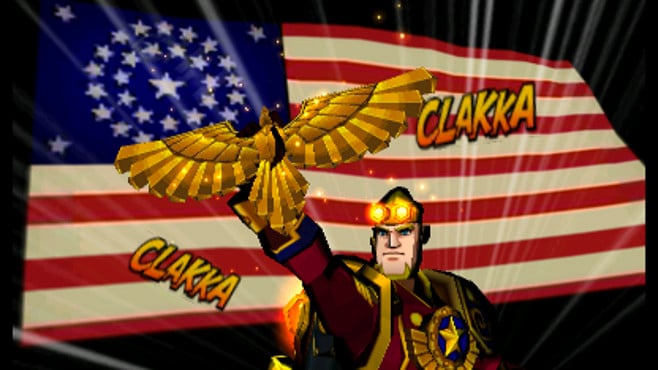 Pardon the pun, but it feels like Nintendo and Intelligent Systems went with the slow burn for Code Name: S.T.E.A.M. The two created a game that could be something special, but waited to get people fired up about it. Instead, they allowed hype to slowly simmer, gradually releasing tidbits of information over the past year, until the January 2015 Nintendo Direct brought it up to a boil. Now, the fog has lifted and we can see Code Name: S.T.E.A.M. for what it is, a 3DS game with a plethora of possibilities. Hopefully, it will be as hot as it suggests once it launches in March 2015.
By
Jenni Lada
Contributing Writer
Date: January 28, 2015
Game Features:


Experience a new, steampunk-inspired turn-based action strategy game from Intelligent Systems, the company behind classics like Advance Wars and Fire Emblem.

Outflank and outshoot the enemy in a fully 3D battlefield. To defeat aliens, you have to take cover, set up ambushes and unleash crossfires and counter-attacks.

An unexpected cast of characters leaps to life in stylized 3D graphics and comic-book-style cinematics.

Harness the power of steam, which plays a vital role to power the world, including powering movement and weapon use. Managing steam reserves is key to strategy.

Battle through alien-infested maps using a four-member team comprised of diverse characters that have unique abilities and weapons.