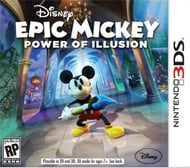 System: 3DS
Dev: DreamRift
Pub: Disney Interactive Studios
Release: November 18, 2012
Players: 1
Screen Resolution: N/A
Mild Cartoon Violence
2D Hijinks From The House Of Mouse
by Becky Cunningham
With the advent of the 3DS and Vita, it seems that Western developers are finally starting to "get" portable gaming. Simply porting games from the big screen to the small doesn't do justice to handheld devices. It's far more appealing to create a game from the ground up for portable machines, something that Disney is doing with this second generation of Epic Mickey games. In order to get a worthy Epic Mickey experience for handhelds, Disney and Junction Point recruited the 2D platforming experts at DreamRift, who decided to take their cues from classic Mickey Mouse games for Epic Mickey: Power of Illusion on the 3DS.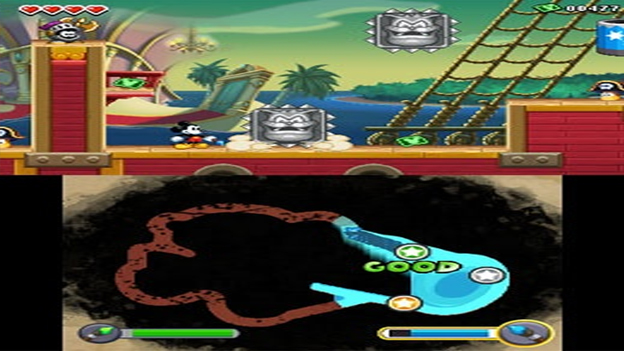 Power of Illusion's setup mixes classic elements with the current Epic Mickey Wasteland setting. In the game, the evil witch Mizrabel from the SEGA Genesis Castle of Illusion Starring Mickey Mouse game has accidentally been trapped in Wasteland. In order to escape, she hatches a plot involving draining the essence from illusions of Disney cartoon characters, incidentally trapping the original characters in the castle. In a fit of apparent bad judgment, Minnie Mouse is one of these kidnapped cartoons. Of course, our hero Mickey is having none of this, and enters the castle in order to save his friends and defeat the witch.
The characters and worlds players will encounter in the Castle of Illusion are similarly a mix of old and new. There are areas based on classic worlds such as Sleeping Beauty and Peter Pan, but also newer settings like the tower from Tangled. The characters that Mickey will meet include the inhabitants of those famous Disney worlds as well as classic Disney cartoon characters such as Scrooge McDuck and Oswald the Lucky Rabbit.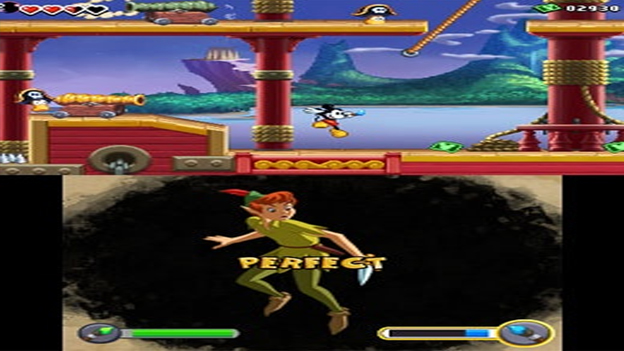 Even Mickey's arsenal of moves draws from both classic and modern gaming. Just like in the classic platformers, Mickey can jump high in the air, then drop down to do a butt-bounce onto his enemies. However, he also has his new-school paint and thinner abilities that can be used to attack enemies or solve puzzles.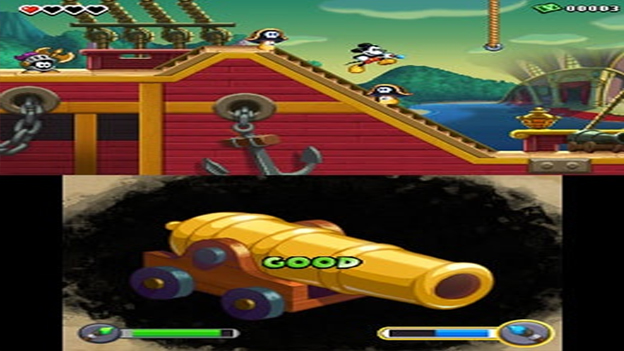 Paint and thinner puzzles will involve the touchscreen in order to be successfully executed. Players will need to successfully trace the outlines of some objects in order to paint them in. Failing to trace accurately can result in an object not acting as expected, with potentially dire consequences for Mickey. On the other hand, tracing very well can grant extra boons to our rodent hero. Erasing objects with thinner involves filling in an outline of the object as quickly as possible, giving players the chance to use speed instead of skill.