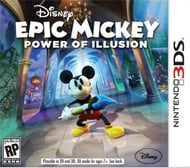 System: 3DS
Dev: DreamRift
Pub: Disney Interactive Studios
Release: November 18, 2012
Players: 1
Screen Resolution: N/A
Mild Cartoon Violence
On top of Mickey's basic powers, he has a home fortress that will become filled with characters and objects as Mickey progresses through the game. He can visit characters he has saved in the Castle of Illusion, and doing quests for them fills up the fortress with interesting objects. Mickey then has the ability to choose a small number of these objects to take with him into the Castle. He can also bring up to three allies with him per level, and different allies have different skills that can help Mickey with platforming or combat.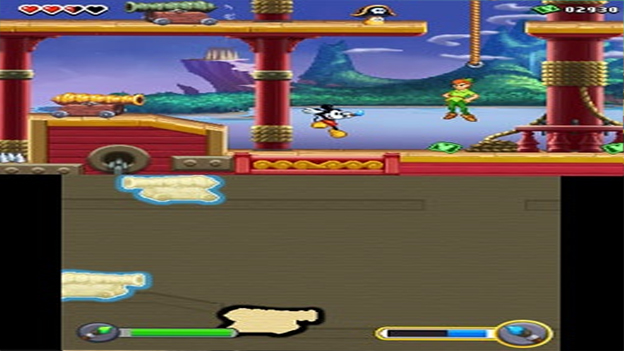 Visually, the Power of Illusion team hopes to use the console's 3D effect in order to punctuate important events in the game, rather than having the entire game pop out drastically. Thus, the 3D will be fairly subtle during the main portion of gameplay, but important objects may pop out dramatically when used. Reports thus far are that the game looks quite nice on the 3DS, and that players who don't normally enjoy turning the 3D all the way up were able to play with that setting.
Epic Mickey: Power of Illusion aims to be a game for all ages. While it's child-friendly in terms of content, it's not going to be a cakewalk to play. The game's retro stylings include plenty of platforming challenges that require both thought and reflexes. DreamRift has a good track record with 2D platformers, having created Monster Tale for the DS and assisted with Henry Hatsworth in the Puzzling Adventure. Based on the information we have so far and the reactions from people who have demoed the game, the company is on the right track with its small-screen take on the Epic Mickey franchise.
By
Becky Cunningham
Contributing Writer
Date: August 28, 2012
Game Features:


"Disney Epic Mickey: Power Of Illusion" offers a special drawing and painting function that will allow players to create an interactive world by using the stylus to draw objects in the bottom screen that magically transform into classic Disney-style 2D illustrations. Utilizing the game's unparalleled dual-screen integration, players will then move their creations to the top screen where they are further transformed into beautiful, fully realized objects that pop off the screen in stunning 3D.

Players will utilize the core "Disney Epic Mickey" gameplay mechanic of paint and thinner while playing as Mickey Mouse in an attempt to save classic Disney Toon characters.

Players will engage in epic boss battles with familiar Disney villains using attacks involving the power of illusions to surprise players.

Players will adventure through game levels based on animated Disney films such as "Peter Pan" and "Aladdin," as well as interact with beloved Disney characters.

In between adventures, players can develop their own fortress by taking a small fort and expanding it into a thriving castle.