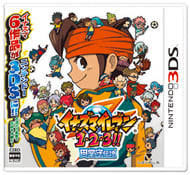 System: 3DS
Dev: Level-5
Pub: Nintendo
Release: February 13, 2014
Players: 1
Screen Resolution: N/A
Mild Violence
Don't Call It Football
by Becky Cunningham
American football may be the reigning sport in the USA, but most of the rest of the world is cuckoo for soccer instead. Sure, we've got Madden and a few other realistic football games, but gamers will have to learn to love the black-and-white hexagons if they want to play an over-the-top shōnen (boys') anime sports RPG.
Inazuma Eleven is neither a typical sports game nor a typical RPG. It's set at the junior high school in Inazuma town, where a boy named Mark Evens loves soccer more than life itself. Sadly for Mark, the rest of the school's soccer club would rather sit inside their ratty clubhouse playing video games. If Mark wants to keep the club from being disbanded, not to mention have a chance at the Football Frontier tournament championship, he's got his work cut out for him.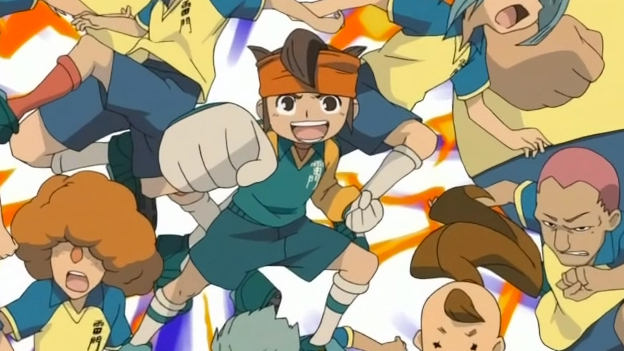 Mark's story unfolds RPG-style, involving a lot of running around his school and town, recruiting players, and facing soccer "battles" against other school clubs that allow his team to gain experience and hone their skills. Every chapter of the game culminates in a big match against another soccer team, one that can only be beat by harnessing (what else?) the power of friendship and teamwork, which of course results in crazy special moves that can obliterate enemy teams.
Outside of battle, Inazuma Eleven is lighthearted, charming, and often silly. Mark has to work his butt off to solve the personal problems facing his players in order to motivate them to be the best they can be. He also has to deal with a bunch of other teams that have less-than-ethical views of how to win a soccer tournament, and there's even a shadowy soccer mafia that has its claws in the very leadership of Mark's school.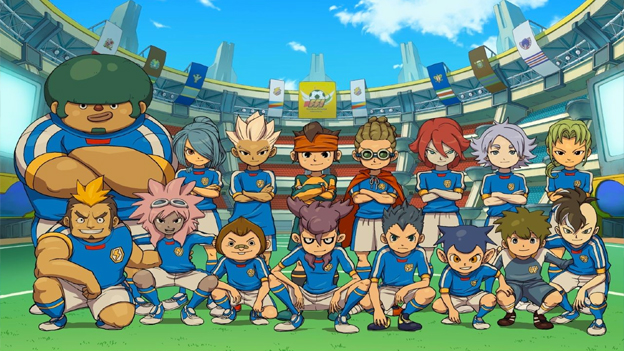 The game's main characters are colorful and memorable, which is why you'll probably end up keeping most of them on your squad despite the huge number of possible recruits to track down for the team. Having over a thousand characters to recruit seems a bit much considering that only eleven of them can play at a time, but recruitment is a fun side activity for RPG aficionados. Even these bit players generally have funny quirks, and it's entertaining to fill out the game's social connection chart in order to meet new recruits.
When it comes time to play ball, you'll either be participating in small soccer scuffles or full-blown matches. Random soccer battles require your current main party of four to meet a single objective—scoring a single goal or stealing the ball off opponents, for example—within a strict time limit. Full matches are eleven versus eleven games, won in the traditional manner by scoring the most goals. At the start of the game, there won't be many opportunities for full games, but more will open up as the story progresses and the crew can rematch teams they've played before.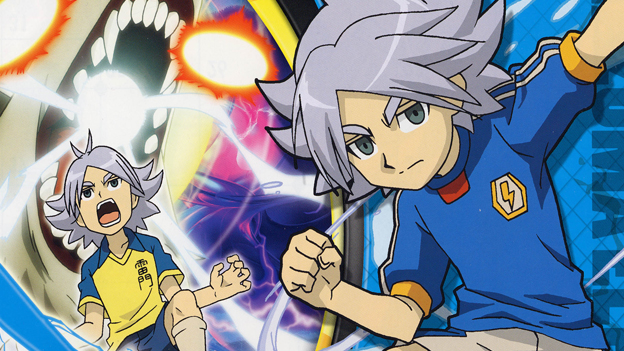 The actual mechanics of playing soccer involve using the touch screen to direct players and the ball. Your team members will move around on their own based on their team position and your general AI settings, but you'll need to instruct them to pass to each other and shoot for the goal. The match operates in real time, but can be paused so you can issue more complex instructions to the team. A strong knowledge of the rules of soccer isn't necessary, as the worst you can do is accidentally direct a player offsides. Fouls are called sometimes, but are generally out of the player's direct control.
It's not long before basic soccer ability is far overshadowed by the special moves employed by the players. Inazuma's game is even crazier than Shaolin Soccer. Creepy voodoo moves that keep your team nailed to the ground are legal, and fighting back with mystic dragon kicks, invisible dribbles, and the ultimate God Hand goalie move is not only recommended, but necessary. Players and moves have elemental strengths and weaknesses, and winning matches is mostly a matter of making the correct strategic decision between safe, risky, and special soccer moves. The game is always paused while these decisions are being made, allowing plenty of time to stare at statistics.