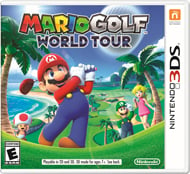 System: 3DS
Dev: Camelot Software Planning
Pub: Nintendo
Release: May 2, 2014
Players: 1 (2+ Online)
Screen Resolution: N/A
Comic Mischief
But remember, this is a world tour, and the online options are plentiful. In the Quick Match mode you can connect with up to three other golfers either locally, through your online friends list, or with strangers around the world. Choosing either your Mii or your favorite Mario character, you can play the standard Stroke Play (lowest stroke count) or Skins Play (most holes won), see who can complete the holes the fastest in Speed Golf, or collect points based on the fewest stokes per hole in Point Tourney. The big ticket matches are the regional and world tournaments, which pits you against many other players in a showdown of skill on the links.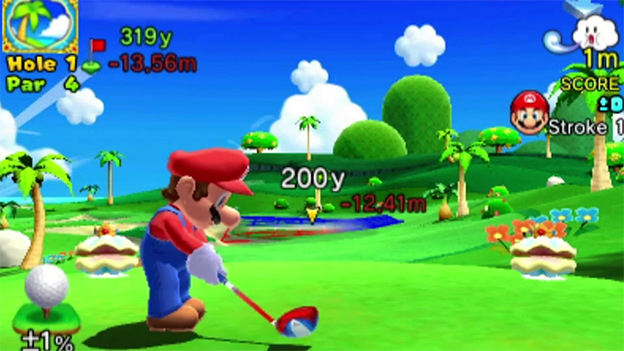 No matter what mode you play, completion rewards you with coins to spend on new equipment and clothing. There is tons of gear to unlock and purchase, and most provide a statistical upgrade rather than simply being superficial. You can even summon Kamek to exchange your system's Play Coins for in-game currency.
Aside from the boldly colored and item filled courses in the Royal Garden, the traditional courses are sparsely populated with landscaping, making them rather dull to play through. The characters are nicely animated, though as I explored the Castle Club, my Mii always looked like he was racing to find the bathroom. His cheers and groans on the course also sounded a little too childish, and it would have been nice to have different voice options to choose from. I was also not impressed with the music score. Motoi Sakuraba has a long history of composing great melodies for video games, but the tracks in Mario Golf: World Tour are almost too mild and unmemorable, even for a golf game.
Despite a few control issues and the desire for more engaging audio and visuals, the brimming content and excellent gameplay in Mario Golf: World Tour leaves the flaws well behind. The pace is perfect, whether you spend just a couple of minutes on challenges and training minigames, or breeze through eighteen holes in under half-an-hour. The collectibles beg to be purchased, and the bragging rights through the multiplayer features are beyond anything we've seen in prior Mario Golf titles. It fits the system perfectly, it will fit your schedule perfectly, and it always has something enticing to come to back to.
By
Sean Engemann
Contributing Writer
Date: April 24, 2014
Game Features:


Play as your Mii character or as your favorite Mario characters.

Golf it up on Mario courses.

Play with friends all over the world.

Trick out your Mii character and get the edge on your competition with outfits and equipment.

Use the touch screen and motion sensor to better track and control shots.

Create and play in online communities with unique tournament rules.

Compete in worldwide tournaments online.