Nothing says comic books like super-hot super-heroines and all the insanity they get themselves into. But sadly some of these lovely ladies never get any love in the video game world. Sometimes not really even in the comic book world. So since May is national Comic Book Month (I don't know if it really is or not, but that's what I am calling it), I thought it would be cool to count down some of my favorite females that are in dire need of some attention…and a kick ass video game. So let's roll…
Grimm Fairy Tales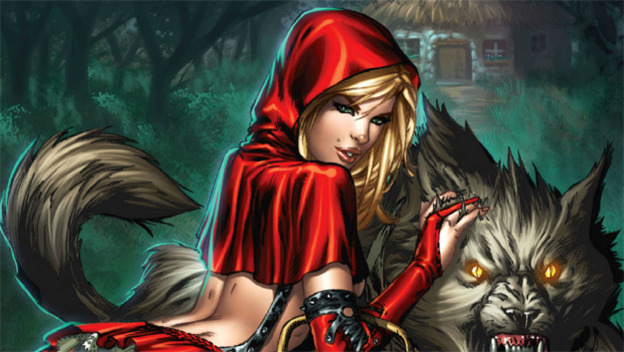 Zenescope Comics has this multi-faceted brand of comics based on the Grimm fairy tales of old. Now make no mistake, these are extremely updated and very sexy. Nearly all of the series' under the banner head feature well illustrated and incredibly sexy female protagonists that are nothing short of badass. No damsels in distress here. You take one look into the pages of any one of the series' that Zenezcope publishes and you will see exactly what we mean…and why these lovely, and deadly, ladies should have their own game.
Lady Mechanika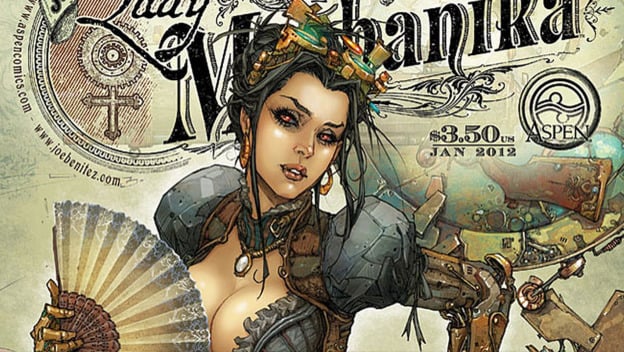 Aspen Press is yet another imprint which has taken to promoting not only very sexy, but very powerful female characters in their comics. But for the money, my favorite is Lady Mechanika. John Romita Jr. and his team have created an amazing story, world and character and built it all around the steampunk genre. While they take some liberties within, the comic as a whole stays very true-to-form within the bounds of steampunk. Not only is the Lady a knockout, but she is a total badass.
Vampirella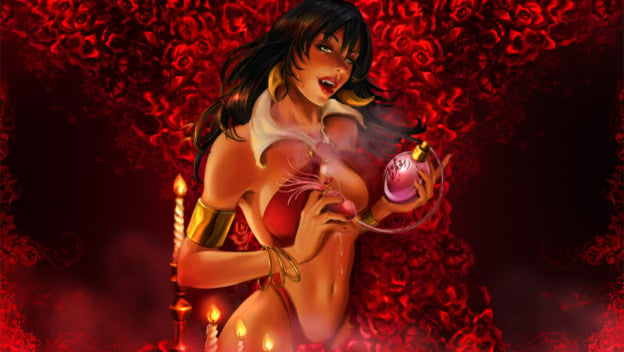 This she-vamp from Harris Comics has been around so long that she may actually, truly be a vampire that has mused comic book artists for decades and shown off her curvaceous self to the world through their eyes. Way before Bloodrayne was even a though Vampirella was carving a bloody swath through the comic book world. Read through any of the pages of any of the issues of any of the series' that she has been involved in and you will see that she shows no mercy and takes no prisoners and would be the perfect protagonist of a hack-and-slash type game or possibly even an RPG, given her 'other' talents.
She-Hulk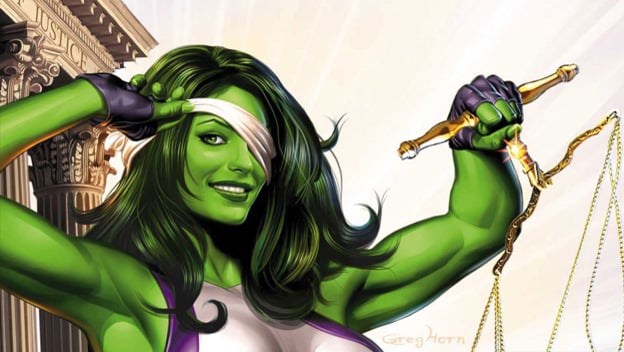 I have always felt like She-Hulk lived too deep in the shadow of her male counterpart. But let's face it, if you had to look at one of the two, you would most likely choose her over the incredible bulk that is always forcing her into obscurity. She's more nimble, equally as powerful, she can speak properly and is highly intelligent. That makes her much more of a threat than the old Hulk could ever be. She would be a great candidate for a platforming game. Give her a set of tasks and then give her a few compatriots to come along with her and then let her, ahem…smash her way through whatever it is she is tasked to do.
The Huntress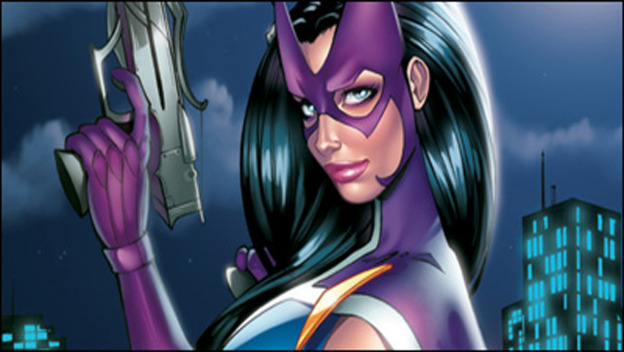 Ok, I know that Batman has only just gotten a series of games that were really even worth playing, but how has Suckerpunch not seized the opportunity and brought in more characters from the DC universe into the Arkham Series? There's a ton of suited-up crazies running around Gotham and fighting crime. For example, the daughter of Catwoman and Batman, both protagonist characters from Arkham City –so there's your segue, would make a perfect candidate for an offshoot title. And why not the Huntress? She has all the martial arts prowess of her father with all the graceful movement and physical features of her mother. C'mon, guys, let's give some other badass Gothamites a shot at glory.
Black Widow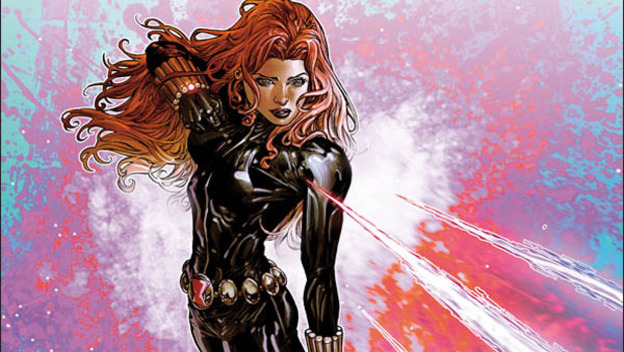 Riding high off of the recent Captain America and Avengers films, it would be the perfect time for little miss Natasha Romanoff to get her moment in the sun. What better way than to make her fulfill some of the S.H.I.E.L.D. missions you didn't see in the films in a video game. It could be the game that Velvet Assassin wished it was. We know that one was based on a real person, but sadly it wasn't very good. So let's take the idea of a sexy subversive and give her a title of her very own. One in which you would not only employ the martial art skills she has, but you would have to use your brain to infiltrate and dismantle your enemy as well. It would be like playing a really great James Bond game… only hotter.
Elektra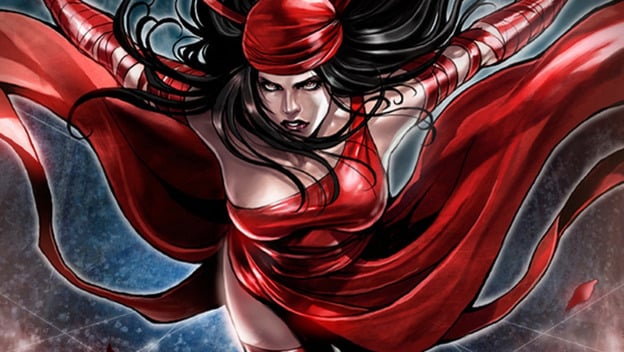 I am including Elektra because she needs salvation after that horrible Jennifer Garner movie. If you actually liked that film, punch yourself in the face and hope you snap out of it. Moving on. Elektra is the one woman who could ever give Matt Murdoch (AKA DareDevil) a run for his money. She was the only one that was ever able to sneak up on him, she was one of the few to beat him at his own game, and she was one of the few women that DareDevil ever got close to. So to get to the point, there needs to be a great hack-and-slash game with Elektra as the featured protagonist. You could even throw DareDevil in there as well to try and drag his name up out of the doldrums.
Rogue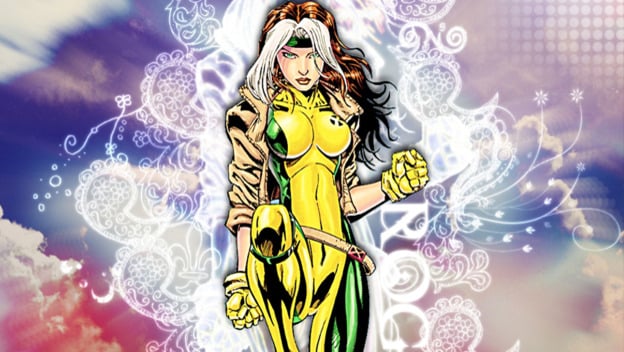 This X-woman would be the perfect candidate for a video game. Think about it. She can usurp any power of any mutant anywhere and use it against them. All she has to do is touch them. That could add an ever-increasing difficulty and dynamic to the game as she tries to power-hop her way through a series of plot points and challenges. Then take into account that those powers could be collected to a "power wheel" kind of menu thing that could be accessed at any time but each could have limited use so that it wouldn't allow for one power through the whole game. They could even make it like Skylanders where you have to obtain certain mutant elements to even be able to unlock all the areas of the game. It could be super cool.
Ultraviolet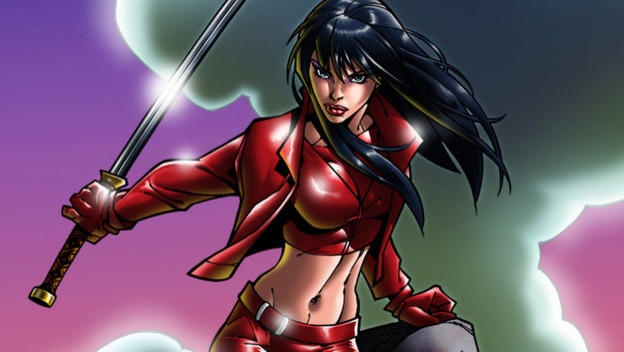 One more vampire for the list. This cyberpunk vampire could give Rayne a run for her money. She's tech-savvy and rides a motorcycle like nobody's business. So there are already layers of gameplay inherent within this title. From vehicle chases to hack and slash action and massive amounts of gunplay as she battle to fight a giant and malevolent corporate government in a dystopian cyberpunk world. Then you add in the element of disguise and subversion that she is also famous for and it adds yet another level of gameplay aspects that could lead up to some seriously great sci-fi fun.
Domino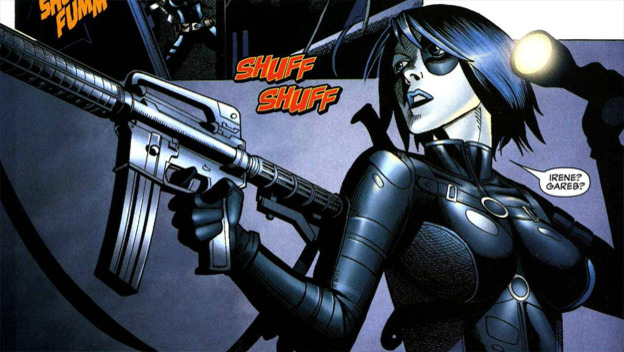 Even though she got some screen time in the Deadpool game, I would love to see her featured in her own game of subversion and total chaos. Domino was one of my favorite super-heroines growing up, but I could never actually find a ton of stuff with her in it. Maybe I just wanted more than what was out there. I don't know. But I do know that this assassin/mercenary hottie needs her own game. Keep it on par with what happened in Deadpool , only make it a little less monotonous toward the end. It could be every bit as fun and intense as Deadpool was but at the same time show that girls don't always have to be nearly naked to be badasses.