Trey Parker and Matt Stone have assured everyone that this will be the most immersive experience that a South Park fan can have short of being turned into a 2D cartoon character and fired out of Cartman's nose and killing Kenny before running into the Patrick Duffy leg of Scuzzlebutt. Okay, I may have paraphrased a little but they swear this is going to be a great game for fans of the show. Anyway, we decided to take a look at some of the moments that we hope you will get to play through as the new kid in town. But if not, these are moments we truly believe should be added to the game for play through as a character.
You're The Worst Character Ever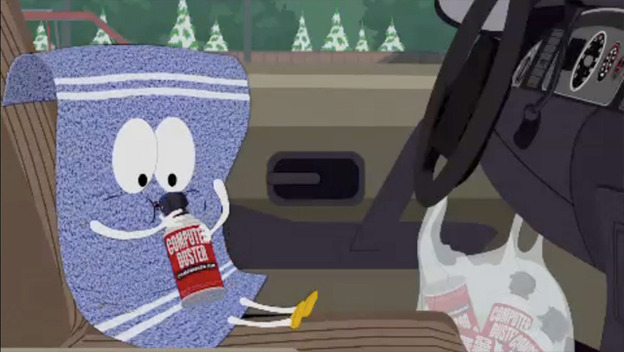 Towelie was the attempt of Trey and Matt to create quite possibly the dumbest character that has ever made an appearance in a cartoon show. Well they succeeded. After leading the boys on a bizarre and stupid journey, they all get into a huge battle with aliens, government agents and it all culminates with Cartman saying it best, "You're the worst character ever, Towelie!"
Am I the Only One?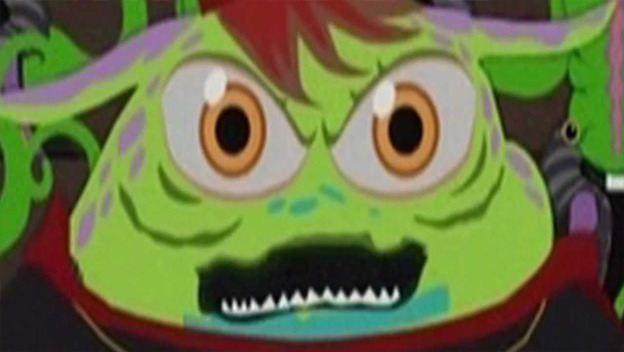 Father Max is the local priest in South Park. In one episode, he talks to the Vatican and learns that he's not the only one molesting boys, so he decides to journey to the Vatican to confer with the Pope on the subject. What he finds when he gets there is that the entirety of Catholicism has been infiltrated by aliens who are doing these heinous things. So he has to travel through the sewers of the Vatican in a Pitfall style way to find the Holy Document and stop the Gelgamek.
Heat of the Moment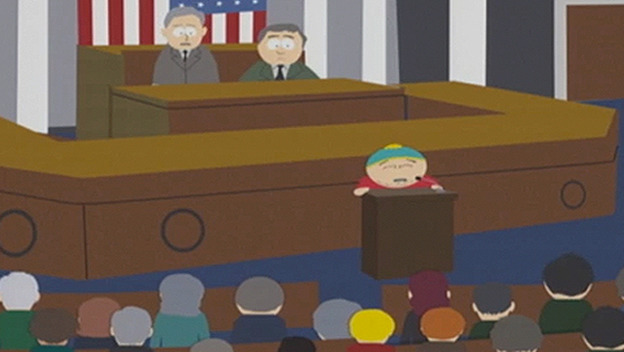 Cartman loves 80s music. That's no secret. And one of our favorite Cartman sing-alongs is when he addresses Congress on stem cell research. He implores them to allow stem cell research because he's getting really tired of people finding new ways to kill Kenny every episode. They finally agree with him, but only after he leads them all in an uproarious version of " Heat of the Moment ," by Asia.
'Roid Rage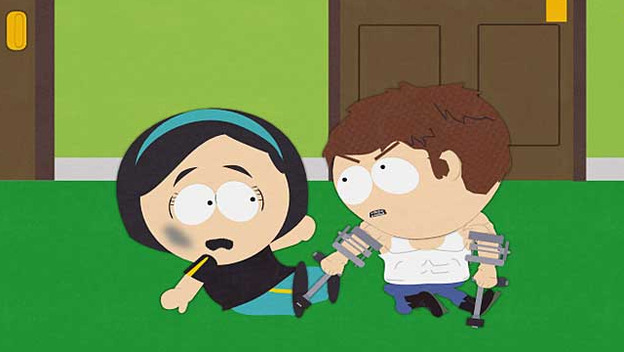 Jimmy is competing in the Special Olympics and starts using steroids to improve his performance for the challenges he will face. Not only this, but Cartman decides that he is going to act like a mentally-challenged kid to get into the Special Olympics to try and win at everything he can. Then the unthinkable happens–Jimmy starts beating up on his girlfriend repeatedly in giant, steroid induced rage fits. Eventually he figures out he needs to quit, but this could make for some seriously messed up yet fun gameplay.
Michael Jefferson?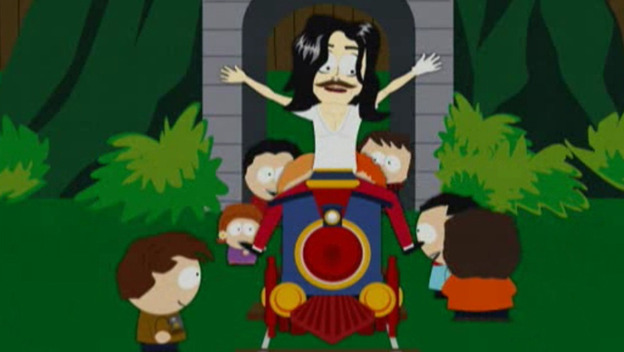 Mr. Jefferson becomes a demon in episode #806. He moves to South Park and quickly befriends the boys, but soon they figure out who he really is. They figure out how mean he is being to Blanket and plan to free him from his clutches. Through all this, Mr. Jefferson's nose falls of and he starts to rot until he assumes the form of the demon/zombie thing that Michael Jackson turns into in the Thriller video. If this scene were included, you could have to battle him in a break-dance fight. That would actually be both fun and stupid at the same time.
An Episode That Will Live In Infamy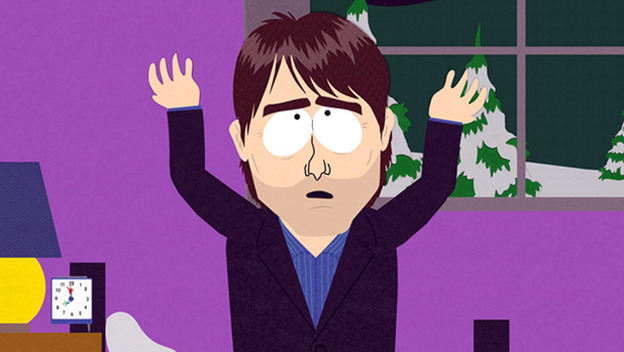 Episode 912. The Scientology episode. The one that made Chef, er… Isaac Hayes leave the show. The Scientologists in this episode surmise that Kyle is the reincarnation of L. Ron Hubbard. This episode has it all. It has zealous cult members, crazy creation myths, volcanoes, aliens and even Lord Xenu. The best part of the whole episode is that it is all actually what Scientologists believe and they flash "This is what Scientologists actually believe." On the screen the whole episode.
Ghostly Visions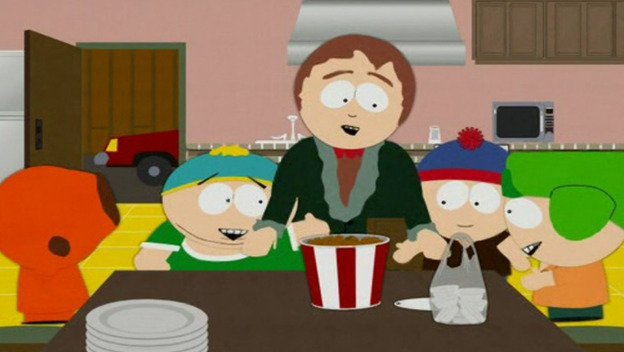 In Episode #906, the boys get super pissed off because Cartman keeps eating the skin off their KFC chicken. So they convince everyone in town to act like he's dead. This is already shaping up to be a great level idea for the game. Then it gets better. Butters takes the story literally and believes he is seeing the ghost of Cartman. His parent's then take him to a psychiatrist who decides that an anal probe is the best course to find out what's causing his symptoms. You could even go to try and save poor Butters from being violated. All I'm saying is that the whole "Cartman's dead" thing would be great.
Cripple Fight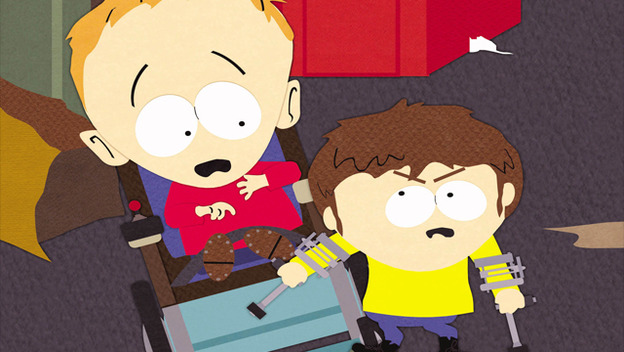 In true irreverent form, Stone and Parker showed us two handicapped 9yr. olds fighting each other. Poor Timmy and Jimmy get in a huge fight over who is more popular in the show. Because Timmy was such a popular character to us sickos who watch the show religiously, they brought on Jimmy. And because both boys became so popular, Stone and Parker decided it would be both funny and awesome to have the two boys fight for the title of most popular. The best part? They show the fight exactly like it was the film " They Live " featuring Rowdy Roddy Piper.
Korny-Doo and the Trippy Pirate Ship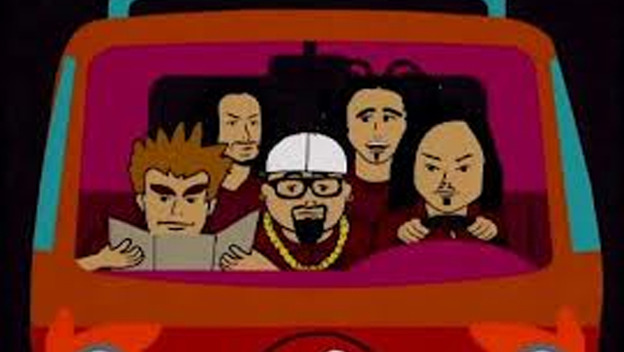 In the tenth episode of season 3, the band Korn makes an appearance driving what passes for the Mystery Machine from the Scooby Doo series. Father Max launches a one-man protest of the band's presence in town. Cartman is already thinking about Christmas and presents so he is completely out of context the entire time, and there's a whole bunch of bits and jokes about necrophilia…the uncontrollable urge to crack open a cold one. That sounded so much better in my head. But I'm pretty sure Matt and Trey would be proud.
Sick and Tired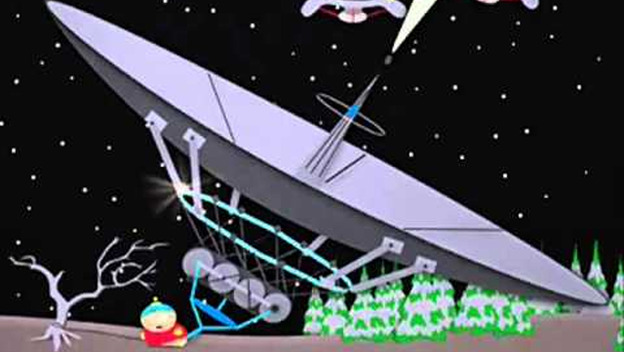 Back to the very beginning. The episode that really started it all. Cartman gets an anal probe. Aliens come down from the skies and cows start exploding all over South Park. The boys start seeing a bunch of really weird stuff. Ike gets kidnapped by the aliens, Kenny gets killed and Cartman gets abducted and has a device planted inside his rectum. In the end, he gets really angry and shouts, "I am sick and tired of everything having to do with something going in or coming out of my ass!" It is at that moment that a giant satellite dish emerges from his rump and calls the aliens back to Earth in which they divulge that is was an alien named Karl that was blowing up all the cows.