Final Fantasy is the series that just keeps on giving. It's been 30 long years since the series first started. Within that time, we've been introduced to countless characters and creatures. Their personalities and appearances run the gamut of the imagination. This makes it incredibly easy for players to find at least one or two characters to fall in love with. And some of those that fall in love will cosplay as a creative release. This list is going to illustrate some of the best Final Fantasy cosplay I've seen throughout the web. So grab your Chocobo plushie, and let's get started!
Image Credit: Alex-Vas
Vincent Valentine from Final Fantasy VII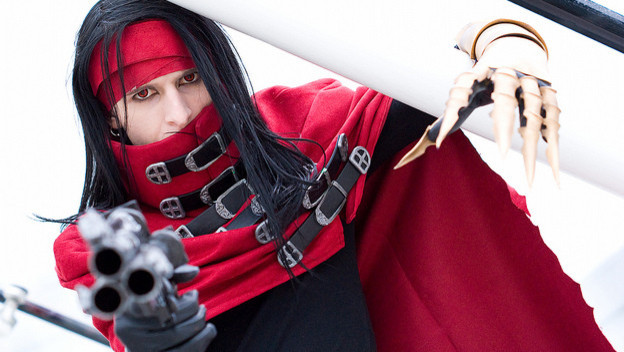 Our first entry in our list is somewhat of a hard find. Vincent Valentine was first introduced in Final Fantasy VII . He's equally well-known from the Final Fantasy VII film, Advent Children . As it turns out, Vincent is a very popular "cross-play" character. To elaborate, he's a male character, but he's commonly cosplayed by women as a female version of himself. I wanted to hunt down a great male version of Vincent so we could see him in his original glory. Dark-Nyte was one of the best I found, and it's clear he pays attention to detail. Vincent's golden gauntlet is one of his key features, and Dark-Nyte brings it to life.
Image Credit: Dark-Nyte
Paine from Final Fantasy X-2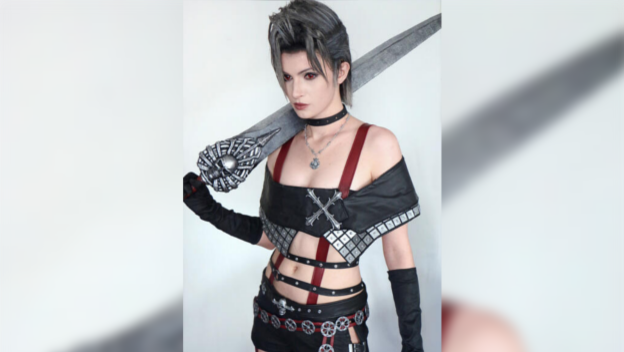 Final Fantasy X-2 was one of my favorite entries in the series for a very long time. Most of my friends would vehemently disagree with me, but I was all right with that. Within X-2 , the best character in my opinion was definitely Paine. Her personality was mysterious, and she had that tough girl attitude that I found extremely attractive. Not only that, but her wardrobe design meshes extremely well with my dream aesthetic. Alyson Tabbitha does a great job getting every detail of Paine's costume correct, right down to her necklace and the decorative part of her sword. The wig seems like one of the hardest parts to pull off, but it looks great in this cosplay. Paine's signature red eyes are also on display, making this a super well-rounded cosplay.
Image Credit: Alyson Tabbitha
Edea Kramer from Final Fantasy VIII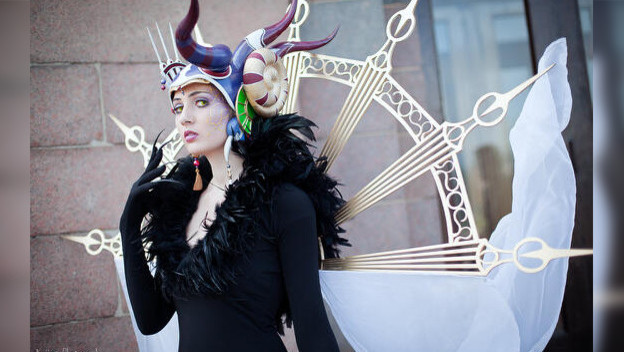 If ever there was a character in Final Fantasy suffering from a case of Dr. Jekyll and Mr. Hyde syndrome, it was Edea Kramer. Her possession by Ultimecia turns her from mild mannered orphanage mother to sexy sorceress. It's this sorceress appearance of Edea that bellatrixaiden chose to cosplay as, and she does a fantastic job. I always adore cosplayers who have great attention to detail. This Edea cosplay even includes the white, vein-like lines that appear on her face. The metallic back piece that Edea wears is absolutely beautiful in bellatrixaiden's cosplay. All around, it's a fantastic version of an impressively designed character.
Image Credit: bellatrixaiden
Wakka from Final Fantasy X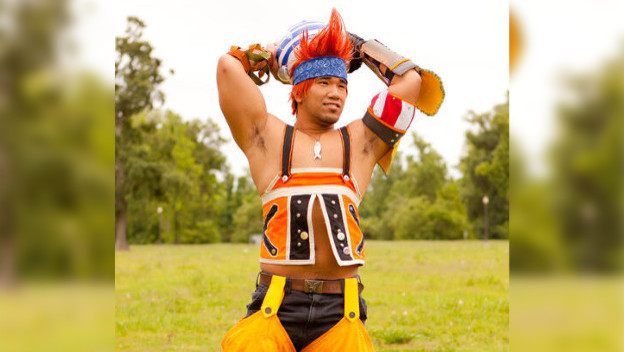 When you think of blitzball in the Final Fantasy universe, one of the first characters to come to mind is undoubtedly Wakka. His dazzling orange hair and blitzball uniform are unforgettable, and ShinrajunkieCosplay captured all of this perfectly. Not only did he manage to create Wakka's costume perfectly, he also seems to have his personality down pat. The joker almost always has a smile on his face, and so does ShinrajunkieCosplay. This was the cosplay on this list that made me smile the most. Check out ShinrajunkieCosplay's DeviantArt for even more photos of Wakka!
Image Credit: ShinrajunkieCosplay
Oerba Yun Fang from Final Fantasy XIII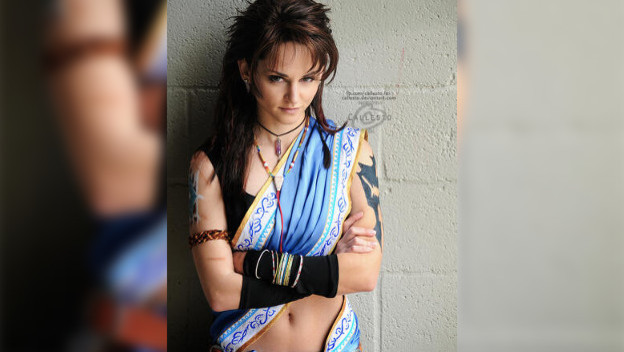 There's sort of a theme as far as my favorite Final Fantasy characters are concerned. I love the mysterious women. The ones that are total bad*sses, but you don't really know why, or at least at first. When I started playing Final Fantasy XIII , it became very clear extremely quickly that Oerba Yun Fang was going to be my favorite. She was tough, driven, and even though I didn't know why, I loved her for it. It would seem Callesto captured this same spirit in her cosplay of Fang. This photo in particular shows off that smoldering look Fang does so well. In other pictures you can catch a glimpse at the impressively accurate spear that Callesto carries with her cosplay as well.
Image Credit: Callesto
Fran from Final Fantasy XII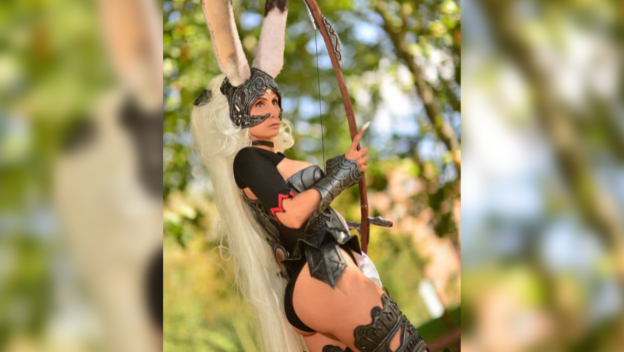 As soon as I caught my first glimpse of Fran in Final Fantasy XII , I knew she was going to be a popular character to cosplay as. She's got the right amount of skin showing that is sure to grab attention. Her rabbit ears make her recognizable from a distance. And to top it all off, she wields a bow, which is going to be much easier to craft than a sword or other weaponry. I also knew that Fran would be a difficult character to pull off, because her armor is all very detailed and secured in odd places. Even still, the cosplay community didn't take no for an answer. People like MorganaCosplay do Fran justice in the best possible way. Morgana's version of Fran has all the details like her long claws, and the equally weaponized stiletto heels she wears. All in all an excellent version of a fairly difficult cosplay.
Image Credit: MorganaCosplay
Shiva from Final Fantasy X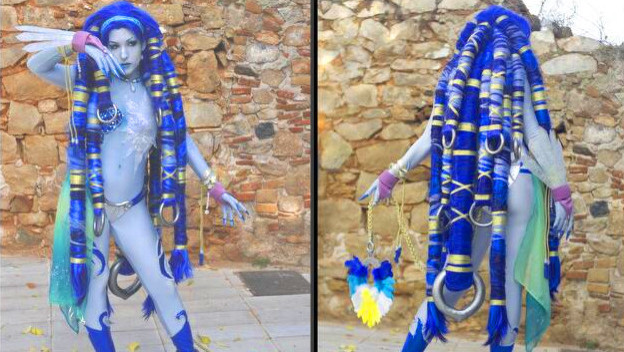 Shiva has been around as a summonable character since Final Fantasy III , but her appearance in Final Fantasy X is one of her most impressive. Shiva's hair in Final Fantasy X is her most memorable trait, as it consists entirely of thick dreadlocks with metal rings braided in. While she wears next to nothing, her other memorable costume feature is the fan she has attached to her. Yurai-Cosplay brought all of these things together in her Shiva cosplay, and it looks fantastic all together. Yurai mentions that the wig is indeed heavy, but clearly it is worth the suffering for her, as her version of Shiva is incredibly impressive.
Image Credit: Yurai-Cosplay
Gladiolus Amicitia from Final Fantasy XV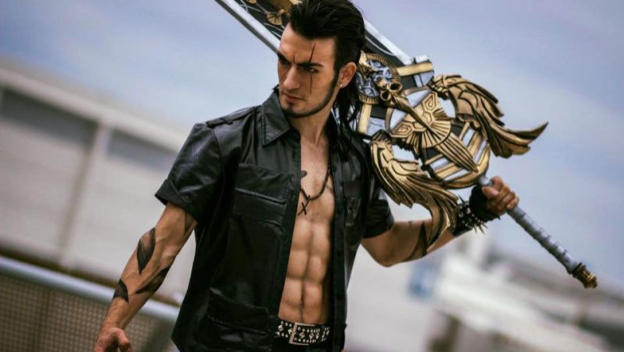 We're down to our final entry in this list of epic Final Fantasy cosplay, and last but not least we have Gladiolus Amicitia from Final Fantasy XV . He's a fan favorite and is certainly done justice by Leon Chiro Cosplay Art. Gladiolus is most recognizable by his hair, facial scar, and of course, his killer abs. Not only does Leon Chiro nail down every single one of those traits, he also has Gladiolus' tattoos painted on. His sword is almost a cosplay unto itself considering the crazy amount of detail in it. All in all, I think we can all agree that Leon earned the top spot for his version of Gladiolus.
Which Final Fantasy cosplay is your favorite? There are so many out there, that there's sure to be others you adore. Show us in the comments!