Games succeed or fail largely because of their advertising and public relations teams. If the marketing team is strong and their plan is solid, then the game stands a better chance of surviving and being successful. But if any of the parts of the marketing chain are weak, then the game runs the very real risk of hitting at the wrong time, in the wrong place, with the wrong idea and it can fail…miserably. So we decided to take a look at ten of the games that had a terrible marketing plan, team, idea, or whatever.
Acclaim Entertainment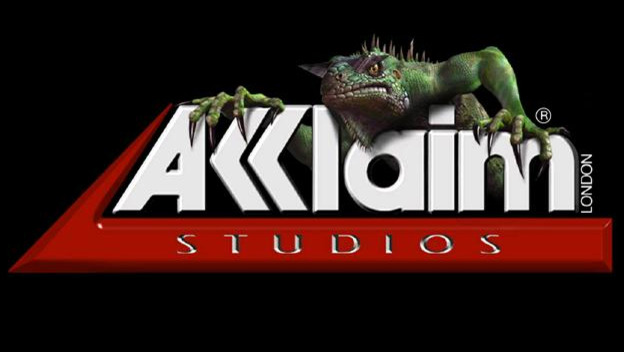 While this isn't actually a specific game, it does deal with a company that published video games. It's actually a pretty well known company that did some things that would push their infamy into a whole new bracket of insanity. In the early days of the internet, Acclaim decided that they were just going to go completely bonkers with online and real-world marketing schemes. Some of these involved buying ad space on human gravestones, throwing painted pigeons into the courts at Wimbledon, and even offering a $10,000 cash prize for the first person to legally name their child Turok. Sadly none of these things are made up.
Evony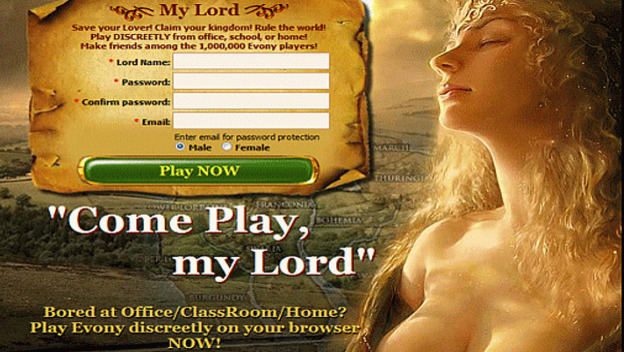 "Come play, my lord." It was the tag line for the ad campaign of Evony –a game more akin to Civilizations than the sexually charged, scantily clad women in the ads would lead you to believe. The "Adults only," banners were everywhere, all over the internet. Boobs abounded as they enticed more and more gamers to click the link and give the game a whirl in hopes that the near-nude woman would actually be the people you would govern and that they would do whatever you wanted. Alas, as I said before, the game had more in common with Civilizations or a Sim City type game than it had anything to do with hot chicks in little clothing. This slight marketing error led to a truckload of pissed off gamers.
PSP White Version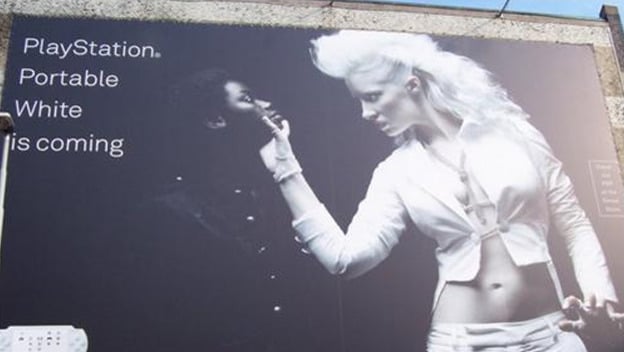 It's 2014 and honestly racism should be a thing of the past. It should be something that we only read about in history books and should not even be a part of modern society. Sadly, it still is a part of our society as humans and doesn't seem to really be losing steam. So whenever someone has a legit reason to cry foul and play the racism card, it's never really a good thing and it ends up getting a lot of negative coverage. As you will see later on, Sony is not known for its finesse and tact when it comes to celebrating a major release, but it was still shocking to see the image of an aggressive caucasian female clutching a black male by the jaw in a giant billboard ad in the Netherlands. Sony denies any racial motivation, but even if that is true, when you look at this billboard it's easy to see how someone could think otherwise.
GTA IV Comes to XB360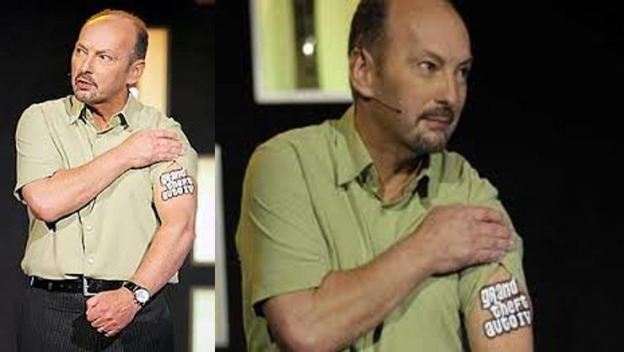 So 2006 wasn't really a great year for the XB360. It seemed like at every turn, Sony had them beat. Developers were still clinging to a proven legacy of systems from two previous platforms as well as holding fast to more secure relationships with the media giant. So what were the guys at Microsoft going to do to prove to people–developers and gamers alike–that they were trendy and relevant and a viable source for gaming media? Simple. They would put a giant, and obviously temporary tattoo of the GTA IV logo on the upper arm of none other than Microsoft's own Peter Moore. He proudly brandished his fake tattoo at an E3 press conference after announcing that GTA IV would be coming to the XB360. 'Cause as we all know, nothing says "I'm relevant" like a middle aged man with a temporary tattoo on his arm.
Lair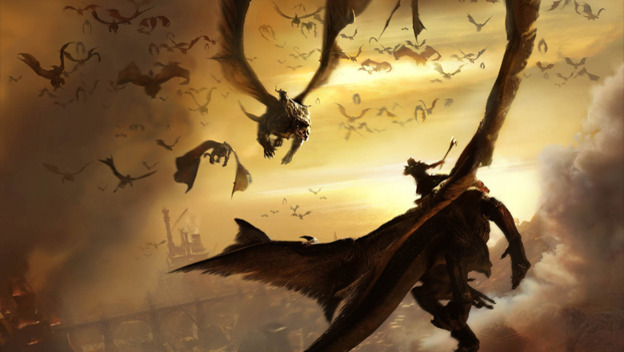 Factor 5 Software was responsible for the wildly popular Star Wars Rogue Squadron games in the N64 and Gamecube. So when they announced that they would be releasing a flight-based, dragon riding combat game…everyone was a little excited. If they had done so well with the Rogue Squadron games, how could they possibly go wrong with dragons? Two words: six axis. Sony decided to try and compete with the Wii's motion based controls. The first of their attempts was to add the ill fated and seldom exploited six axis function to the dual shock controllers. Lair would be the first title to employ this tech as the sole means of controlling the game. Well, it was clunky and brutish and counter-intuitive and it was just plain frustrating. So rather than fixing the issue, Factor 5 sent out a two-page reviewers guide to tell people they had been playing the game wrong. They even ran ads showing a teacher scolding her students for playing the game wrong. Way to make friends, Factor 5…where are you now?
The Godfather II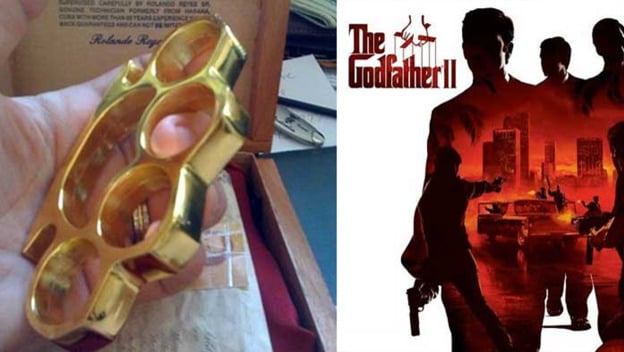 So we all know that giants like Electronic Arts are actually infallible and untouchable by the common world. Of course we know that any game they produce is more than worth our hard earned money that we all should have to purchase online passes and season passes to play them as well. And we, being the mindless marketing fodder that we are, will obey. But every now and again, they take things just a little too far and actually piss someone off that can actually touch them… like the federal government. It is in fact illegal to ship undeclared weapons of any kind through the Postal Service–a detail that EA must have obviously overlooked when they mailed actual pairs of brass knuckles to industry types as a trinket of swag to showcase their new title, The Godfather II . Oh, and I guess they also overlooked the fact that these particular weapons were illegal to possess in ten state in America and were also illegal in many of the countries they were sent to. Way to go, EA.
God of War II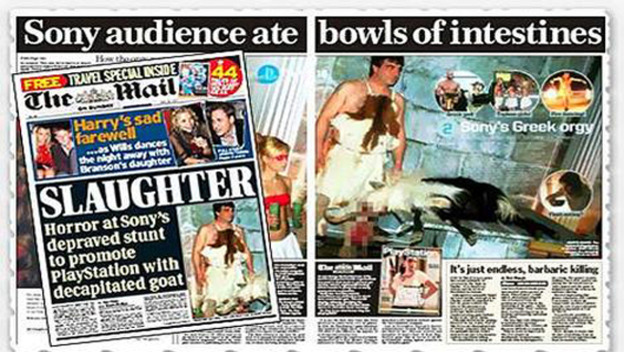 2007–Athens, Greece. Sony decides that they are going to host a huge party to celebrate the release of their latest triumph, God of War II , but according to people who were there, they weren't treated to the usual din of drunken ramblings of industry types and common, everyday bags of game-related trinkets. Sony decided that they had found the way to convince the world that video games were neither violent nor sexist in any way. They accomplished this goal by tossing a party that featured a headless goat as the centerpiece–oh, and the apparently served parts of its entrails to guests. Then guests were fed grapes by topless women dressed in ancient Greek attire. Way to go, Sony. Way to make the media believe that you are actually serious about getting the "games aren't violent," message out there.
Diakatana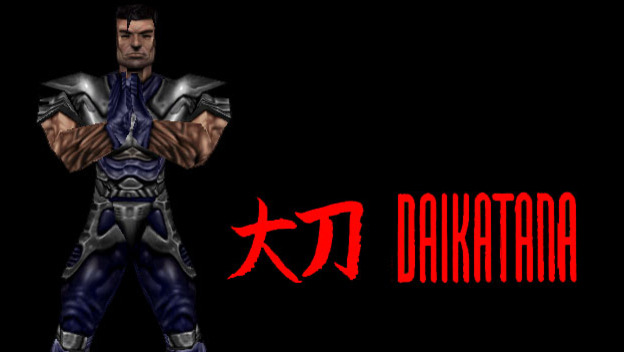 When the ads started running for this title back in the late 90s, it was mostly just giant red pages with black borders that said, "John Romero is about to make you his b****!" or, "Suck it down." So exactly what was the game about? No one really knew. People 'in the know' realized that the game had something to do with the guy behind Doom and Quake , but other than that it was anyone's guess. It became such a bizarre and overstated marketing campaign that people started laughing and joking about how it would be hysterical of the game totally sucked. Well, their jocularity would become the stuff of legend as Daikatana did indeed suck…royally. So I guess we know who the actual b**** is in this situation.
Dante's Inferno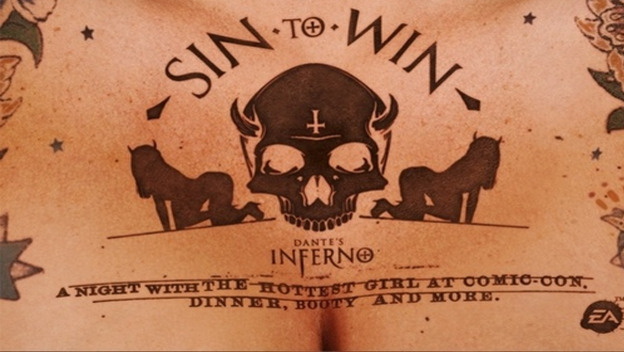 At E3 the year that Dante's Inferno was slated to release, the PR team at Electronic Arts had an idea. They thought, "Hey we made a game that is a blatant slam against religion and we even used Judeo-Christian mythos to do it! Let's see how overtly perverse gamers will actually be if we offer them loot, sex with hookers and a limo! But the catch is that they have to publicly molest booth babes at E3 and then post it on the internet to prove it!" Because as well all know, posting your pictures of sexually assaulting someone you don't know is not at all a way to get yourself in trouble with nearly every law enforcement agency everywhere. That and promising the winner a night of sin with two hot women in a limo just seemed a little over the top…well that and hiring a group of people to stage a religious picketing of your title at E3. Honestly, there wasn't any part of this that wasn't excessive and unnecessary…especially since the game wasn't that great anyway.