Having different kind of gaming monitors is always handy, but there's something to be said for going with a projector. Connecting one to your console or computer of choice, aiming it at a blank wall or screen, then scaling it to whatever size you would like is certainly empowering. But, it can be difficult to know what to go with. Especially when encountering a company like BenQ, which creates multiple projectors that might all sound the same. What are lumens? What does throw mean? For example, both the BenQ TH671ST and BenQ HT2150ST have a lot to offer people looking to set up game rooms or maybe have a projector they could take to events or major friend gatherings, but they also have some distinct differences that could help people favor one over the other.
The two BenQ projectors have a lot in common. The TH671ST and HT2150ST both are designed with gamers in mind. This means their input lag is 16ms. When you press a button, in seconds you will see that response projected on the screen or wall. This means each one would be great for action-RPGs, shooters, or fighters, as well as games where timing isn't as critical, like a turn-based RPG or visual novel. Both provide a 1080p resolution, so your games will be presented in HD, and allow you to have a 100″ screen. You know, if you have the space for a 100″ screen. You have two HDMI ports, allowing extra connections.
The throw and size are also similar, which is important. Projectors tend to be the sort of tools that you may find yourself needing at home and on the go, so knowing they are easy enough to transport and allow short throw distances that allow them to project large images even in closer quarters is important. The BenQ TH671ST is 5.9 pounds and is 11.7 x 4.6 x 9.5 inches, which means you could easily place it in a case or backpack and take it with you. Its throw lets you have a 100″ display at only 4.9 feet away, and it has vertical keystone correction, which allows you to set it up easily and have a clear picture without a lot of fuss. The BenQ HT2150ST isn't all that dissimilar. It is slightly heavier and larger, at just under eight points and 4.79 x 14.98 x 10.91 inches, but could still very easily be taken anywhere. Its throw ratio is identical, so you can get a 100″ image at 4.9 feet away.
However, there are a few areas in which they might have something different to offer people. For example, the BenQ TH671ST focuses on brightness. It has 3000 lumens, which would provide a more intense range. You would be able to see things more clearly. While the BenQ HT2150ST only offers 2200 lumens in comparison, making it less bright, it makes up for it with more vibrant colors. It has 96% REC.709 HDTV color standard accuracy, meaning things will look as true to life as possible. The TH671ST only hits 92%, which means it will still look good. It just won't look as good. It also won't have its sound envelop you as much, as it only has one 5W speaker, while the HT2150ST has two 10W speakers.
But, most telling are the different picture modes. These help you set up in an instant a mode suitable for your activity. The BenQ TH671ST is made with games in mind, be they video games or sports presentations. As such, it has Game Mode and Sport mode options. Picking one makes it perfect for that activity. The BenQ HT2150ST has three modes: Game Mode, Game Bright Mode, and ISF Night/ISF Day. The former two are designed to make games you are playing look their best, while the ISF calibrations allow for customizations that make things look perfect during the day or at night. In general, the TH671ST is more for games and sports, while the HT2150ST could be a better fit for games and general movie and media usage.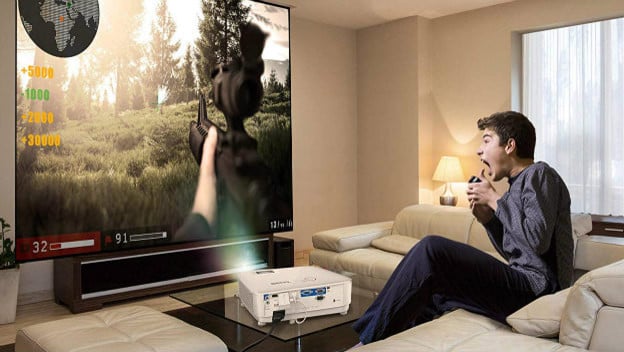 Price is also a factor. The BenQ TH671ST is the more affordable of the two. It will be $685. The BenQ HT2150ST is $100 more, coming in at $794. Now, being frank, if someone is going to invest that much money into a projector, $100 might not make a big difference at that point. It could be like someone looking at a 2DS XL, which is $129.99, and a 3DS XL, which is $199.99, and deciding the few extra features an range is worth that extra $70. But price point is always a factor to consider.
The BenQ TH671ST and HT2150ST each have a lot to offer people. Both are projectors that are easy to set up, can be used in a variety of ways, suit spaces of all sizes, and have different accommodations that could make gaming better. But, each one also has its own modes and specialties that could give it an edge. It's up to you to think about whether you are going to use one for sports and gaming or gaming and different kinds of media streaming. Either way, they'll give you a whole new perspective.