M-I-C-K-E-Y. Why? Because We WANT You!
Disney Interactive is diving with both feet into their video game archives, reviving some true classics and giving them a makeover. A collaboration with Capcom will soon yield the highly anticipated DuckTales Remastered . But instead of a mere facelift, SEGA is taking Castle of Illusion Starring Mickey Mouse a step further, upgrading the level design as well as the graphics. Tucked at the back of the SEGA booth at E3, the four nicely landscaped demo stations for Castle of Illusion maintained a consistent queue line of at least a dozen eager attendees. I was able to extract several tidbits of information from a SEGA representative as well as get some one-on-one time with Disney's top mouse.
The story from the 1990 title bearing the same name remains intact, with Mickey on a quest to rescue Minnie from the clutches of the evil witch, Mizrabel. The levels from the original will all be making a return, though with some tweaking. SEGA's goal was to find a balance between retaining the platforming blueprint, obstacles, and enemies from the classic while infusing some modern touches. As a result, each board has twenty percent new content, and certain areas showcase the dynamic camera, sprinkling in some 3D backgrounds to the side-scroller.
Controlling Mickey remains a simple affair. Jumping is his main form of attack, and you can collect a limited supply of launchable objects for ranged attacks. But don't expect to breeze through every act like it's child's play. SEGA's target audience is the aging, nostalgic gamer; the challenge is tailored to their skill level. Each stage can be replayed to seek out diamonds (the currency required to unlock later levels) as well as hidden golden Mickeys to boost your point total. Another skillful way to improve you score is by bouncing off of multiple enemies before touching the ground. With the unnatural hang time that Mickey possesses, you are forced to adapt your controls, but this also adds to the challenge. All the past bosses will make an appearance, though each has been redesigned and reimagined in 3D.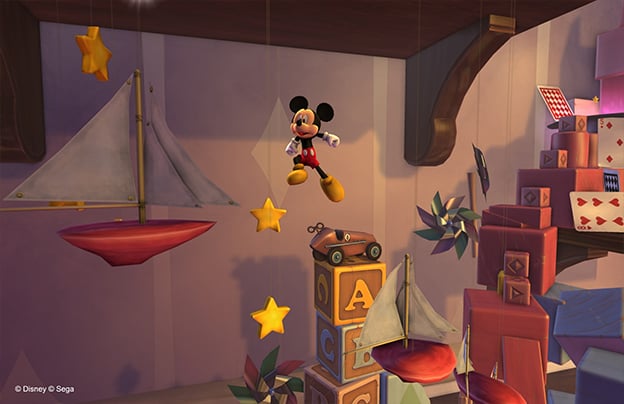 One feature that won't make a return is Easy mode. This watered-down version from the original didn't fit with SEGA's mission to appeal to the retro gamer. Also, Castle of Illusion is strictly for your personal enjoyment, as it is a single-player only affair.
Along with updated visuals, the SEGA rep was sure to boast about Mickey's "idle animations." As a little known factoid, the 1990 version was the first video game ever to have this type of animation. Now, it seems the remake will go several steps further, prominently featuring Mickey swaying back and forth, looking over his shoulder, fidgeting, and even chatting with himself should you set the controller down. The backgrounds are also full of character, filled with gorgeous scenes and a lot of scale to give the locations plenty of depth.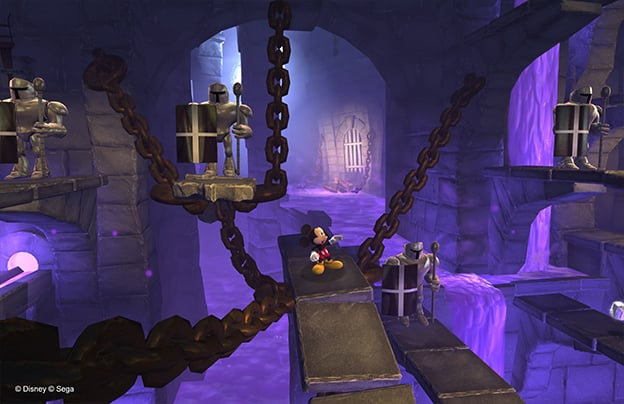 You may not be able to pull the original music tracks from memory, but I guarantee they will come right back to you the minute you start playing. Grant Kirkhope, a former composer of many Rare titles such as GoldenEye 007 , Banjo-Kazooie , Viva Piñata , and more recently Kingdoms of Amalur: Reckoning , is lending his talents to Castle of Illusion . Paying close attention to the source material, the remixed orchestration sounds terrific. However, if you crave the authentic audio experience, you can switch the sound in the options menu to play the original 8-bit tracks. Bret Iwan, the exclusive voice actor for Mickey Mouse, is also adding vocals to the game.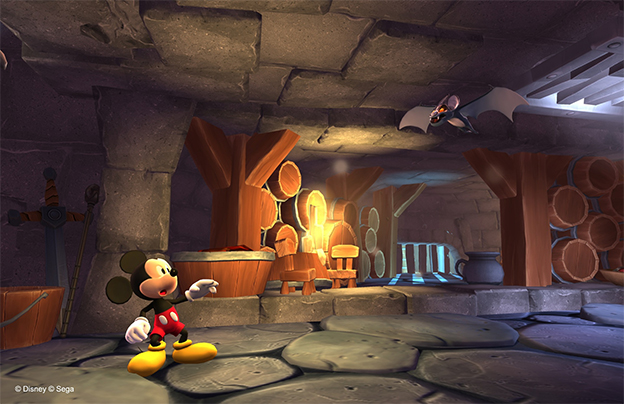 After my few minutes of precious time playing Castle of Illusion Starring Mickey Mouse , the nostalgia certainly came rushing back. The redesign has been handled with extreme care, and I have no doubt SEGA and Disney will be pleased with the end result, as will every eager fan awaiting its release. Currently, the game will launch this summer for the PC, PSN, and Xbox LIVE Arcade; however, I was told there is an upcoming announcement about other release platforms (Wii U please). I also pried about the possibility of remaking the entire Illusion series, but the response I was given is that the focus right now is strictly on making Castle of Illusion a success. Let's all help SEGA with that goal, and maybe that will be enough to keep the remakes coming.
Game Features:
Play as Mickey Mouse in this reimagining of the classic Sega Genesis/Mega Drive game.

Experience a world of wonder, brought to life with all-new graphics and magical adventures.

Journey across five magical worlds filled with Mizrabel's powerful minions.

Complete hidden challenges to customize Mickey with classic costumes!