It seems every year, a new piece of must-have gaming gear drops that leaves our mouths watering in anticipation. Here is a collection of just some of the coolest items on our wish list this holiday season. It includes everything from pro-level Turtle Beach headsets to PowerA retro controllers and much more!

PowerA Accessories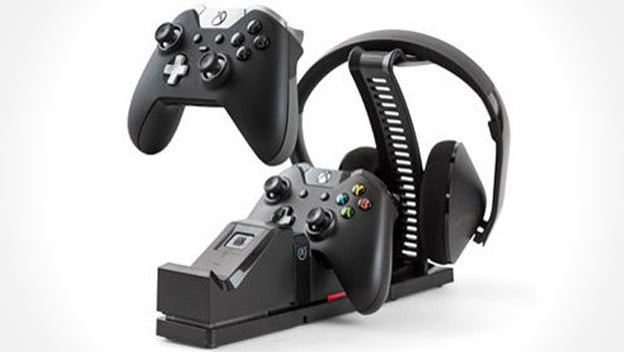 We're all gamers here! Which means that we all know you need more than just a console, one controller, and a few games. You sometimes have to have certain sorts of accessories too. Which is why you might turn to a third-party company like PowerA to get some cool, handy, and sometimes even affordable peripherals.
For example, an Xbox One owner might want to go with the officially licensed Spectra Illuminated Controller for their system. It's $39.99 , cheaper than a standard controller, and allows you to have a wired USB controller with rumble effects, 225 color combination options for its illumination effects, and plug your 3.5mm headset into the built-in audio jack.
PowerA also gives people options when charging up your official controllers, in case you like Microsoft's wireless options. There is a Play & Charge Kit that is $24.99 and gives you two charge-through battery doors for official Xbox One controllers, a 9.8 foot USB charging cable, and two battery packs. You can plug it in or just swap packs as needed. And, if you have the Complete Charging Station for $39.99 , you have the ability t drop, click, and charge up to controllers and one other USB peripheral at once, with an LED light bar showing the progress. It even comes with two universal charge-through battery doors and battery packs.
But what if you went with a Nintendo Switch instead of an Xbox One? Well, PowerA has controller options there too. The $49.99 Mario Silhouette Nintendo Switch controller is a translucent red controller with Mario's shadow on it that connects wirelessly to your console. It even has motion controls, for games like Super Mario Odyssey . LEDs let you know if the AA batteries need replacing, and it gives you another option for when you play.
Or, if you plan to settle it in Smash with Super Smash Bros. Ultimate, maybe consider the purple Wired GameCube Controller designed especially for the Nintendo Switch. It has the familiar GameCube layout, but with a 10ft USB cable that connects to your Nintendo Switch. It's only $24.99 and, while people will probably use it with Smash, it does work with all Nintendo Switch games.
Need to carry all your accessories everywhere? Well, PowerA has a bag for it. It's the $34.99 Everywhere Messenger Bag with Super Mario Bros. on it. It has a slim case for the Switch, a zippered back pocket, a rubberized handle, a padded shoulder strap, and both overworld and underworld Mario designs!

MadCatz R.A.T. 8+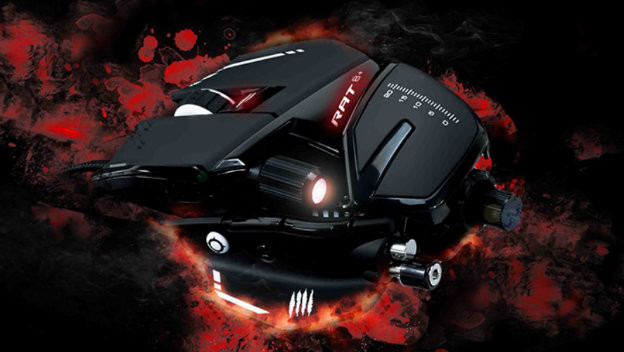 I smell a rat. Actually, no, I just see a MadCatz R.A.T. 8+, the company's high-end gaming mouse. This is a peripheral that gives you the mouse, three 6G weights, a high top palm rest, a rubber palm rest, a rubber pinkie rest, an extended wing pinkie rest, and access to the Flux Interface customization application. This has eleven programmable buttons and memory that lets you save four profile loadouts that remember your button and lighting settings to make sure your mouse is all set. Its 16,000 DPI optical sensor has 400CPI tracking speed to offer 400 inches per second and can handle 50 of acceleration. Its mouse buttons can handle 50m clicks, it only weighs 145g, and it even has a PIXART PMW3389 sensor. It's ready to handle anything a PC gamer can throw at it.

Kontrol Freek Grips and Thumbsticks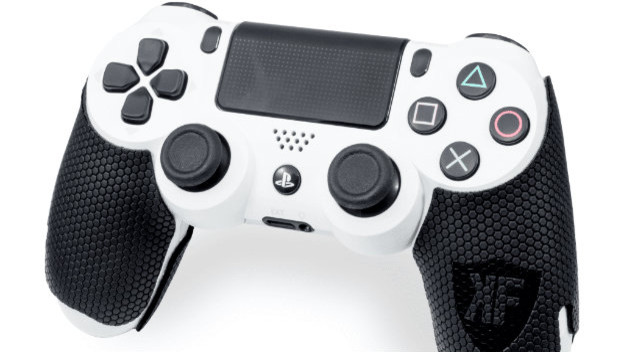 When you play games for long periods of time, you might find yourself wanting to make yourself a little more comfortable. Getting items from Kontrol Freek's line of grips and thumbsticks might be a good way to make gaming easier on you. For example, someone might want to pick up the $14.99 Performance Grips for a DualShock 4. These have a honeycomb polymer layer that is cushioning, resists sweat and moisture, and is designed to be more comfortable for your hand. at the same time, they are durable, give you a textured grip, and can be adjusted as needed.
For people who are okay with the grip, but maybe need a better position on the analog sticks, people can get new thumbsticks. There are $14.99 FPS Freek Battle Royale and $17.99 Call of Duty: Black Ops 4 Grab Slam models, each of which might help with accuracy and comfort due to the positioning, texture, and added range of motion. The COD version even comes with a code for a Target Practice Calling Card in-game.

Turtle Beach ELITE pro 2 + SuperAmp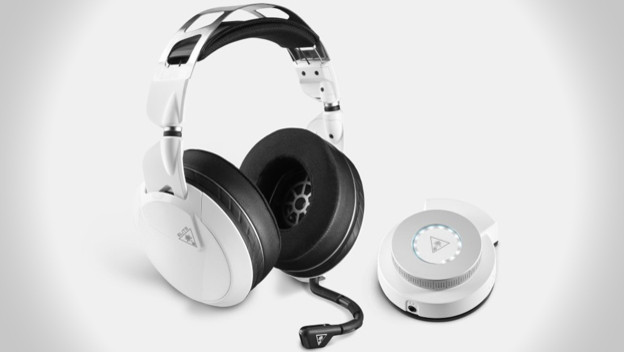 Do you like to play online or stream? You need a good headset if you do. A Turtle Beach ELITE pro 2 and SuperAmp might have you covered. This is a $249.95 headset available in Xbox One and PlayStation 4 varieties. When you get this headset with mic, you have 50mm, over-ear, nanoclear speakers with replaceable memory foam cushions and ProSpec technology that doesn't smush glasses into the heads of people while the headset is being worn. It has a metal headband, for durability, and magnetic speaker plates you can swap to change its look. And once you set up the SuperAmp with the headset and connect it to your mobile device, you can alter the chat boost, choose the equalizer presets, adjust your stream and broadcast settings, and even switch over to your phone calls or music while you play!

ROCCAT: Kone AIMO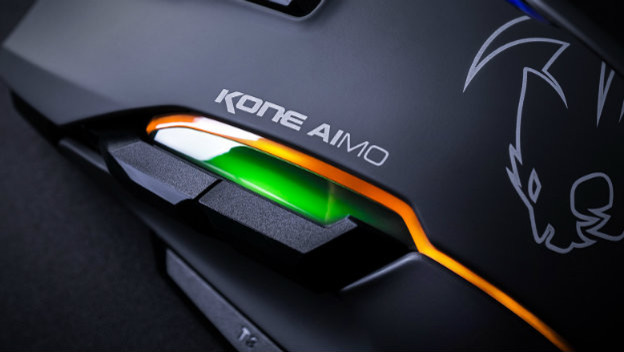 If you are looking for a new kind of PC gaming mouse, the ROCCAT Kone AIMO is something that might fit on a wishlist. It is basically the Kone model mouse with various updates and AIMO. It has the Owl-Eye optical sensor that is goes up to 12,000 dpi, has a 32-bit ARM MCU and memory to remember sittings, there's the four direction Titan wheel built into it, and it has a tri-button thumb zone with an easy shift button that lets you have two actions assigned to each mouse button. As for the AIMO, that part of the name comes from its illumination system that intuitively changes its color based on what is happening on your computer. It connects across devices and has multiple zones that can each have their own lighting display. You can get a ROCCAT Kone AIMO for $79.99.

Astro A40 TRX Headset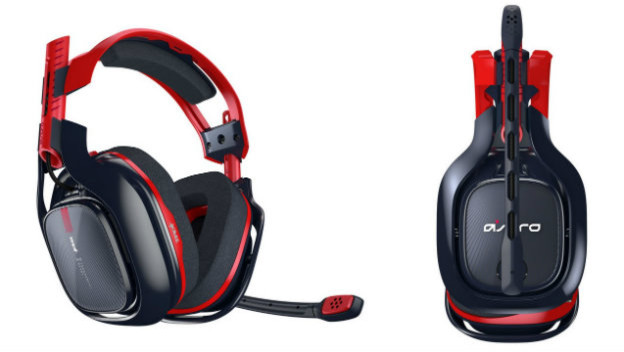 People who have a lot of different consoles like to know they have a headset that can handle every one of them. The Astro A40 TRX Headset is one of those types of headsets. For $149.99 , you get a special edition device in Navy and Crimson that works with your PC, PlayStation 4, Xbox One, Nintendo Switch, and mobile devices. This wired headset gives you stereo-quality sound with voice chat, lets you use swappable boom mics, and is mod kit ready. You can even swap speaker tags. But as is, you are still set with a 60mm uni-directional, noise gate mic, 20-20,000 Hz frequency response, and a 40mm Sound Driver specifically designed to make games sound great.

Creative Sound BlasterX G6, Sound Blaster K3+, and Stage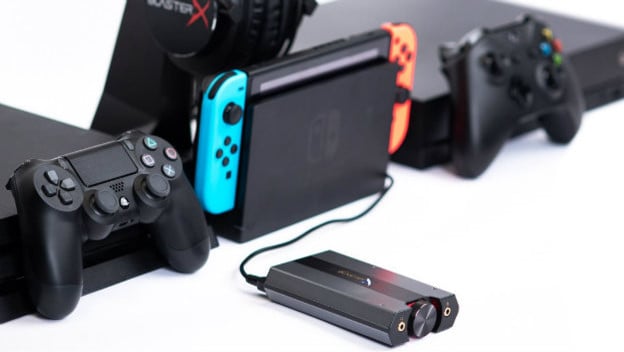 If someone really wants to get the best sound out of their systems and consoles, perhaps for streaming purposes even, it might be time to start looking into Creative products They have soundboards and sound cards that can help make everything sound better. The Sound BlasterX G6 is an external USB sound card and headphone amplifier that works with the PlayStation 4, Nintendo Switch, Xbox One, and PC. It improves your sound quality without getting an actual internal sound card, using its 7.1 USB Digital Audio Converter, Dolby Digital Decoding, and Xamp headphone amplifier to make your games and you sound better. This $149.99 device plugs in, lets you adjust levels directly on it, and offers distortion-free audio. It even has a Scout Mode that amplifies sounds like footsteps, which might give you an edge in shooters or horror games!
Meanwhile, the Sound Blaster K3+ is designed to help PC and mobile device users who want better audio processing. This $129.99 device helps you with your recording and streaming, letting you adjust the audio levels in front of you, adjust effects, adjust the bass and treble, handle volume from different inputs, work on reverb, and choose from six built-in sound effects. Its six scenarios are ready for gaming, recording, karaoke, acting as a DJ, and handling other important tasks.
Also, if you need a better sound system for your games, you could turn to one of Creative's Stage Soundbars. The Stage Air is a $39.99 affordable model. It fits under your monitor, has six hours of battery life, and offers Bluetooth 4.2 to connect with your devices. For people who want a little more, the $79.99 Stage gives you a soundbar and subwoofer to really surround yourself with sound by connecting to your Bluetooth 2.1 compatible devices. Of course, both also come with 3.5mm stereo to stereo cables and guarantee the best possible sound.

Logitech G560 PC Gaming Speaker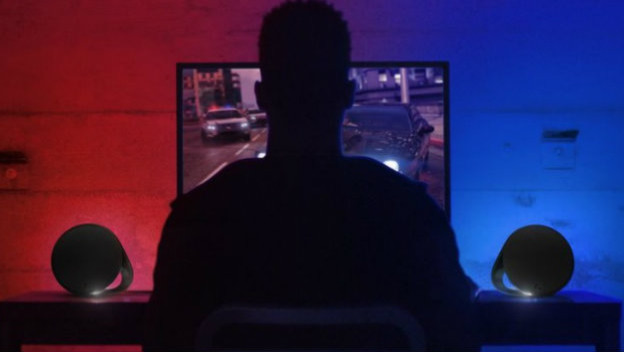 Do you want speakers that not only deliver sound, but light? The Logitech G560 RGB Gaming Speakers connect to your PC through Bluetooth pairing with the touch of a button, giving you two satellite speakers that put on quite a show and a subwoofer that helps ensure the three work together to give you 7.1 DTS:X Ultra surround sound. There are tons of customizable colors that can respond to the rhythm, work with preset light settings set in place by developers, use the Logitech Gaming Software to check the lighting zones to automatically go by cues, or follow patterns you set. It is $199.99.

Thrustmaster TMX Racing Wheels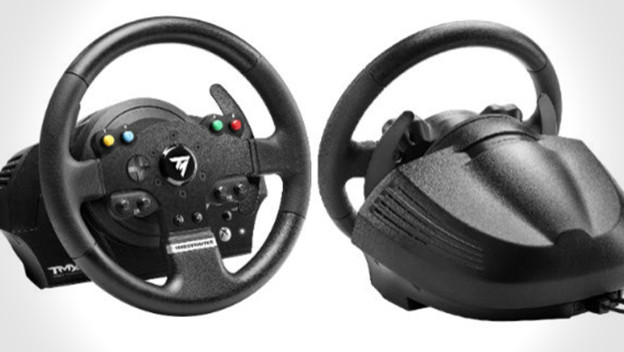 With games like Forza Horizon 4 giving Xbox One and PC players amazing driving experiences in 2018, people might be looking for a more specialized controller to enjoy it. The Thrustmaster TMX Force Feedback Racing Wheel is one people could consider. This $199.99 controller has a realistic design with a "competition" style wheel and pedal set that is instantly recognized by the Xbox One and any games it has that support racing wheels. It also has a 900 degree force feedback base, to really make you feel like you are driving down those country roads and elaborate tracks.

EWin Ergonomic PC Gaming Chairs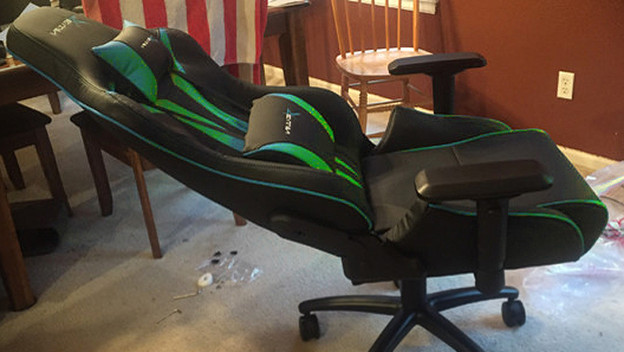 Creating a good gaming space can also mean finding a supportive gaming chair. You know, something you can sit in for hours as you play games or work on your PC. Fortunately, the EWin PC gaming chairs are a great option, with many of the company's products having durable steel frames, high density and cold memory foam padding, gas lifts, and aluminum bases. A lot allow you to recline to various degrees, some going up to 155 degrees, and allow you to adjust the arm rests. The chair might even come with neck and lower back pillows!
In addition to the Flash Series Ergonomic Normal and XL Computer Gaming Office Chairs, which cost around $429, you can also pick from $409 Hero Series Ergonomic Computer Gaming Office Chairs, $349 Champion Series Ergonomic Computer Gaming Office Chairs, $349 Racing CLC Ergonomic Office Computer Gaming Chairs, and $239 Knight Series Ergonomic Computer Gaming Office Chairs.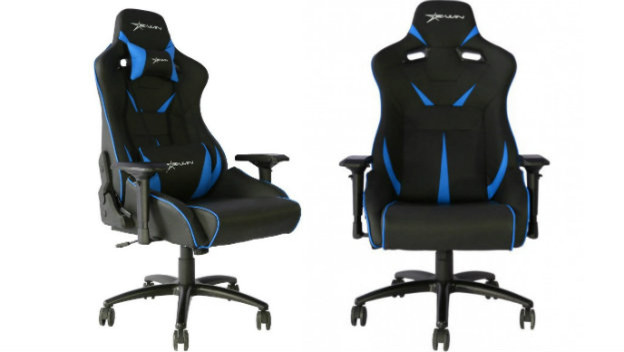 Or, if you have been sitting enough, EWin has standing desks to choose from. The most affordable is the $259 H-Shape Pneumatic Height Adjustable Standing Gaming Desk, but someone could also splurge and get the $399 Sit-Stand And Tiltable Gaming Desk with 1″ Thick Curved Desktop.
Score an additional 20%-30% off on Black Friday by using codes BF20 or BF30 at checkout!

Thrustmaster Six Collection Edition Headsets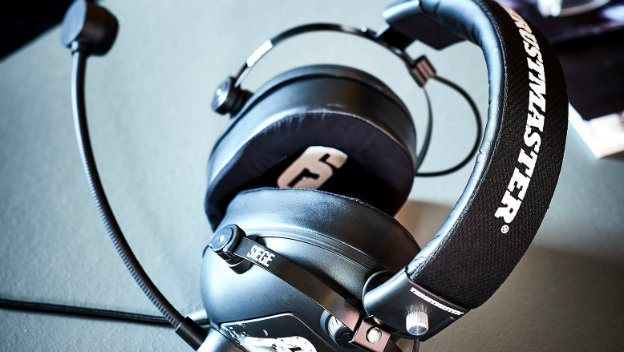 Can you believe Tom Clancy's Rainbox Six Siege has been going strong since 2015? It is a definite force that requires precise teamwork. Having a good headset can go a long way, and the $59.99 Y-300CPX Six Collection Edition and $99.99 T.Assault Six Collection Edition both let you show your love for Rainbow Six Siege while having competition quality headsets that will work with your systems and allow you to be heard with their unidirectional signal-to-noise mics. The Y-300CPX works with the PlayStation 3, PlayStation 4, Xbox 360, Xbox One, Switch, PC, and various mobile devices, while the T.Assault Six Collection Headset works with the PlayStation 4, Xbox One, and PC.

Bionik Mantis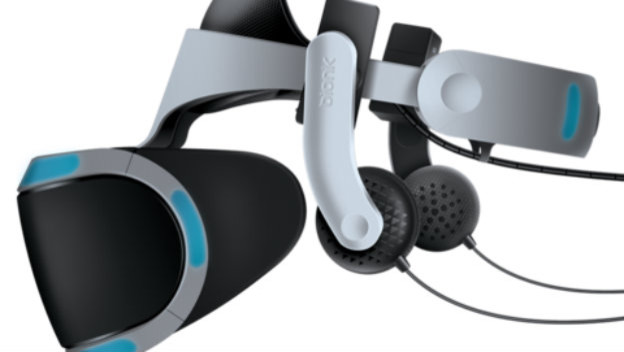 People with a PlayStation VR definitely have a great piece of tech, but there is a way to possibly make it a little more immersive. Bionik Gaming makes Mantis detachable headphones for the headset. These $49.99 can clip on when you need it and detach when you don't. They go over your ears, are dust and tangle-proof, and should stay out of your way while you game. It lets you better hear what is going on, without having to worry about distracting others or getting caught up in your own cords.

GAEMS M270 ProXP QHD Gaming Monitor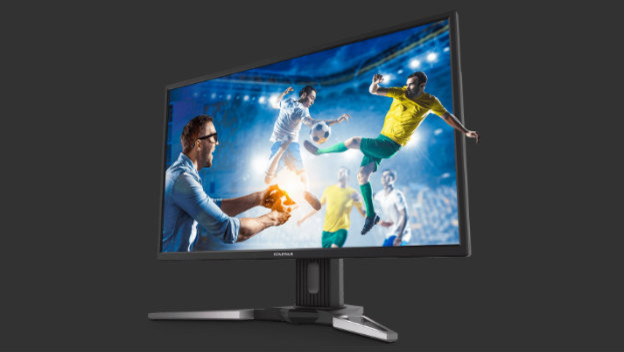 This lovely device is the GAEMS M270 ProXP QHD professional grade gaming monitor . It is the first of its kind, labeled with the GAEMS professional experience ProXP branding. The monitor is designed with professional-level play in mind, and that starts with a nearly latencty-free 1MS response time. It is literally faster than what the human eye can visually perceive, which is great for any pro player's reaction time.
That's not all that's under the hood. The GAEMS M270 ProXP QHD monitor is a 144HZ display, which means excellent high frame rate support, including FreeSync technology. HDR is also supported, and the monitor even comes with two display ports and two HDMI ports for maximum compatibility.
If you pick one up now, you can get a free weighted stand as part of the M270 Tactical Advantage bundle. This offer is good until December 31, 2018.

REALFORCE RGB Keyboard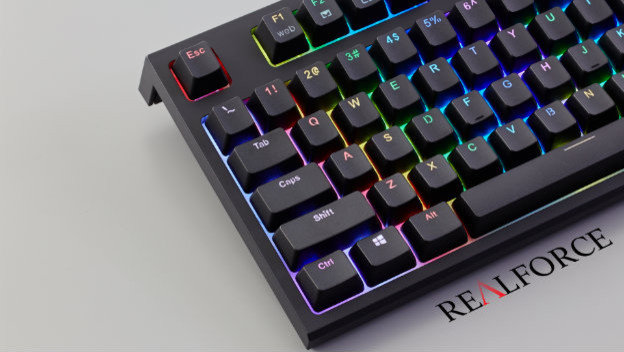 Fujitsu, a company revered by enthusiasts in the mechanical keyboard world, is finally bringing its popular REALFORCE keyboards to the United States. The REALFORCE RGB is a gaming keyboard that uses Topre capacitive key switches that are made up of mechanical conic springs and electrostatic sensors for both speed and responsiveness, allowing for both a give and tactile feeling that only Fujitsu can deliver. From the ergonomic frame and key settings to the full N-Key Rollover and even RGB backlighting for each individual key, the REALFORCE gives gamers more control over their keyboard setup than ever. The REALFORCE RGB even comes with software that will allow customers to program their actuation points and even customize their RGB colors. Finally, the REALFORCE RGB features Double Shot keycaps that not only provide extra texture, but add fade resistance to the on-key characters. In fact, the keys are designed and tested to last through 50 million keystrokes. This thing is a beast, there's no doubt about it.