Sometimes, you want to kick back and relax. Live doesn't have to always be lived digitally. You don't have to dive into virtual worlds. You could want to decorate your living space, enjoy the world around you, or pursue other interests. That's great! It is important to celebrate and treat yourself, as well as occasionally take much-needed breaks. It's for your own good and you deserve it.
Well, that's what all these products are about. It's time to appreciate yourself. Each one of these could bring some joy into your life. Maybe they'll make your space prettier. Maybe you can play with them. Maybe they'll help you relax. Maybe they'll even help make you a more well-rounded individual. In each case, you could be getting something very cool that helps make you even cooler than you already are.

Hot Wheels Foldaway Instant Slot Car Raceway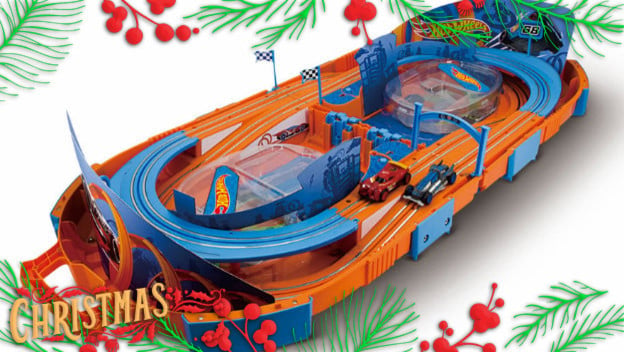 Kids love playing with toy cars. There's something about the concept of wheels that activate children on a seemingly primal level, which probably explains how wheels were invented in the first place. Hot Wheels is the biggest brand out there for satisfying this primal urge, and its myriad playsets help keep the little vehicles off household surfaces.
But most racecar playsets are big and bulky, and the battery-operated kind especially don't travel well. But the Hot Wheels Foldaway Instant Slot Car Raceway solves that problem thoroughly. This set can be folded up into its own carrying case, providing the perfect slot car racing entry point.
Unfurling the set reveals a full, two-lane racing course perfectly designed for Hot Wheels cars. The two included cars feature contact brushes and rubber tires, which help prevent the age-old slot car dilemma of flying into turns too quickly and out of the set.
This package, retailing at 49.95, also includes a pair of wired controllers, lap counters, and even a set of decorative accessories. All you'll need to get your kids off to the races is a set of 5 AA batteries. The Hot Wheels Foldaway Instant Slot Car Raceway is perfect for travel, babysitters, family friends, and hey, general convenience at home.

Numskull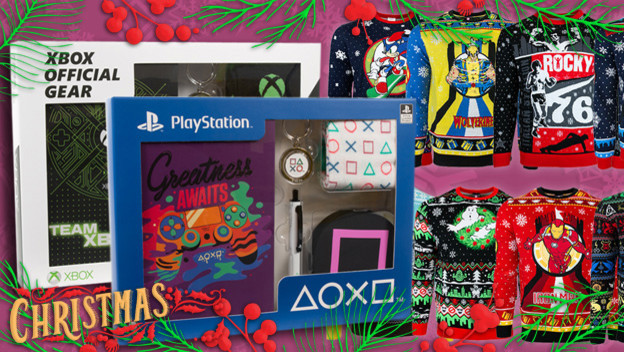 Numskull is growing year over year, even beyond the realm of gaming merchandise into actual game publishing. But that doesn't mean the merchandise is ever going to stop.
In fact, the yearly tradition of officially-licensed, professionally -made "ugly" Christmas sweaters is upon us once again. Unlike those lazy, screen-printed sweaters you see that are just squares surrounded by blank sweater space, these Numskull "ugly" holiday sweaters are the real deal. Featuring all kinds of licenses, including Marvel, DC, Star Wars, Street Fighter, and Sonic the Hedgehog, these are the kinds of intense Christmas sweaters somebody put some real effort into. If you're going to make your friends roll their eye at you, it's best to do so as fashionably as possible. Some of the sweaters come with bonus freebies, and there are even a few kids' designs available as well, featuring the likes of Harry Potter and DC Comics designs just for the kiddos.
When you're finished being a cornball with your video game sweater purchases, you can get your gamer buddies some nice presents as well. Got some console warriors in the family? Well, Numskull is selling gift boxes for the PlayStation and Xbox fanboys you know and usually want to love. Perhaps these gift boxes are snazzy enough to cool off all those social media arguments, if only long enough to celebrate the holidays.
Both gift boxes are officially licensed and contain a similar set of branded items. Each one of these gift boxes includes a set of four silicone coasters, an A5 notebook, a pen, knitted socks, and spinner keychain. Numskull has great coasters in general, and these ones being your respective platform's face buttons are brilliant. Numskull is a UK-based company, but through the online retailer Geek Store, you can get Numskull products shipped worldwide. There's even a US-specific storefront.

Del Sol Sunglasses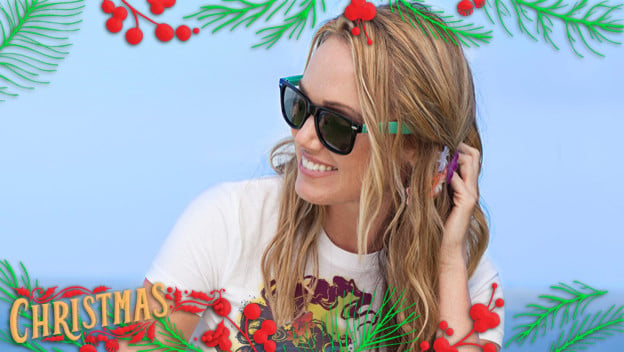 If you like to spend a lot of time outside in the summer, it's important to protect yourself from the sun. That isn't always fun, but while applying sunscreen is one of the grossest things people do to themselves on purpose, wearing sunglasses is pretty great. Not only do sunglasses protect your eyes, but they also can be a big part of your look.
So while you can always grab a cheap, generic pair at a supermarket, why not invest in something more fun, cool, and higher quality? Del Sol has been perfecting its color-changing apparel since the 1990s, and its line of Solize sunglasses is a perfect avenue for summertime self-expression.
You can pick from a wide assortment of colors, doubled by their unique, sun-activated, color-changing technology. In addition to that, you also get high quality SPECTRA mirrored lens coating that preserves your ability to view your surroundings with clarity and contrast.
With Del Sol's Solize sunglasses you get to look good, have fun with your style and protect your eyes with a quality product that will last as long as you want it to. Even if your glasses are damaged or lost, Del Sol's lifetime guarantee ensures you won't need to shop for sunglasses ever again.

Soul ST-XS2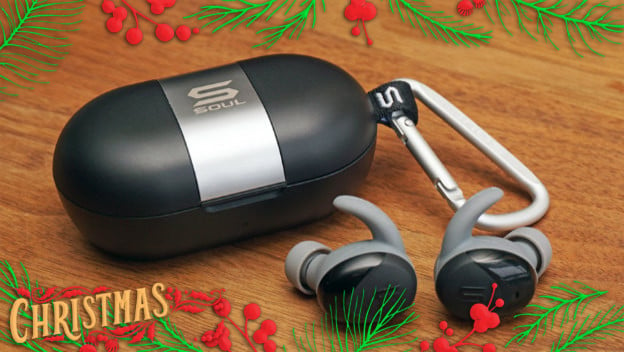 Headphones are basically an extension of human existence at this point. Most people listen to music, podcasts, or audiobooks every day, especially during mundane activities that don't demand your regular attention. While when you're sitting at home, chatting, gaming, or some combination of those you may opt for something more stationary and over the ear, there's nothing like a good pair of discrete earbud-style headphones for more active times. Whether you're commuting, exercising, or simply walking around outside, wireless earbuds are ideal. And, if you have an intense workout routine or you find yourself out in the elements, Soul's ST-XS2 high-performance ear buds will be your best friend.
Powered by IPX7 protection standards, Soul's ST-XS2 earbuds are waterproof in up to three feet of water. Depending on your activity, you may also want to be aware of your surroundings, which is where transparent audio mode comes in handy. The case the ST-XS2 comes in doubles as a USB-C-powered portable charger, allowing you to recharge your earbuds up to five times, extending their life to roughly 25 straight hours. If you tend to struggle with earbud fits, ST-XS2 featured an ear hook design from Freebit, which paired with an included set of ear tips makes for an easy, personalized fit.

Mobile Edge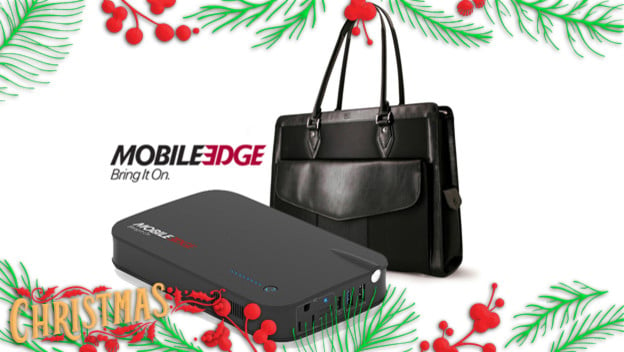 If you're on the go a lot, it isn't so easy to be a tech person. All those gadgets need power, storage, and a person willing to carry it all. You can't bring everything you want all at once, but Mobile Edge has some products that are explicitly designed to make this struggle less real.
It all starts with Core Power , a 27,000 mAh portable charging device meant to help get the most out of your laptop without an outlet. Designed to take up as little space as possible, this sleek brick of excellence not only provides the 85w of power you need for your laptop, but it has other amenities, such as USB ports, a flashlight, and even USB-C compatibility.
Also, if you're lugging your laptop around, you might have a thick, bulky messenger bag slung around your shoulder. But Mobile Edge has something a little more fashionable. The Geneva laptop handbag is exactly that–a handbag-style carrying case made with microfiber and designed to keep your laptop as safe as everything else you need to carry around with you every day. It looks nice, with a self-healing zipper and aesthetic fittings, but it also has dedicated pockets for your electronics, including ones with wireless security shields designed to help keep your data safe and secure. A handbag might not be enough though.
For sturdier, bulkier needs, look no further than the Mobile Edge Core Gaming Backpack . This backpack is optimized for tech, with appropriately-sized pockets for myriad hardware, and even a checkpoint-friendly space for extra peace of mind at the airport. It has everything you need, even a space on the front designed specifically for pins and badges you dorks pick up at conventions.
If any of these items sound perfect for you, Mobile Edge is offering a deal. Use coupon code Selfless20 for 20% select items on the Mobile Edge website .

NECA Part 1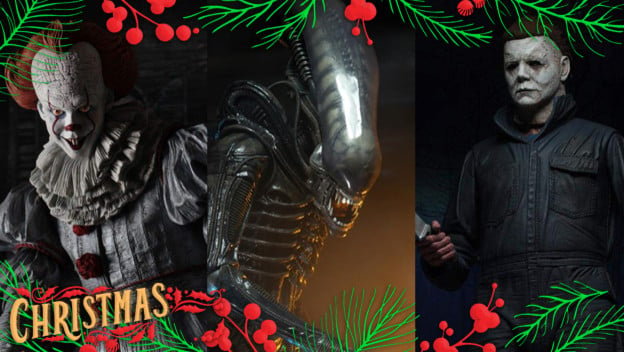 It may be the holiday season, but NECA is keeping the spirit of October alive with a series of ¼ scale collectors' action figures featuring some of cinema's most iconic murderers. One of them is seeing more of a recent surge in popularity, but is a classic character nonetheless.
First up is the Alien . The original one, not the weird dog one from Alien 3 or the skittery buggers from the second flick. We're talking singular dude in a suit, standing tall and drooling all over your sad, scared face. This figure is out to celebrate the classic movie's 40th anniversary, and it's coming out just in time. With over 30 points of articulation and a functioning jaw with murder mouth part, this 22'' monster definitely respects the 'Big Chap" moniker. The packaging is even a reference to Kenner's 1979 figure, from back when the movie was brand new and making film-goers run outside to hurl in the parking lot.
Next up is Pennywise , specifically the new rendition of the evil clown-slash-eldritch horror portrayed by Bill Skarsgard in the 2017 movie adaptation of IT (and its 2019 sequel). Stephen King's biggest and most ludicrous novel once again comes to life, this time in equally ludicrous action figure detail. Not only does he feature plenty of articulation, he also comes with extra hands and the movie's signature red balloon. This figure is especially impressive due to the gnarly detail needed to make the figure as accurate to the movie as possible.
Finally, 2018 saw the release of a new Halloween film, which tied back to the original series canon and even brought Jamie Lee Curtis back. This new Michael Myers figure is over 18" tall, is kitted out with over 25 points of articulation, and comes with a variety of accessories. Those include the knife you'd definitely expect, a hammer, and even a person's head. It's not an actual, real head, just a toy head. Probably.

NECA Part 2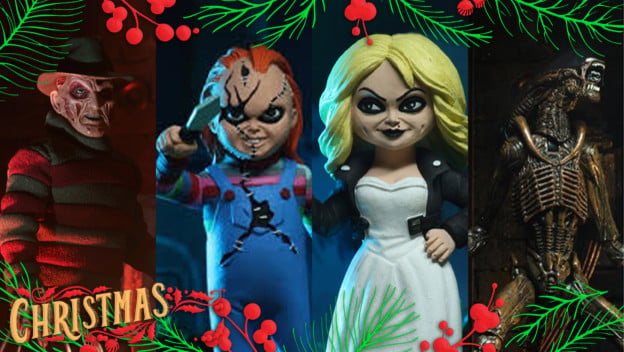 If someone is a horror fan, then NECA could be a way to go. The company is known for its highly detailed and expressive figures. It also pays tribute to series and movies people might not see get the right sort of attention from other companies. Going into the 2019 holiday season, there are a few people should keep in mind as possible gifts.
For example, fans of Xenomorphs have an exceptionally cool figure to turn to. It's an Alien 3 seven inch scale action figure of the Ultimate Dog Alien . This $27.99 figure gives you a horrifying alien that is larger than you'd expect. It is nine inches long. You can pose it however you'd like, since it has 30 points of articulation. Plus, it comes with friends! You get a Chestburster alien and Queen Burster alien. If you want to preserve it, its box even has a window box with flap, so you can keep it safe.
People who love Nightmare on Elm Street could pick up the New Nightmare Freddy Krueger . This eight inch tall figure is fully clothed, to add to his realism and offer different display options. For example, you could have him with his hat on or off or have his trench coat on or off. You also have three different heads for him to possibly use, so you get his expression right. His package is even resealable, so you could take him out, play with him, then put him back. He costs $44.99.
Finally, there is the Toony Terrors Chucky and Tiffany two-pack. This might be a good set for a younger horror fan, since while they are detailed, they don't have as many small or delicate parts that can move. These two are basically stable figures that complement each other and stand on alongside each other. Each one is six inches tall. You can even use the included background to sort of set the scene for the duo on a shelf somewhere. Or, since they have blister card packaging, you could display them as-is. You can go ahead and bring this duo home for $19.99.

Activision/Blizzard Accessories and Toys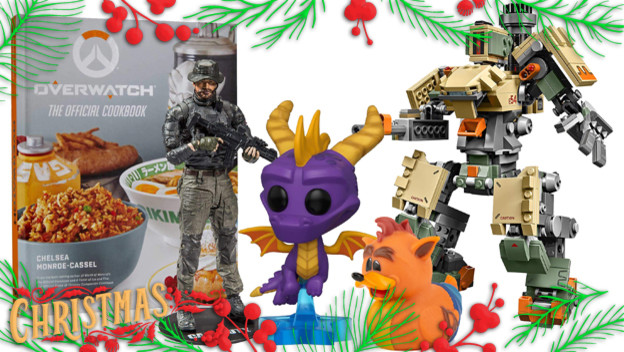 It's important to express your fandoms. You don't want to go overboard, but it's okay to let your geek flag fly and show a little bit of some IP branding. What better way to do that than some adorable, collectible figures? Or perhaps some more serious collectibles? Perhaps you'd like to make a project out of it, as we have some LEGO sets for that. Or, hey, how about a video game themed cookbook? Rest assured, Activision/Blizzard has merchandise available that covers all of those bases.
For example, there's a whole line of LEGO sets for Overwatch , one of the biggest hero shooters around (with a sequel on the way). Some of these sets include larger, singular designs, such as Wrecking Ball, D.Va and Bastion. There are also more elaborate stage sets, featuring levels like Dorado, and adorable mini-figs of other Overwatch heroes.
If Call of Duty is more your speed, you can get a wide range of collectible McFarlane action figures featuring the Modern Warfare cast. Naturally, Captain Price is the most in-demand.
If you're more of a platformer fan and like cute things, now you can get Crash Bandicoot and friends as rubber ducks, thanks to Numskull's ridiculous TUBBZ line.
Spyro isn't a duck, but you can totally get him as a Funko POP . (Crash Bandicoot is available too, honestly).
Finally, we come to the cookbook. Yes, there is an Overwatch cookbook , and apparently it's canon. This official book by Chelsea Monroe-Cassel is not only fancy as heck and full of delicious food, it also seems to include lore-adjacent flavor text. Now, while it isn't necessarily crucial to know which cocktails Mercy is into, it's a pretty cool touch of effort that makes a video game cookbook feel more legit. Now that's how you do transmedia. Also, the photography for each recipe is incredible.

Crate Club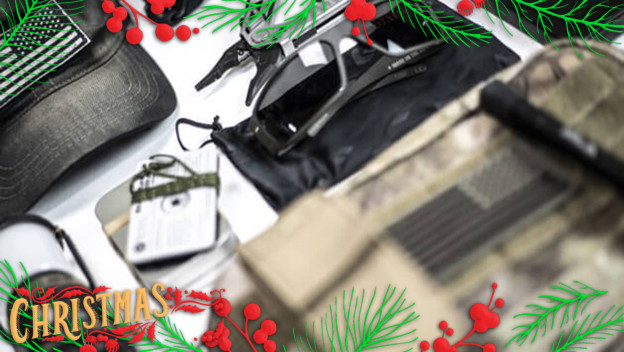 Subscription services are what currently keeps the world spinning, and that includes monthly (or seasonal) subscription services oriented around physical goods. In this case, we're talking about gear designed for tactical hobbyists, survival nuts, and military geeks. Crate Club is a service, starting at $49.99 a crate, that will help you hunker down out in the wilderness and brave the elements, prepare for the worst, or just enjoy military stuff.
You can start with the Lieutenant subscription, which includes things like first aid kits, tools, and other products for the entry-level DIY commando. Bump the price up to $99.99 quarterly, and you'll be a Captain, capable of making it through harsh conditions. This crate will suit you up for hiking trips gone wrong, and plenty of adventures gone less wrong. Finally, for $499.99 a season you become a general. This rank includes products hand-vetted by military and SpecOps folks, for example bullet-proof bag inserts, medical bags, and crucial tools.
There's a little something in these crates for everybody in the survival enthusiast community. If you're in for the long haul and want to save some cash, you can opt for an annual model instead of seasonal, and get the same four deliveries in a year for a lower price.

Square Off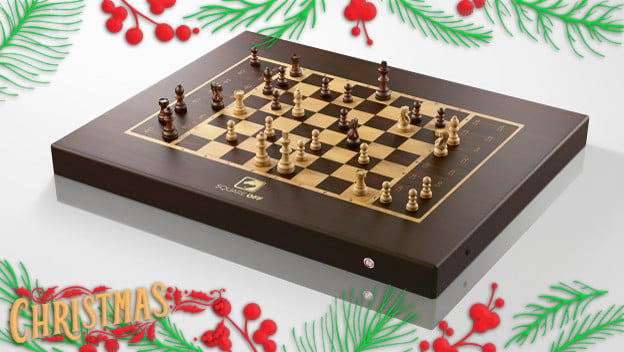 Chess players, particularly those in remote areas, have a difficult lot in life. This is all the more true if they happen to be extraordinarily talented. The reason for this is because it can be hard to find an opponent, much less a challenge. Thanks to the Square Off Chest Set , though, that trouble may be alleviated.
You see, Square Off features an AI that will not only challenge chess players, but will also move the wooden pieces on its own. What's more, it has the ability to connect to remote players across the globe and move the chess pieces in accordance with their moves. As a former kid who grew up in a rural area with nobody to play against, I wish I had this technology back then.
The device features a built in battery, which can handle up to 30 games of chess without recharging and is, according to the Amazon page, "loved across 70 countries." This product, which originated on Kickstarter and received support from the community, is a fantastic gift for the chess player in your life. I honestly can't think of a better way to play the game. Sure, computers offer a digital solution but there is something to be said about the tactile element of these carved wooden pieces.

FiiO M11 Pro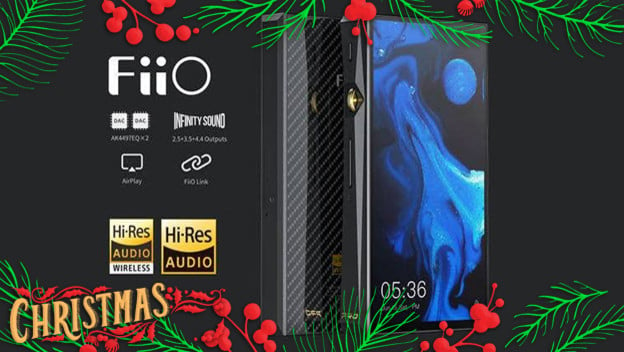 I'm a big fan of Portable Music Players. I'll be honest, I even thought about getting cute and buying an old Zune, but those things haven't aged well and are, for some reason, still selling for a decent amount. There are a lot of options these days that are far better, and the M11 Pro by FiiO is a standout example.
This thing is very nice. For starters, it's an open-source Android product, which means it supports 3rd party apps. It also has incredible battery life for a device like this, flaunting an impressive 9.5 hours of play-time.
In terms of capabilities, it has Dual Hi-Res Audio certifications which means it is Hi-Res Audio and Hi-Res Audio Wireless capable. You can also transmit your music through various means. This includes Bluetooth, line output, USB, and even coaxial. The device also has Dual-band WiFi, in the 2.4GHz and 5GHz varieties. It has two-way Bluetooth with LDAC so it can transmit and receive lossless Bluetooth. As far as storage goes, it is a beast. It has 3GB RAM and 64GB of storage so you can carry a lot of music with you. A lot.
So this holiday, take a look at the M11 Pro. This beautiful device can enhance your mobile audio experience and also save your phone some battery while you're at it.

Hasbro Power Ranger Figures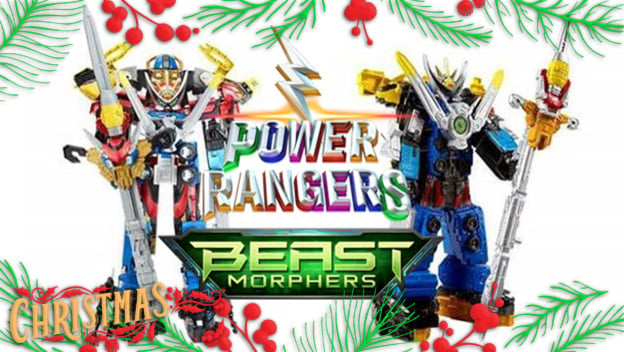 Power Rangers, as a franchise, has been around for decades now, meaning its fans range across a wide demographic. That means it is very likely that you know a nerd in your life that could very well appreciate a well-crafted figure to represent their passion. These toys, by Hasbro, are constructed in such a way that they are perfect for both play and display.
The Ultimate Beast-X Ultrazord pack stands out as a particularly nice collectible, considering all it includes. The box comes with five robots, called Zords, that are used by Power Rangers. These toys convert into multiple forms and each one can change between two or three of these modes further emphasizing the choice between playing and displaying. The box also comes with an elevated stand for the purpose of showing off the kit.
Of all the Power Rangers, the most iconic is, perhaps, the Red Ranger. His various iterations often take on a leadership role. For fans of the red Ranger, the 6" Beast Morphers Red Ranger Collectible action figure from Hasbro's Power Rangers Lightning collection is a fantastic choice in gift. The figure comes with various accessories from the show and has "premium painted details." It's a nice figure and, better yet, there are other options in the line for fans of the other rangers.
Lastly, we also have an incredible option for younger fans of the series. The Playskool Heroes Power Rangers Power Morphin Megazord is a 2-in-1 convertible playset that stands 2-feet tall and features lights and sounds. It is ideal for children ages three and up and comes with a small red ranger to accompany the play set. The ranger itself is three-inches tall, which lends a good sense of scale to the Electronic Megazord toy. And, of course, it isn't relegated to the simple realm of toy just because of its age designation. This fantastic looking product is also prime for collecting. The toy, in Power Rangers tradition, comes with multiple modes. It has its playset mode but can easily be converted into a giant mech that represents the combination of the Power Ranger's various zords.

Hasbro Transformers and Magic the Gathering Cards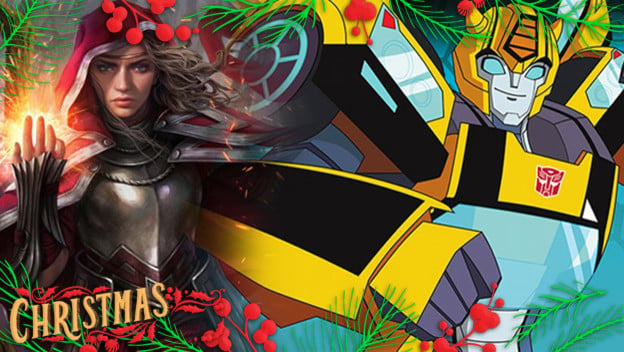 Also by Hasbro, we have two more iconic franchises to show off. The first is from the Transformers series which, like the zords in Power Rangers, is famed for its ability to change forms. The specific toy I'm referring to is the Transformers Cyberverse Action Attackers: Ultimate Class Bumblebee Action Figure Toy .
Bumblebee is a long-standing fan favorite, and this Transformer is a beautiful and affordable entry for any fan's collection. It stands almost a foot tall and takes its look from the Cyberverse animated show. It also has Bumblebee's signature Sting Shot attack move, which can be launched from both vehicle and robot mode.
The 2-in-1 conversion of the toy is also suitable for kids ages six and up and seems like a very straightforward transformation. It can be done in only 14 steps, taking Bumblebee from a yellow car mode to a robot and back again. Some of its pieces can be detached, too, if there are concerns that children will break some of the more fragile parts.
Additionally, Hasbro has an amazing entry into its famous Magic the Gathering trading card game for the holidays this year. The Magic the Gathering: Throne of Eldraine gift bundle is an absolutely astonishing collection for players and collectors of the ever-changing classic card game.
The box, which features very impressive art work, is packed to the brim with worthwhile additions to anyone's arsenal of cards. It has 120 Premium Foil cards, which will look stunning. For the more pragmatic player, there are also 20 regular basic lands. In the card game, these land cards are used as a well of power that allow for players to execute their strategies. Hasbro has also bundled in an oversized gift edition spindown life counter, so players can track their current life points in their heated battles in a fashionable manner that is sure to make other players jealous.

Redbox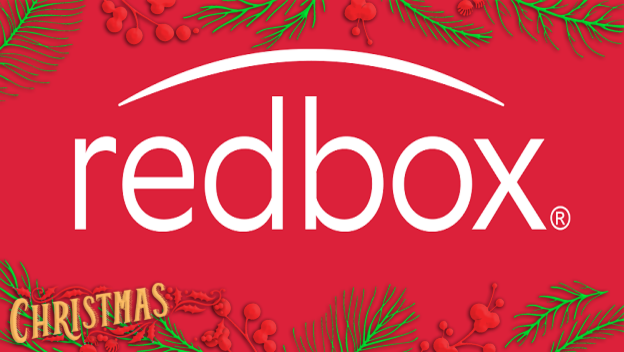 You've heard of Redbox . I don't doubt it. The red vending machines are everywhere, often frequenting the sidewalks of convenience stores and Walmarts. What they offer is a convenient way to rent movies. Contrary to popular belief, that is not an antiquated practice. It can be one of the best, quickest, most affordable ways to watch newly released movies. The company also have a point system that tracks your purchases so you'll be rewarded for being a loyal customer. It really doesn't take much time at all before they're treating you to a free movie night.
Did you know that Redbox also has a streaming service that allows you to watch thousands of movies and shows from the comfort of your home? All you need to do is sign up and download the app to a smart phone, tablet, or visit their site from a computer. It's even available on Android TV.
What I like about the service is that there's a pay as you go option–you don't need to subscribe. This is nice, because most people I know are already managing a ton of subscriptions monthly. The streaming service also works as part of Redbox Perks points, so you can still earn yourself some free rentals at the kiosk.

Demerbox DB2 Speaker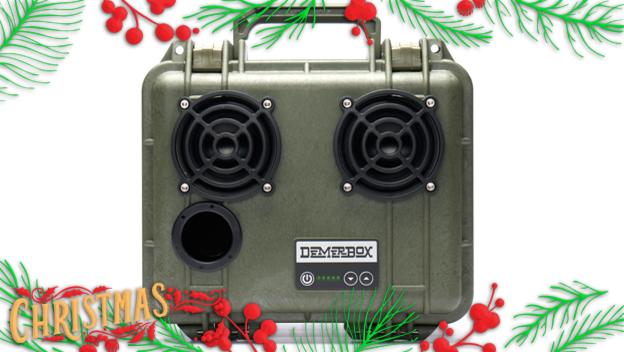 This holiday is all about quality audio experiences, and the DB2 Speaker by Demerbox is one way of realizing a clear music experience in a group setting. The DB2 has a dual speaker with a powerful bass and offers multiple Bluetooth speaker pairings.
Its durable, portable construction makes it perfect for bringing the party with you. This gift could see its recipient DJ'ing for their friends at outdoor get togethers.
What I really enjoy about this speaker system is that it can link up to six DemerBox speakers together to really get the most out of your music. Imagine setting these things up around the perimeter of a pool and enjoying. You don't even have to worry, because these things are waterproof. Splashes or rain aren't going to harm one.
The waterproof capability extends to your devices, too, as the DemerBox is, essentially, a case for carrying things. It has 40 hours of battery life between charges, is crush-proof, and has USB charging so you can share its incredible battery life with your other devices.
It retails for $299, so it might be expensive to get a lot of these things hooked up. But its powerful bass and durable build makes it well worth the point. But, if you're nervous, there's a 30-day satisfaction guarantee!

Philipstein Sleep Bracelet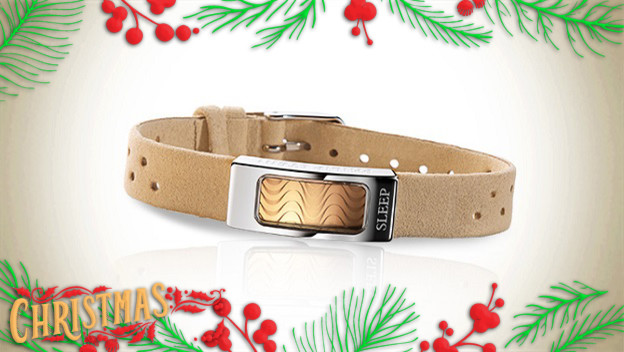 Wearable sleeping technology is all the craze these days. Even Nintendo is jumping on board with a mobile Pokemon game that will be set to track sleep. Philipstein has created a line of wearable sleep bracelets in a variety of attractive styles. These are embedded with Natural Frequency Technology to use frequencies from nature, channels them into your body, and hopefully helps with your overall wellbeing.
The products are advertised to help you "fall asleep faster, sleep deeper and wake up refreshed." I've never tried one myself, but I will say that there are people that swear by them.
I'm also attracted to the way these bands, which say the word sleep on them, look. They can come with micro-fiber straps for comfort and the color options range from purple to sea blue to grey and are available in a variety of sizes. Seriously, one look and you'll see that there is probably one to match your aesthetic.
In terms of price, they range from $395 to $425 ,which can seem like a bit of a steep investment. They also come with either black plated, gold plated, or stainless steel cases. If you're concerned with the sleep you're getting, this might be the solution you've been looking for.

Edifier TWS5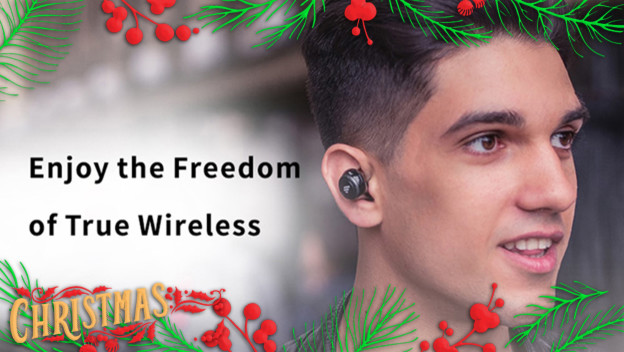 Everybody wants those Apple Air Pods that are all the rage, but that's mostly just marketing. They're great, to be sure, but there are other options. Besides, not everybody uses an Apple device. Fortunately Edifier has created the Edifier TWS5 True Wireless Earbuds for discreet, portable listening.
These pods have something called "truewireless stereo plus," which will allow users to move about wirelessly without risking quality. They also have an impressive signal distance and negate the frustration accompanied with some Bluetooth devices through easy pairing of both earbuds. The actual range extends out to 30 feet with Bluetooth 5.0 and Qualcomm aptX. That means you can set your phone on your desk while you wander about.
They also look incredibly comfortable, and the earbuds have controls built into them so you can leave your playing device in your pocket while you effortlessly adjust playback. They come with multiple ear tip sizes to acquire an ideal fit and boast a built-in mic with Qualcomm cVc noise reduction technology so the people you talk to will be able to hear you without a problem.
Lastly, they will give you up to 32 hours of playback, thanks to the charging case. You can listen to music throughout your day, hit the gym, and still drift off to sleep to some tunes without losing power.

Kotobukiya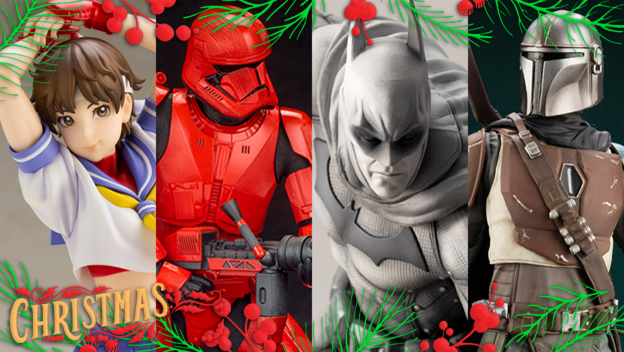 When it comes to incredibly detailed figures from Japan, Kotobukiya is practically a household name. Lots of different items are available, and they all call to mind people's favorite series. It doesn't matter if they are games, movies, comics, or TV series. The company captures the characters people love.
Let's say someone is really getting into The Mandalorian, the Disney Plus' new series in the Star Wars universe. Well, there's a Star Wars Mandalorian ArtFX+ figure to pick up. Or, rather, people can preorder it as a gift for someone. It is a 1/10th PVC figure due out in January 2020, and it will cost someone $99.99. The bounty hunter's outfit is exactly recreated and comes with all of his equipment. You can even turn his head to slightly change his pose.
If you want another Star Wars ArtFX+ figure, there's the Sith Trooper Two Pack . Each one of these soldiers is in their distinctive red armor, posed as though they are on the attack. One has a Blaster Rifle equipped, while the other is perched over a Mega Blaster with Grenade Launcher. You get both for $129.99.
For the fighters out there, the Bishoujo line has a new character. People could pick up a Street Fighter Sakura. The Round 2 version of the figure is actually the third release of her from the company so far. She's a 1/7 scale figure made of PVC that is ready to get into a fight. She's just doing some stretches first, to make sure she's prepared. There is no articulation here, but it is an incredibly detailed version of the character that would be ready to sit and fit on one of your shelves. She will cost you $94.99.
Finally, there's a new statue to celebrate a hallmark for a major series. It is the Batman Arkham Series 10th Anniversary ArtFX+ Statue. This is a reproduction of a 2014 statue of Batman, but with a twist. This time around, it has an entirely white and grey color scheme, to make it look more like a statue. This 1/10th scale figure is also noted to be limited. While it is stationary, folks can have him holding either the Batarang or Grapple Gun he used in the games. It costs $69.99.

PCS Collectibles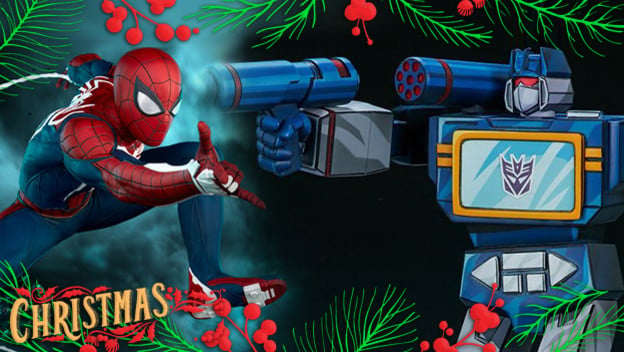 Sometimes, when you're a really big fan of a series, you want to go over the top to show it. This could mean spending a lot of money on a super exclusive item that no one else will have. It's more than just a little figure on your shelf or a novelty to show your affection. Once you get into the Pop Culture Shock Collectibles line of products, you are looking at things that essentially become works of art. While this means they are priced accordingly, it could really make you or someone you love feel special.
For example, PCS has a $230 Classic G1 Transformers Soundwave figure . Fan of the Decepticons? This one has you covered. He's a huge statue, standing tall at 9.5 inches. But, he's also not alone. He has a little Rumble alongside him to help him in his fight against the Autobots. Both have highly detailed paint jobs reminiscent of the cartoon series. Plus, you can customize yours when you have it on display. You can choose to have Soundwave with a normal right arm or with a high-voltage cannon arm. The certificate of authenticity included with it proves it is real. Also, you could get him, then eventually grab a Grimlock to go with him. (Grimlock will be $250.)
If you want to go really expensive, there's a super high-end PCS statue to pick too. The company makes a Spider-Man Advanced Suit 1:3 Statue . This one will cost people $1,100. If it looks familiar, that's because it is inspired by Marvel's Spider-Man for the PlayStation 4. It is designed to look like a perfect replica. Plus, it has an adjustable web accessory that allows you to add to the action by making it look like Peter is shooting out his webbing. Maybe someone needs this two foot tall item in their home?
Though, there is a PCS item available on a smaller scale. There is a GameStop exclusive Marvel GamerVerse Spider-Man. This little friend is only $34.99. It won't be out until March 20, 2020, but you could preorder this statue of Spider-Man leaping off of crumbling concrete for someone you love to enjoy.

Titan Comics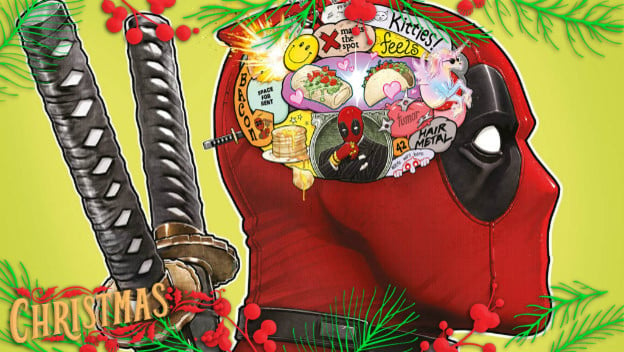 When you need to unplug, you still might want to experience your favorite fandoms. That's when comics or books related to those series can really step in and transport you to a happy place. Titan Comics is known for all sorts of books based on people's favorite series, and they have a number all available ahead of the holiday season.
People looking for a bit of sci-fi could turn to Blade Runner 2019 Volume 1. This is actually a sequel to the first Blade Runner movie and was written by Michael Green, who wrote Blade Runner 2049. This time, there's a heroine to follow, and she means business.
Fans of Marvel comics have multiple options. The Philosophy of Deadpool looks at the character's past. Memorable moments are collected together and old comic covers are shared. If someone got into Deadpool because of the movies, this could be a better way to understand the character and appreciate how great his comics have been. Marvel Avengers: An Insider's Guide To The Films focuses on the four Avengers movies released so far. It gives a behind-the-scenes look at the Marvel Cinematic Universe. I suppose you could even see it as a way to say goodbye, considering everything that ended up happening in Avengers: Endgame.
For people who love Doctor Who, you can spend some time with the thirteenth Doctor. Doctor Who the Thirteenth Doctor Vol. 3: Old Friends brings up a familiar face. We get to see Corsair again! But, the circumstances are suspect, since the reunion happens when looking for the lost Gem of Niag.
Finally, for people who like Shades of Magic, there is a new book from V.E. Schwab. The Steel Prince: Night of Knives is available. It follows Prince Maxim Maresh as he attempts to take and survive the Night of Knives challenges.

Sumo Lounge Titanium Bean Bag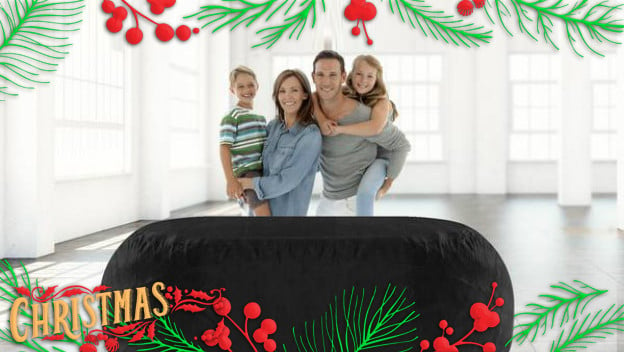 When you start gaming, you could be in it for the long haul. You never know long a session could last. Maybe you end up searching for a few hours for a save point. Perhaps you get caught up in multiplayer adventures and take part in some raids that last longer than expected. You could be around for a while. That's when Sumo Lounge products could be a good fit for a living room or gamer den. The bean bags are the exact sort of cozy someone could need.
Especially if you wanted to go big. You could pick up a Sumo Lounge Titanium Bean Bag . These are microsuede bags that are absolutely huge. For $391, you get a 90 inch by 34 inch by 48 inch piece of furniture that will perfectly fit into your home. Especially since there are 14 color options to ensure it exactly matches everything you already own.
This particular Sumo Lounge bean bag is designed to offer people multiple ways to sit. You could use it as a couch and have two folks sitting on it. Of course, just one person could hog it all too. Since it's so long and you can wash its covers, you could even go ahead and sleep on it like a bed. It can do it all.

Celestron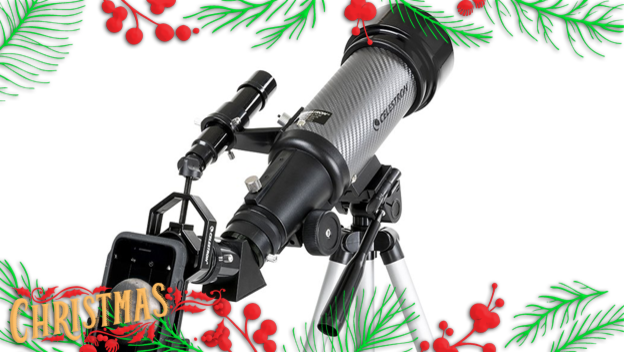 For most folks, I'd wager the word "telescope" evokes images of wondrous stargazing through the window of a bedroom or outside the house on a balcony or porch. Travel probably doesn't occur right away, but there are totally reasons to have a telescope capable of following you around on your journeys. Celestron offers a line of products for just that reason.
The Travel Scope is a line of telescopes built to be portable, with collapsing parts and more compact form factors. There are a variety of sizes, but our focus is on the Travel Scope 70 DX . This extensive gift set includes everything you'll need to take your telescope on a trip. You get a full size, collapsing tripod, the 70mm refractor telescope, and several accessories. Those include multiple eyepieces and lenses, smartphone accessories for photography including a bluetooth shutter device, and of course a case for all of it.
Celestron notes that even first-timers will be able to assemble the telescope within a matter of minutes, and without instructions. For its retail price of $99.95, you'll be able to get a high-quality telescope that's compatible with your phone, functions during the day and night, and can go with you as you travel.
BRIO, ThinkFun, and Ravensburger Board Games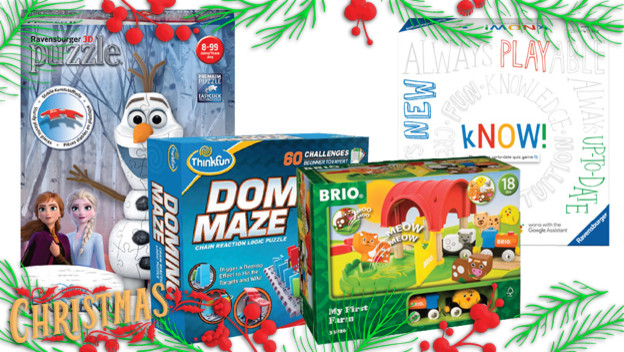 Board games are a must-have item for any kid this Christmas, and the folks over at BRIO, ThinkFun, and Ravensburger have you covered! kNOW! is the first board game powered by Google Assistant. You can bring the magic of Frozen II to life by building 3D puzzle versions of Olaf and the royal castle. Domino Maze puts your reasoning skills to the test as you navigate your way through 60 different dynamic challenges including pivots, blockers, and stairs! My First Farm inspires creative, openminded play where toddlers can use their imaginations to create their own stories. Children can listen to the fun animal sounds and take their barnyard friends on an imaginative train ride. All available on Amazon and at Walmart now!