Sometimes it's all about the games! Whether you're stuck inside due to another quarantine, or just looking to escape for a few fun-filled hours, the games below have got you covered. Here are some of our favorites from 2020, and some which might've slipped under your radar. Remember, video games always make for great stocking stuffers!

Doom Eternal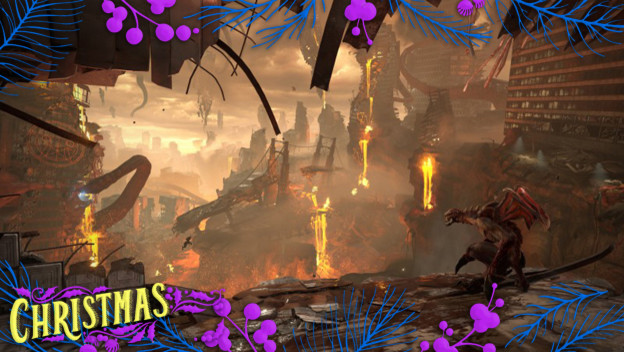 I know it might sound weird, but yes. A game about going to war against the legions of Hell can be a really good gift. At least that's the case if it's a good game, which Doom Eternal is. We've also generally reviewed the game well, giving it a 3.5 rating. The campaign has also started expanding through DLC, but the base game is $59.99 and is on pretty much every platform including current and next-gen Xboxes and PlayStations, the Nintendo Switch, and Google Stadia. This will be a great gift for your horror, FPS, and military shooter fans.
Developed by id Software and published by Bethesda Softworks, DOOM Eternal is a first-person shooter and sequel to the 2016 Doom reboot. In the game, you return as the DOOM Slayer to find Earth has suffered a demonic invasion. Experience the ultimate combination of speed and power as you rip-and-tear your way across dimensions with the next leap in push-forward, first-person combat.

Rocket Arena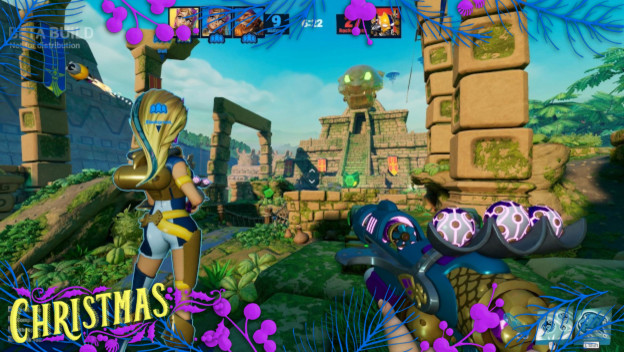 This 3v3 hero shooter game will appeal fans of esports and competitive shooters. It will also be good for the gamers who have friends or family who game. After all, playing together is never a bad thing. While it is something that was criticized on release for a lack of content, it's also something that is growing steadily with new heroes, content, and events, all of which have been free so far after the initial $29.99 price on PC, PS4, or Xbox One.
Rocket Arena is a newly evolved cross-play hero arena shooter where players and teams master the art of the rocket through a roster of diverse heroes, customizable play styles and highly competitive action. Set in the vibrant World of Crater, Rocket Arena introduces new blast and recovery mechanics, powerful rocket launchers that can be used in combat or to propel heroes around the map and signature character abilities to create a completely new shooter experience. The game also features regular seasonal events packed with free content, including new heroes, maps and in-game events.

Mortal Kombat 11: Ultimate Edition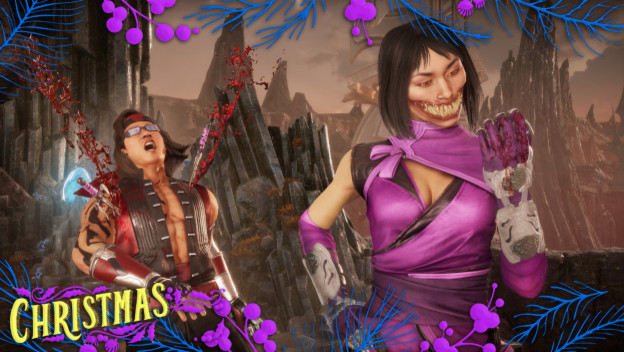 Mortal Kombat is just the controversial gift that you want. Every entry has been met with controversy due to the level of violence. However, each mainline entry has had solid gameplay and were usually visually stunning. This would be good for the martial arts film enthusiasts or fighting game enthusiasts. Since it's multiplayer, it could also give groups of family or friends something to do, even if it's only done online. Just remember, it is geared toward gamers ages 17 and up. I'm only bringing that up so that you go in with open eyes. It will also cost $59.99.
Mortal Kombat 11 Ultimate is a new expanded version of Mortal Kombat 11 . Developed by award-winning NetherRealm Studios, Mortal Kombat 11 Ultimate offers the definitive Mortal Kombat 11 experience with the addition of Kombat Pack 2 featuring new playable fighters Mileena, Rain and Rambo, along with the previously released Mortal Kombat 11 main game, Kombat Pack 1 and Mortal Kombat 11: Aftermath Expansion .

The Walking Dead: Saints & Sinners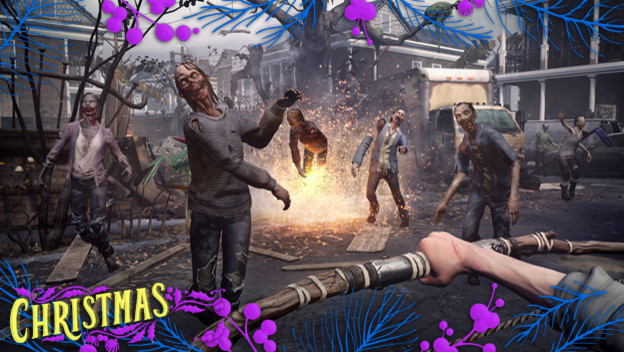 If you were looking to get into VR, The Walking Dead: Saints & Sinners will probably be right up your alley. Available for PSVR, PC VR, and the Oculus Quest ecosystems, this will set you back about $39.99. Being a first person game set in the zombie apocalypse of The Walking Dead, this will be best for your zombie movie or Walking Dead fans, especially if they've got either of the platforms that Saints & Sinners is available for.
Developed in partnership with Skybound Entertainment, The Walking Dead: Saints & Sinnersis the critically-acclaimed survival horror VR game, unlike any other set in The Walking Dead universe, where every challenge players face and decision they make is driven by choice. The game was praised for its visceral, physics-based combat, original storyline, 15-hour campaign and deep crafting system upon its release on PC VR and PSVR earlier this year, and quickly became a global top seller. In order to survive, players must battle the undead, scavenge for food and materials through the flooded ruins of New Orleans and make gut-wrenching choices for themselves and the other survivors. They can also put their skills to the test with the new mode 'The Trial' in which they'll need to survive against relentless hordes of walkers in increasingly difficult levels.

Bakugan: Champions of Vestroia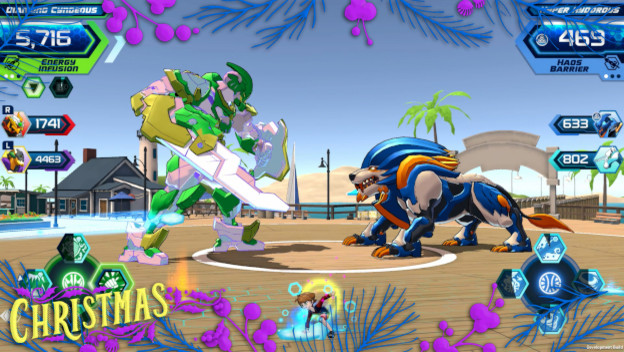 This creature brawler takes a lot of cues from the likes of Digimon, Yokai Watch, and Pokemon. There are some mechanical differences that shift approaches to things like combat and the monsters are significantly larger than most available in those other series, but the general principles are there. So if you, a friend, or a family member are fans of either of those series, you'll find something to appreciate here. Bear in mind, this game is exclusive to the Nintendo Switch, so if you don't have one yet, you – or the person you buy the game for – will need to get one. Luckily though, the 2020 shortage of the consoles seems to have run out, so it could be a good time to get a Switch if you haven't already while also getting a good game. If you do have a Nintendo Switch though, the game costs $49.99.
Based on the hit anime series and toy line, the Bakugan: Champions of Vestroia video game transports players into a world of giant creatures known as Bakugan. Players travel the world assembling their dream teams of Bakugan to become the ultimate Bakugan Brawler.

Star Wars Squadrons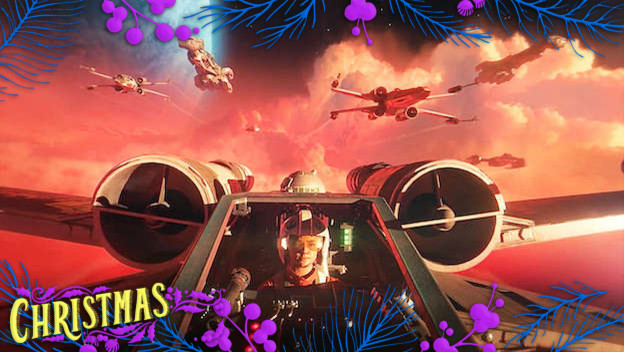 This is a must for the Star Wars fans in your life. Returning to the idea of different Star Wars games like Rogue Squadron, X-Wing Alliance, X-Wing, Tie-Fighter, or X-Wing vs Tie-Fighter, it is something that nostalgic while being fun and beautiful. There is an interesting, albeit short, story coupled with a good multiplayer system. CheatCC did review the game giving it an overall 4.0 rating. Squadrons for PC, PS4, and Xbox One and has VR support for PC. It costs $39.99.
The newest Star Wars game from Electronic Arts, developed by Motive Studios, puts fans in the cockpit of their favorite Star Wars starfighters. This new immersive Star Wars flight experience pits the New Republic against the Galactic Empire in epic multiplayer battles and lets players experience an all-new original story that takes place following the events of Return of the Jedi. Star Wars: Squadrons supports full crossplay, including virtual reality.

Project Cars 3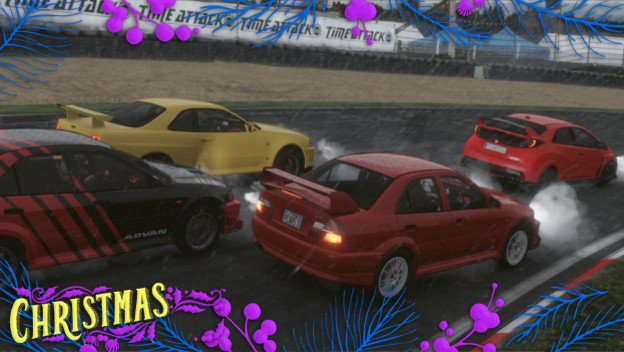 I reviewed this for CheatCC back in September and was impressed enough to grade it a 4.8. While it doesn't really offer anything new to the car/racing simulator formula, what it does offer is finetuned and packed into a gorgeous shell. If you or your friends are interested in driving games, this has both a career mode and a multiplayer mode. So there's going to be a lot of fun options, especially as you progress as a racer and start gaining access to more cars, customizations, and tune ups. Project Cars 3 is available for Xbox One, PS4, and PC for $59.99.
With over 200 elite-brand road and race-cars, and over 140 global circuits complete with 24-hour cycles and evocative all-4-season, all-weather racing, Project CARS 3 will take players on the Ultimate Driver Journey. Players can also immerse themselves in a Career Mode that will see drivers own their stable of exclusive machinery for the first time. Drivers will need to race hard to achieve authentic performance upgrades and customisation options that realistically affect handling and power as they battle their way through the biggest and most exciting racing world.

Kingdom Hearts: Melody of Memory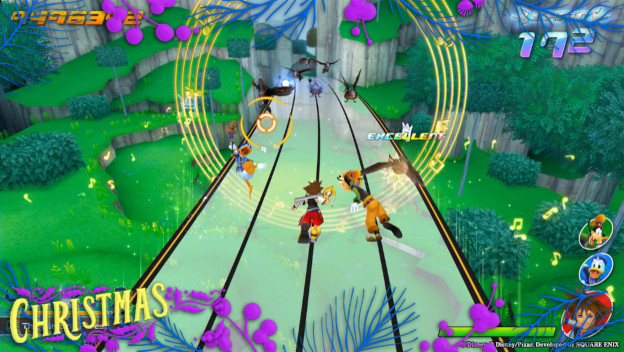 This rhythm game is available for PS4, Xbox One, and PC for $59.99. Much like Final Fantasy Theatrhythm, Melody of Memories takes a number of the best-known musical pieces from the franchise. While you're attacking KH monsters or following gliding path prompts that approach to the beat of the song, the background features imagery and iconic cutscenes previous Kingdom Hearts games. This would be a great gift for music/rhythm game fans as well as Kingdom Hearts games. Coupled with that, there is multiplayer in the game, so, even if it's digitally, there is room for friendly and fun competition.
In KINGDOM HEARTS Melody of Memory , players will battle to the rhythm of the game's soundtrack on their own or with friends as they collect and master over 140 songs from the Kingdom Hearts series, including favorites like "Destiny Islands," "Hand in Hand," "Working Together" and more from the game's legendary composer Yoko Shimomura. Players will experience the magic of musical exploration by traversing through beautiful worlds and embarking on rhythm-fueled battles to defeat tough bosses as they strive to achieve top ranks.

Final Fantasy VII Remake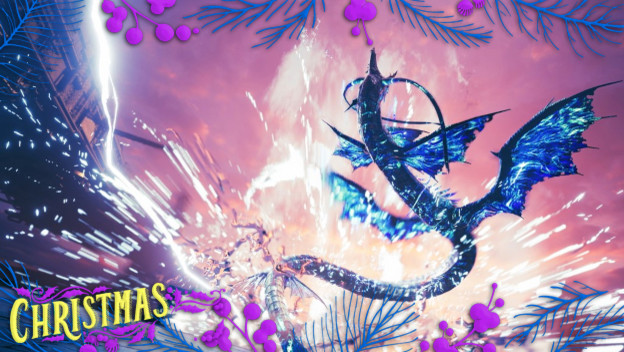 Final Fantasy VII is something that has been absolutely iconic in gaming history. Aside from being an amazing game with a thrilling and heart-wrenching story, it was also the first exposure to Final Fantasy that a lot of current Final Fantasy fans got. Since other Final Fantasy games have been getting remade or remastered, there had been mounting demands for Final Fantasy VII to be remade and it finally happened. We reviewed it giving it an overall 4.5 rating. It is available for PS4 for $59.99 and is a must for any Final Fantasy fans.
In FINAL FANTASY VII REMAKE, players will be drawn into a world where the Shinra Electric Power Company, a shadowy corporation, controls the planet's very life force. Cloud Strife, a former member of Shinra's elite SOLDIER unit now turned mercenary, lends his aid to an anti-Shinra organization calling themselves Avalanche. The first game in the project is set in the city of Midgar, and is a fully standalone gaming experience designed for RPG players that crave unforgettable characters, a powerful story and the ability to choose their style of play with a battle system that merges thrilling real-time action with strategic, command-based combat.

The Sims 4 Packs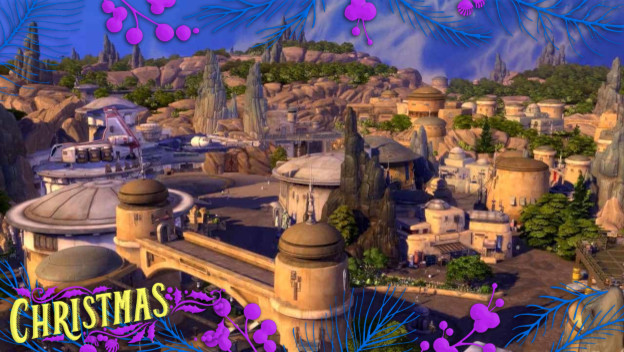 The Sims franchise has been an addictive bit of fun for years. The premise is simple enough. You create a character or family. You manage their resources and emotions to try to help them live their best life. This year saw the launch of four new content packs for The Sims 4 to further expand the possibilities. These content packs are all for the PC, PS4, and Xbox One, though the price depends on the pack. Prices range from $9.99-39.99. Unsurprisingly, the ideal person to get this for is someone who already has the base game.
The Sims 4 released a variety of awesome packs this year, helping players discover new ways to "play with life" in the popular life simulation game. From building their dream tiny home in Tiny Living Stuff Pack and transforming a neighborhood into an eco-friendly oasis in Eco Lifestyle , to creating beautiful crafts in Nifty Knitting and exploring a galaxy far, far away in Journey to Batuu Game Pack , The Sims 4 has something for everyone to enjoy, no matter where their interests lie. In the game's latest expansion pack, The Sims 4 Snowy Escape , Sims can chase their thrills or find their inner zen in the Japanese-inspired world of Mt. Komorebi.

Remnant: From the Ashes – Complete Edition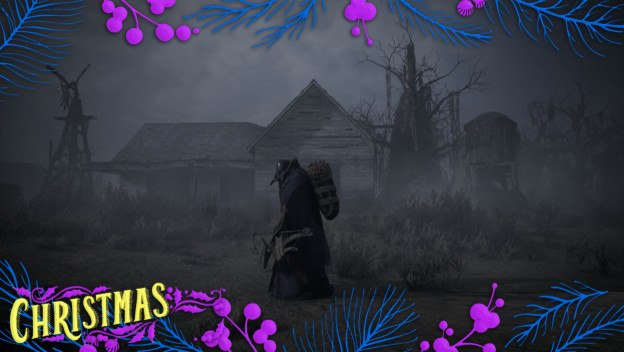 This survival Souls-like looter/shooter is bound to please someone. The grotesque post-apocalyptic horror elements coupled with cosmic and naturalistic horror elements will bring in fans of a variety of different games and media. Fans of Souls-like games will find something to latch onto as well. Coupled with the interesting gameplay and design, you can play this with up to three friends. This will make the $49.99 price tag to get it on PC, PS4, or Xbox One a lot easier to handle.
The comprehensive package of the critically-acclaimed third-person survival action shooter set in a post-apocalyptic world overrun by monstrous creatures. As one of the last remnants of humanity, you set out alone or alongside up to two other players to face down hordes of deadly enemies and epic bosses, and try to carve a foothold, rebuild, and then retake what was lost. Swamps of Corsus brought a more deadly version of the world of Corsus and the challenging, new rogue-like "Survival Mode." The title's final DLC expansion, Subject 2923, released earlier this year, adding two brand-new zones to explore alongside new quests, bosses, trinkets, armor sets and more.

Sonic Mania + Team Sonic Racing Double Pack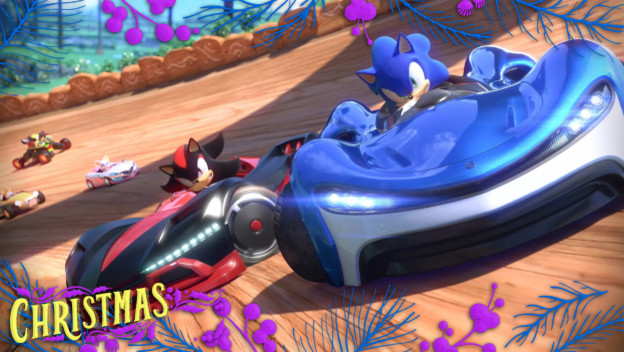 Two games for the price of one. What else could you ask for? Sonic Mania + Team Sonic Racing Double is available on the Nintendo Switch for $39.99. Sonic the Hedgehog is an iconic character from the start of the console wars with the Sega Genesis. CheatCC reviewed both games with Sonic Mania getting a 4.5 grade overall and Team Sonic Racing getting a 3.9.
Experience everyone's favorite blue blur in a two-in-one combo deal with the Sonic Mania + Team Sonic Racing Double Pack , as players can participate in either game, for double the fun. With Sonic Mania , players can participate in a true, classic Sonic experience featuring a variety of new zones with iconic Sonic favorites, along with Team Sonic Racing , where players can race as a team, win as a team, and knock out opponents on a fast and fun adventure.

Sonic Forces + Super Monkey Ball: Banana Blitz HD Double Pack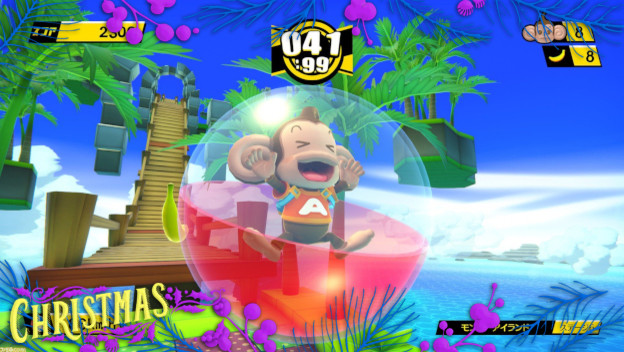 Super Monkey Ball and Sonic are both iconic and long-standing franchises. It was only a matter of time before some installments would get combined for a single bundle. Super Monkey Ball: Banana Blitz HD is a higher resolution version of a Wii game with some quality of life changes. Sonic Forces has you pitting your custom Sonic-world character against the usual big bad after Sonic had been defeated and the world was conquered. The pack is for the Nintendo Switch for $39.99 and would be a good gift for anyone who enjoys the Sonic games or is old enough to remember the older Super Monkey Ball games.
Featuring two games in one with the Sonic Forces + Super Monkey Ball: Banana Blitz HD Double Pack, players can experience two fast and thrilling Sonic games. Sonic Forces features three types of fast action gameplay and powerful gadgets to create a custom character, as Super Monkey Ball: Banana Blitz HD allows players to race through 100 colorful stages and challenge one another to 10 fan-favorite party games.

Devil May Cry 5 Special Edition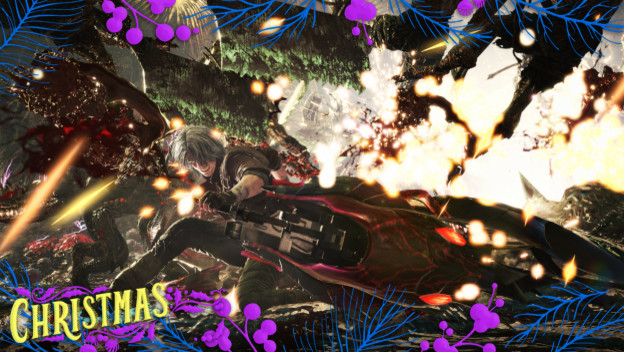 After complaints regarding some of the character and world revisions of DmC, the Devil May Cry reboot, Capcom went back to something a little more familiar in terms of Dante character design and game humor. They did keep the things that DmC did well, like the gameplay, which was a quality of life improvement over the original games. Just bear in mind that this edition of Devil May Cry 5 is the next-gen version. So you'll need a Xbox Series S/X or PS5 to use this version. It will also set you back $39.99.
Capcom is kicking off the new console generation in SSStyle with Devil May Cry 5 Special Edition . This next-gen launch title will come packed with an abundance of performance enhancements and new gameplay options powered by next-gen consoles, as well as the arrival of highly-requested Vergil as a playable character. Players can look forward to experiencing fan-favorite modes including Turbo Mode and the Legendary Dark Knight difficulty, along with next-gen features such as raytracing technology, enhanced 3D audio and increased frame rates of up to 120 fps.

Monster Hunter World: Iceborne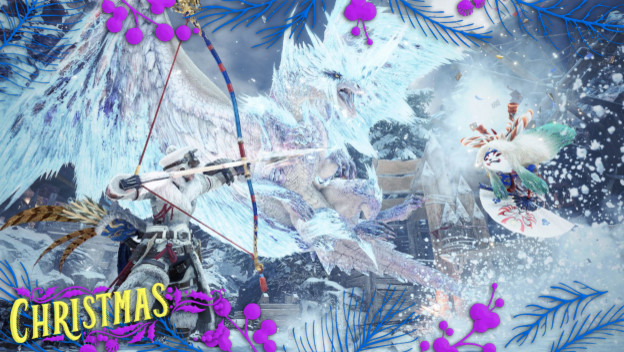 Monster Hunter World is always going to please the survival-oriented gamer. Monster Hunter World is no different. With a new setting the world of Monster Hunter, you're set to explore, find resources, craft new equipment, fulfill work orders, and find new and interesting creatures to kill. Since there is multiplayer in the game, you can also play with friends or family. Not only that, Monster Hunter World has been getting regular updates to content and events, even before the Iceborne expansion came out. So there's no risk of running out of things to do. Monster Hunter World: Iceborne is available on PC, PS4, and Xbox One for $39.99.
The critically-acclaimed Monster Hunter World: Iceborne is the massive expansion that built upon every aspect of Capcom's best-selling title of all time, Monster Hunter: World . The title has continued to receive a bounty of free post-launch content including the addition of new and exciting monsters, seasonal events, new armor, weapons, cosmetic options and more. The title recently launched Title Update 5, which brought two new monsters to the game, including Arch-Tempered Velkhana and the Black Dragon Fatalis, new armor sets, the Fun Fright Fest in-game event, and more.

Street Figher V: Champion Edition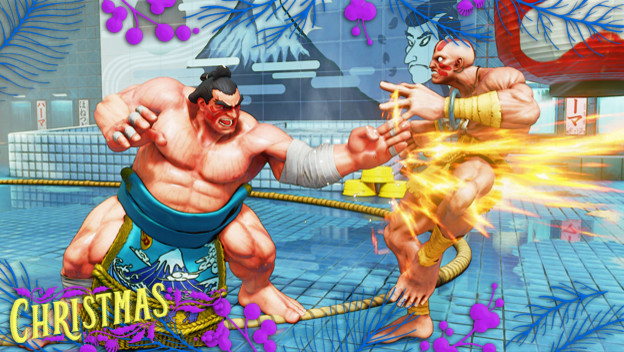 Street Fighter V: Champion Edition is sure to appeal to the fighting game fan. Street Fighter V itself had a bit of a rocky launch. Lack content and characters coupled with numerous bugs and balancing issues led to a lackluster launch. However, through regular patches and updates, Street Fighter V eventually became what people were expecting. Street Fighter V: Champion Edition is available on PS4 and PC for $29.99.
The most robust version of Capcom's acclaimed fighting game, Street Fighter V: Champion Edition features 40 characters, 34 stages and over 200 costumes. Players can select their character and battle their way through a variety of exciting single player and multiplayer modes designed for players of all skill levels, including Story Mode, Arcade Mode, Team Battle, Ranked Match, Casual Match and more. The online modes also support cross-play, allowing PlayStation 4 and PC players to duke it out to show off their finest fighting skills.

Resident Evil 3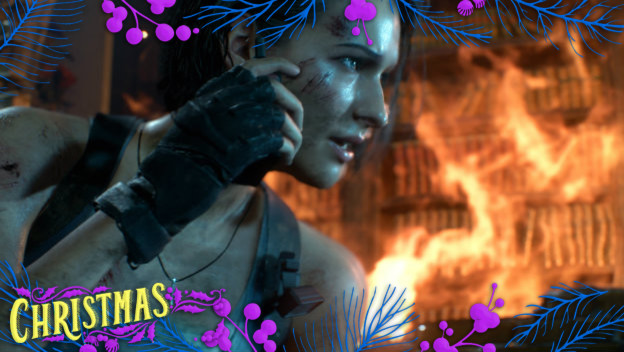 For fans of the zombie and corporate conspiracy genres, Resident Evil 3 is on the PC, PS4, and Xbox One. While it was met with mixed reviews, it is a solid game. Much like the Resident Evil 2 remake, the additional content and content revisions led to a more cohesive story. CheatCC reviewed it with a rating of 3.5 with the high points being the graphics, controls, and sound design. It costs $59.99.
Escape Raccoon City in the completely reimagined, action-packed survival horror game Resident Evil 3 . This latest entry in the 103 million unit selling Resident Evil franchise bookends the Raccoon City saga using Capcom's proprietary RE Engine to deliver vivid high-definition graphics and modernized gameplay mechanics. Resident Evil 3 is presented through the perspective of one of video games' most iconic heroines, Jill Valentine. Experience her harrowing escape while being pursued by Nemesis in the panic-stricken hours leading up to and following the events of the acclaimed best-selling Resident Evil 2. Players can also participate in previously untold Umbrella experiments on the outskirts of Raccoon City in the included online asymmetrical multiplayer game Resident Evil Resistance . In this 4 vs. 1 online multiplayer game, four Survivors must work together to escape an insidious experiment and outsmart the twisted Mastermind behind the scenes.

Final Fantasy XIV Online: Shadowbringer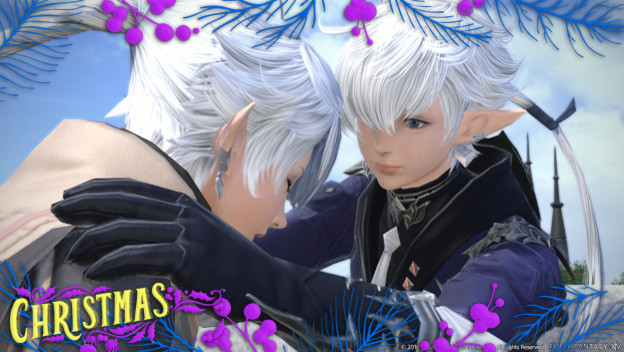 Final Fantasy XIV Online had a rough start. But after Square Enix essentially nuked the world to build it back up, it's been steadily growing, both in terms of player base and content. Shadowbringer is the most recent of the expansions to the world that is regularly growing. The next patch, scheduled for early December will bring in another chapter to the Shadowbringer main quest line and a boost to the level cap. Shadowbringer is on PS4, PC, and MacOS for $59.99.
The critically-acclaimed MMORPG FINAL FANTASY XIV Online' s most recent expansion, Shadowbringers , sees players join an extraordinary cast of characters, as they become Warriors of Darkness and travel to a new land, overrun by light. Players can take on a myriad of classic jobs, from the damaging Summoner to the hearty Paladin and steadfast White Mage, as they adventure, explore, and make their way through a classic FINAL FANTASY story. Even better, its robust free trial allows players to experience the entire base game and its first expansion, Heavensward, in their entirety with no time constraints, making now the best time to give FINAL FANTASY XIV Online a try.

NBA 2K21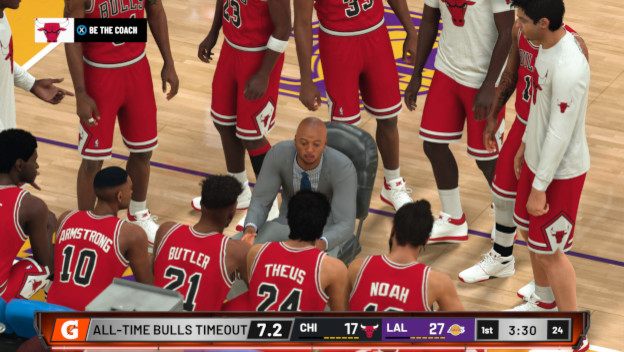 CheatCC reviewed NBA 2K21 back in September, giving it a 3.5 overall rating. It had a bit of a rough launch with a buggy career mode. But various hotfixes and patches have been put in to improve the general experience both in the career mode and others. It's now a pretty solid game with a lot of replay value. The game is available for PS4, Xbox One, PC, Nintendo Switch, and Stadia for $59.99. If you're getting the Xbox One or PS4 version, but plan to upgrade your console, the Mamba Forever Edition covers both current and next-gen copies for $99.99.
Welcome to NBA 2K21 , where Everything is Game. The world's most popular basketball simulation game for the last 20 years brings together best-in-class gameplay and graphics, new and innovative features, top brands and artists and more to bring ballers from all over the world together in the immersive open-world "Neighborhood" dubbed 2K Beach.
With iconic covers featuring Damian 'DAME D.O.L.L.A.' Lillard on the Standard Edition and Kobe Bryant on the Mamba Forever Edition, NBA 2K21 brings high-flying dunks, buzzer beaters and blocks through modes including MyCAREER, MyTEAM, MyGM, MyLEAGUE and more.

PGA Tour 2K21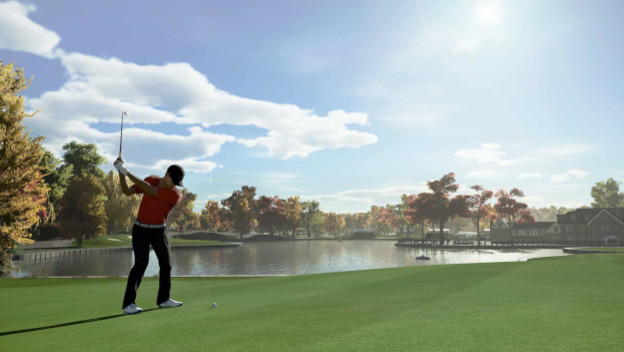 If you're a golf fan or have friends or family that are golf fans, this is going to be an obvious buy. Then again, if you're also looking for a relaxing, but competitive game, that's what you'll be getting with this game. PGA Tour 2K21 is available for PS4, Xbox One, Nintendo Switch, Google Stadia, and Windows PC. The regular edition costs $59.99 and the deluxe edition costs $69.99. The Deluxe edition brings in some new clothing and gear, which is a nice touch.
Golf Got Game with the all-new 2K title, PGA TOUR 2K21 , making waves in and beyond the golf community.
Earning stellar recommendations on Metacritic, PGA TOUR 2K21 brings players on their own PGA TOUR journey. Create your MyPLAYER — outfitted with equipment from top brands such as Adidas, Polo Ralph Lauren and Under Armour — build your legacy in Career Mode to win the FedEx Cup, compete with friends online via Societies and more.

WWE 2K Battlegrounds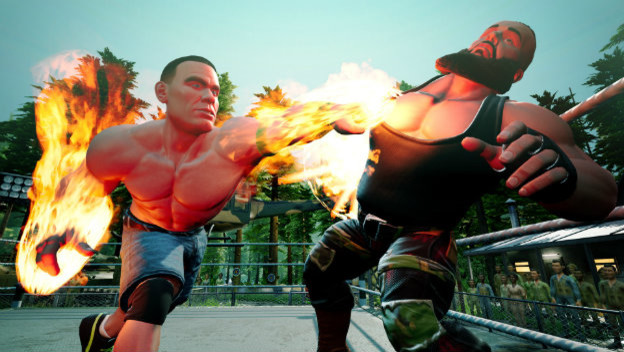 Each WWE game has had rocky and buggy launches. While it isn't perfect, WWE 2K Battlegrounds had one of the most stable launches. By focusing on an arcade set up with solid gameplay, high replayability, and an interesting art design, Saber Interactive was able to release one of the stable and approachable WWE games. CheatCC reviewed it and gave it a 3.5 overall. WWE 2K Battlegrounds is available for the PS4, Xbox One, Nintendo Switch, PC, and Stadia for $39.99 (standard edition) or $49.99 (deluxe).
Are you ready to BRAWL WITHOUT LIMITS? The world of WWE is your battleground with WWE 2K Battlegrounds , the all-new, over-the-top, in-your-face, arcade action-style brawler where your favorite WWE Superstars and Legends battle it out in a number of outlandish interactive environments.
Brawl with or against friends in local and online match types, or throw down in Campaign mode with an arsenal of exaggerated maneuvers, special abilities and devastating power-ups to unlock or defeat your favorite WWE Superstars and Legends from the extensive 140 character roster.

Borderlands 3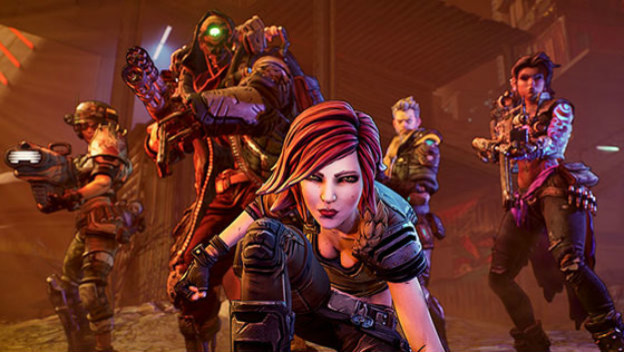 The Borderlands games are just a lot of fun. Mixing a striking art style with high-paced action, memorable characters, and a lot of irreverent humor, there's been a lot to love. CheatCC reviewed Borderlands 3 in September 2019, rating it a 4.8. Borderlands 3 is available for PS4, PS5, Xbox One, Xbox Series S/X, PC, and Google Stadia for $59.99.
Award-winning, record-setting, genre-bending shooter-looter Borderlands 3 may be celebrating one full year of mayhem, but it's not slowing down any time soon!
After adding four expansive campaign add-ons and a host free bonus content over the course of its first year, this irreverent shooter is set to grow even bigger with the upcoming addition of the Designer's Cut DLC, which adds a massive new game mode as well as new gameplay options for all four player characters.
For those lucky gamers receiving the Xbox Series X / Series S or PlayStation 5 this holiday season, Borderlands 3 has been fully optimized for next-gen! Running at 60 frames per second and 4K resolution in single-player and online co-op, Borderlands 3 's next-gen upgrade also adds four-player split-screen co-op – a first for the series.

Civilization VI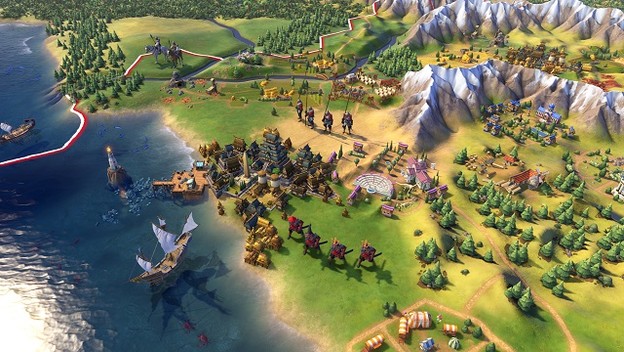 The long-standing civilization-building strategy game has continued. This game is perfect for those who want a game of thoughtful progression and exploration. Starting with essentially the period that's thought of as the start of recorded history, you will explore the globe while building either scientific, cultural, or military dominance over your opponents. CheatCC reviewed Civilization VI's base game and gave it a 4.7 overall grade. Civilization VI is available for PS4, Xbox One, PC, Mac, Linux, and mobile for $59.99.
Sid Meier's Civilization® VI winner of The Game Awards' Best Strategy Game, DICE Awards' Best Strategy Game and latest entry in the prestigious Civilization franchise available on all major gaming platforms. Originally created by legendary game designer Sid Meier, Civilization is a turn-based strategy game in which you build an empire to stand the test of time. Explore a new land, research technology, conquer your enemies, and go head-to-head with history's most renowned leaders as you attempt to build the greatest civilization the world has ever known. Already have Civilization VI ? Be sure to add the Civilization VI – New Frontier Pass, featuring 8 new civilizations such as Byzantium and Gaul, as well as 9 new leaders and more for $39.99.

Need for Speed: Hot Pursuit Remastered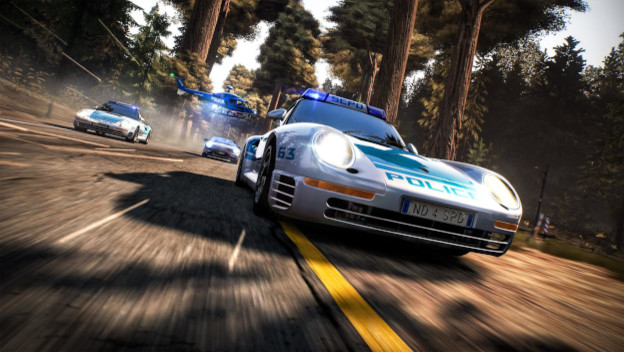 Need for Speed is a fun and long-lived arcade racer. Sometimes, it even acts as a highlight of the graphics at the time that a new installment comes out. Hot Pursuit Remasters puts a bright and shiny new coat of paint on a 10-year-old game. While this is one of the more barebones remasters, it is gorgeous and has some new additions that make its $39.99 price point for PS4, Xbox One, PC, and Nintendo Switch. If you get it before December 1, it's on sale for $29.99 through the PlayStation and Xbox marketplaces.
Need for Speed: Hot Pursuit Remastered features enhanced visuals and cross-platform asynchronous multiplayer competition powered by Autolog – the revolutionary feature that allows players to seamlessly connect, compare and compete with their friends. The game also includes all main DLC that delivers an extra six hours of gameplay and more than 30 challenges, bringing back Criterion's critically-acclaimed Need for Speed™ debut, which won the coveted Best Racing Game Award from the Game Critics Awards in 2010 and The British Academy Video Games Award for Multiplayer in 2011.

Super Mario 3D All-Stars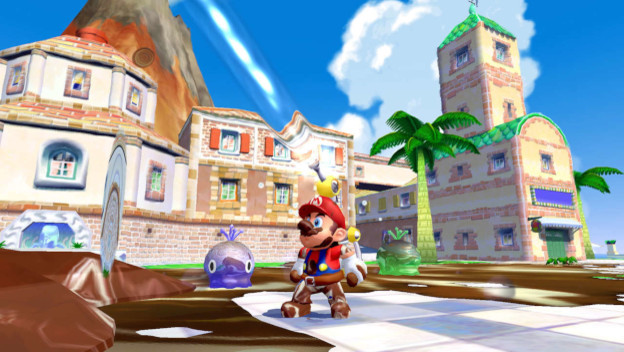 Super Mario 3D All-Stars is a remastering of three of the most celebrated 3D Mario games. With remasters of Super Mario 64, Super Mario Sunshine, and Super Mario Galaxy, there's a lot to love here. The Super Mario 64 remaster is not a remaster of the N64 version. It's a remaster of the DS re-release, which was already a slightly higher resolution version of the game. Due to the different form factor and capabilities of control between each system, controls can take some getting used to, but it feels great.
There is one caveat to this bundle's release and it's the fact that it's only available for a limited time. As a means to celebrate 35 years of Mario, the collection is only available until March 21, 2021. This'll be the perfect gift for a nostalgic gamer or retro gamer who has the Nintendo Switch. These are some of the highest points of the core Mario catalogue available all-together for $59.99.

Pokemon Sword and/or Shield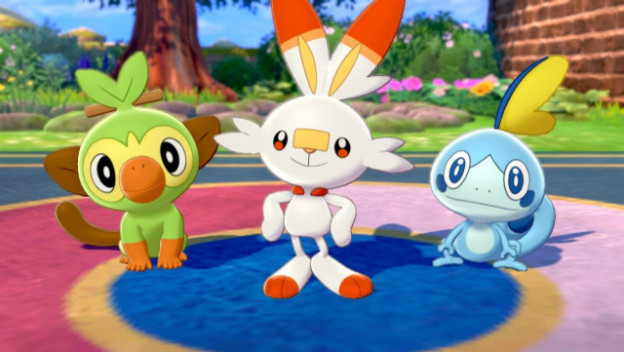 Pokemon Sword and Shield are the most recent core games in the Pokemon franchise. There is a brand new region to explore, this time modeled after the United Kingdom. There are some revamped systems and the initial game didn't come with every classic pokemon, but with the most recent DLC packs, the pokedex of available pokemon to find and catch has been expanded. The day-night cycle helps affect what services are available in cities as well as which pokemon might come out in abundance. The camping is a nice touch that also helps with bonding with your Pokemon party.
CheatCC reviewed Pokemon Sword and Shield at launch and gave it a 4.7 overall grade. This is going to be a great game for anyone who enjoys interacting with cute animals or wants to try the strategy behind battle. If you already have a Nintendo Switch, either game will set you back $59.99. The Expansion Pass, which opens up more areas and brings in both more story and more pokemon into the game, is available for $29.99.

Ring Fit Adventure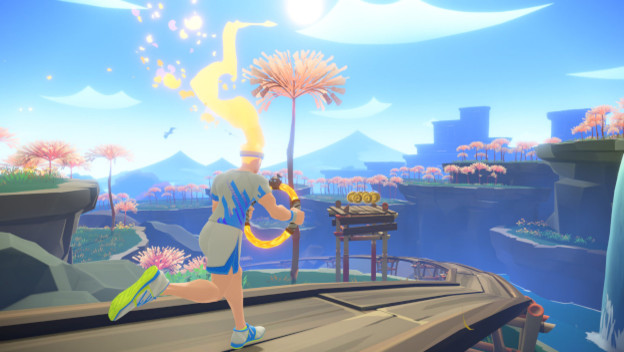 This is going to be something more for the fitness-directed people. There are a couple of different ways to play this, including just the simple workout routines. Each routine covers a specific workout routine and you spend your time controlling the game through the Ring Fit Ring. Control is essentially the same in the adventure storyline, which environmental interaction, traversal, and RPG-style combat is handled through different types of exercise.
This is a quirky game that really shows Nintendo understanding the importance of health and wellness. Coupled with that, it expands on the ideas built up in the Wii Fit games. If you enjoyed those and you have a Nintendo Switch, this will be right up your alley. Ring Fit Adventure is available at retailers like Best Buy for $79.99.

Call of Duty: Black Ops: Cold War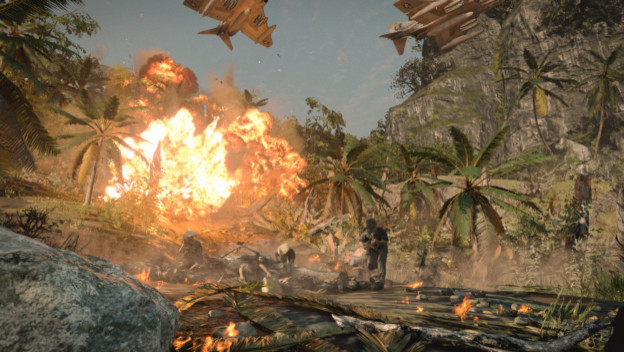 This new installment of Call of Duty: Black Ops sees a brand-new crisis that bridges the gap between the CoD: Black Ops and CoD: Black Ops 2. During the 1980s, a new threat emerges in the form of Perseus, his spy networks, and the Operation Greenlight system of nuclear bombs. Levels can go to methodical and tense to chaotic violence. You'll see different locale including rural Vietnam, East Berlin, and Cuba (just for some examples). Members of Perseus's networks can be killed or captured and how you proceed through the main campaigns and side missions affect how the story ends.
Alongside a compelling campaign, there is multiplayer and Zombies to think about. There is a ton of material to dive into that makes Call of Duty: Black Ops: Cold War a great buy for the military FPS fan in your life. Call of Duty: Black Ops: Cold War is available for PS4, PS5, Xbox One, Xbox Series S/X, and PC. If you're getting the current gen edition, it will cost you $59.99. If you're getting the Cross-Gen bundle, it will cost $69.99. And if you're getting the Deluxe Edition, it will cost $89.99.

Tony Hawk Pro Skater 1+2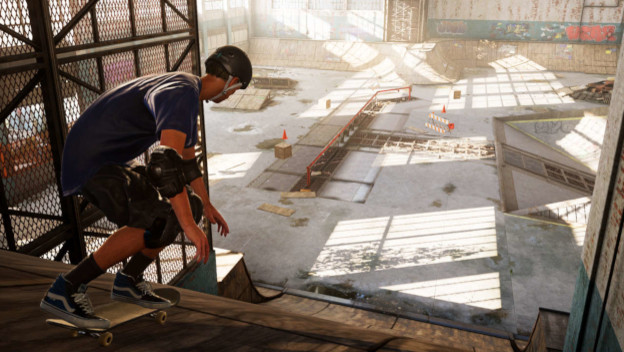 The skater franchise that really put skateboarding games on the map is back now. Tony Hawk Pro Skater 1+2 is a remaster of the original Tony Hawk Pro Skater games from 1999 and 2000 respectively. The old maps are lovingly rerendered in Unreal Engine 4, offering an even prettier view of the world than even Tony Hawk Pro Skater HD.
One thing that the Tony Hawk Pro Skater games has always been known for is the replayability factor. There are multiple pros across each game with different gear loadouts, skillsets and specialties, personal challenges, and overall challenges, this is no different. Couple in the fact that there is a "create-your-park" function and multiplayer, the replay value just explodes.
This will be a great option for sports games fans, especially if they're into skateboarding. It'll also be a good gift for fans of the original releases. Tony Hawk Pro Skater 1+2 is available for Xbox One, PS4, and PC for $39.99.

Crash Bandicoot 4: It's All About Time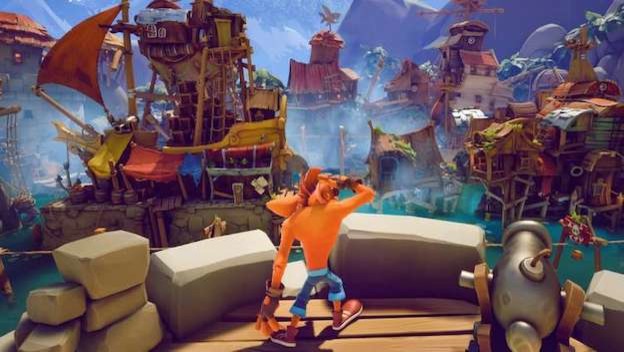 Crash Bandicoot is one of the most iconic PlayStation series in existence. It offered an interesting mascot for at least the first generation of PlayStation and fun ways of taunting Nintendo and Mario. It's come back in a big way recently with a variety of remastered games and, most importantly, a new installment with Crash Bandicoot 4: It's All About Time. Mechanically, things have changed much, but there are some nice touches like some of the levels are returns and reskins of levels from older games to expand the story more. There's also a retro (lives counting down) and modern (deaths counting up) option.
This is going to be the perfect buy for a PlayStation fan who loves the older PlayStation series. CheatCC did review this in October giving it a 4.0 overall grade. It is available for the PS4 and Xbox One for $59.99.

Skater XL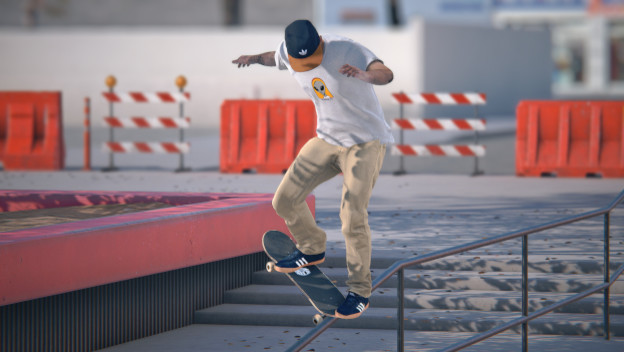 Much like Tony Hawk Pro Skater 1+2, this is going to appeal to the skateboarding fans out there. There is a rather complex control system, which brings a nice challenge into the mix. Unlike Tony Hawk Pro Skater 1+2, which is much more of a straightlaced sports game, Skater XL is very much a skateboarding simulation, which explains the complexity of the controls.
Skater XL is available for Xbox One, PS4, Nintendo Switch, and PC. One thing to note though is the fact that the review scores for the console edition from multiple different sources suffered for seeming unfinished and light on content. It's partially because the PC has had a wealth of mod support from the community. So if you're interested in getting this, it would be best to get the PC edition unless you don't have a PC capable of running it. Regardless, figuring out how to do the tricks with the complex control system grants a high level of replayability and satisfaction when things go right and hilarity when things go spectacularly wrong.