Be sure to check out our E3 hub for 2017 all week long to get the latest gaming news, previews and announcements right from the convention floor!
There's always a sense of competition surrounding pretty much everything during each Electronic Entertainment Expo. Who's got the best console? Who has the largest game line-up for said consoles? Does the PC Master Race still consider themselves the kings of video games?
Much of this competition comes to a head during the press conferences that take place before the actual convention begins. The question is asked every year, "Who "won" E3?"
We're taking a look at all of the major press conferences that we covered right here at Cheat Code Central and ranking them to discover who we think won E3 2017.
EA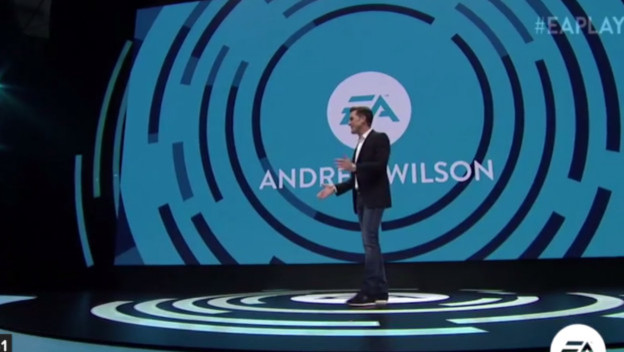 First up we have Electronic Arts. EA showed us a bunch of stuff for things that we were already aware of. There was Star Wars Battlefront II , Madden 18 , Need for Speed: Payback , Battlefield 1 DLC, FIFA 18 , and NBA Live 2018 . These are all well and good, but E3 is meant for new news, not "knews." We need things to get hyped about! EA did mention BioWare's Anthem , but they left the nitty gritty of that to the Microsoft conference. The only other thing they brought out to play was A Way Out . While this game looks awesome, it wasn't really enough to save the conference.
Bethesda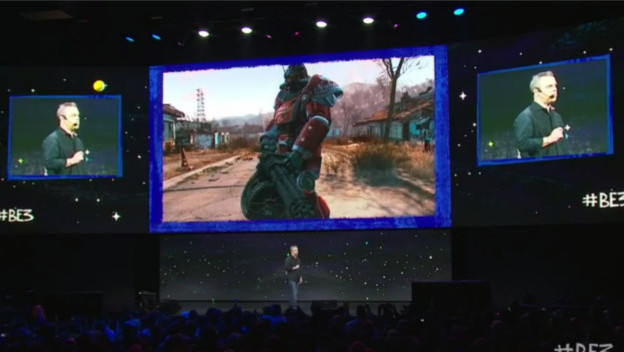 The best explanation I've heard for the E3 Bethesda conference so far is this: Bethesda's conference was the anime filler episode of E3. As much as I love the company, this is undeniably true. Bethesda did announce two brand new games, The Evil Within 2 , and Wolfenstein II: The New Colossus, but these are just sequels to already existing franchises. The rest of the conference was taken up by DLCs for existing games, virtual reality titles that they premiered at E3 last year, and their Creation Club. Bethesda definitely was the filler conference at E3 2017, and that's what earned them this spot on our list.
Nintendo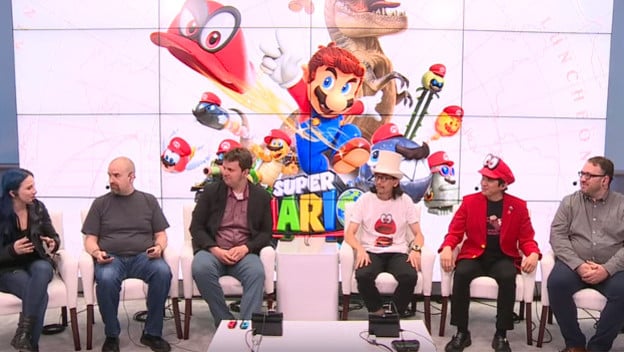 I know, I know, Nintendo didn't have an official E3 press conference. Instead of having an official press conference, they had their own live stream event separate from the convention. Still, they had some really cool stuff to announce. Xenoblade Chronicles 2 is coming this holiday season. We're also getting new entires to the Kirby and Yoshi universes. The insanely popular Breath of the Wild is getting DLC called The Master Trials and The Champions' Ballad. And Super Mario Odyssey is releasing in October 2017. Topping all of this off were teases for Metroid Prime 4 , and a Pokemon game for the Switch. There were all kinds of big names thrown around at this Nintendo conference, earning it the number four spot on the list.
Ubisoft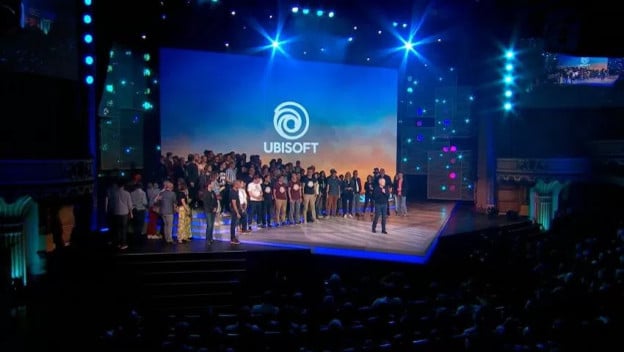 Here come the big dogs, the top three spots on our list. These are the ones that are going to be most widely contested, and fans on different sides of the table will bicker like cats and dogs. For us, we've got Ubisoft in the number three spot for E3 conferences this year. The host for the conference was CEO Yves Guillemot and he opened the show with Nintendo's Shigeru Miyamoto and Mario + Rabbids Kingdom Battle . Assassin's Creed Origins finally came out of the bag officially and was given an October release date. Other hype inducing games announced were Beyond Good and Evil 2 , and Transference . The conference was all-in-all a well rounded affair!
Sony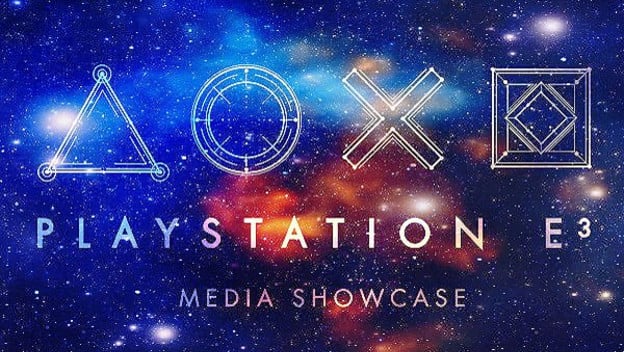 All right fan boys and girls, calm your ta-tas. We know Sony and Microsoft are the two big ones. While they were both great, we had to crown one over the other. Sony's at number two, with Microsoft obviously a cut above. But let's talk about Sony here. They didn't have any console brilliance that they could share, so they focused on games. And what a wonderful focus it was. We had trailers for Days Gone , Monster Hunter World , Shadow of the Colossus Remaster , God of War , Detroit: Become Human , and Spider-Man ! There were also tons of PSVR games shown, including The Elder Scrolls V: Skyrim . The master of exclusives defends their title, and we can't wait to check out these games… in 2018.
Microsoft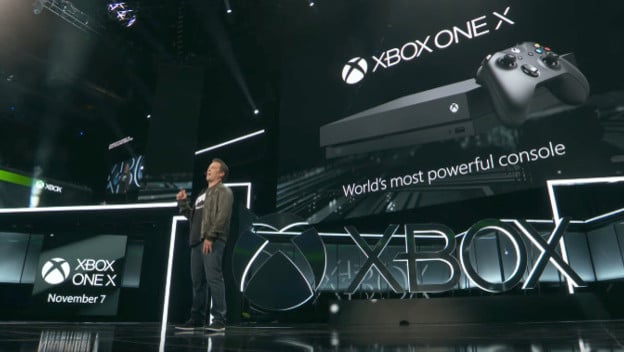 In the brilliant number one spot we have Microsoft. Their conference was intensely long and jam-packed with information. Project Scorpio got an official name (which we still think is cheesy), Xbox One X, a release date of November 7, 2017, and a $499 price point. The shiny console is one of the biggest factors in Microsoft winning E3 this year.
But Microsoft made it clear that they're going to start pushing back at Sony in the realm of games as well. There were 42 games featured in the Microsoft conference, and 22 of those are going to be either system exclusives or console launch exclusives. Minecraft gets cross-play across consoles, mobiles, and PCs. The Xbox backwards compatibility library is expanding further than it has ever been before by adding original Xbox games. Free 4K updates are being provided for a handful of games that didn't have them previously. There was so much stuff packed into this Microsoft conference, and all of it was awesome. This puts them ahead of the pack in our eyes, and we can't wait to see everything that releases from Microsoft this year and in the future.
Who do you think won E3? Do you agree that Microsoft nailed it? Or is there someone else that you feel reigns as king. Let us know in the comments!