It seems misleading to look at a chair and specify it as only something for work or only for gaming. After all, so much of people's lives depend on being at a desk or in a designated room in front of a monitor and a computer. Something like a Ewin Calling Series Ergonomic Computer Gaming Chair isn't just some chair you would use when you sit down to play some game. It isn't where you resign yourself to get work done. It is a place to relax and do some of the activities both serious and lighthearted that mean the matter most to you. It only makes sense to invest in something you would use for hours each day, every day, and make the most of it.
The memory foam support is one of the reasons why the gaming chair is so important for both work and play. It uses a cold molding, high density memory foam that surrounds your entire body. The more you use it, the more accommodating it is. It's designed to cushion, without leaving you feeling like you are sinking in or trapped. It's designed to be comfy, but now like those cheap memory foam pillows you might find that leave you feeling sweaty or uncomfortable after a few hours. This is a sort of memory foam designed to endure for years and meet your needs, complementing your body so you can sit to work and play for hours without having your back or tailbone hurt.
All of gaming chair 's adjustment options are about getting you into the best and most comfortable positions too. Every angle and pitch is about finding the one that meets your needs. It has a 100MM class-4 gas lift, to help you raise and lower the desired height of the seat with the pull of a lever. (This can support 330lbs, by the way, so don't worry about it ever faltering!) That same class-4 gas lift helps secure it in place when you tilt the chair and lock it to meet your perfect angle. The 2D adjustable armrests let you pull and move them so they are at the right position for your arms. As for reclining, you have 85 to 155 degrees available, practically letting you completely ease back into a relaxed, horizontal position.
Yet another Ewin hallmark has to do with comfort. The company is known for providing pillows with its gaming chairs, and the gaming chair is no exception. There are two included with each one. The first appears at the base of your neck, to offer a bit of contour and coziness to support your head. The other is positioned at the small of your back, for additional lumbar support. Considering someone could spend hours working on projects or papers, then even more time playing games, both would be very much appreciated. Especially if you find yourself otherwise hunched over your keyboard.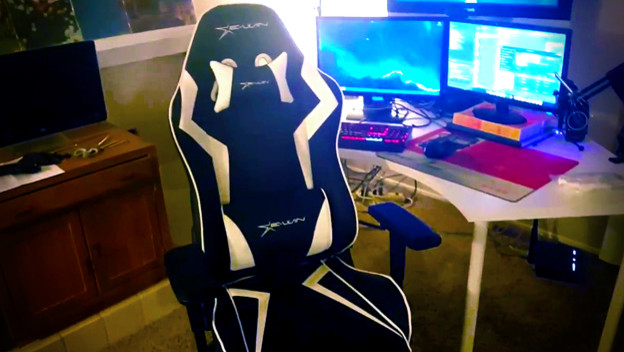 Best of all, you get to enjoy all of its customizable features without worrying about it not standing tall. The gaming chair is a well-built, strong chair. It can hold great weights, so there's no need to worry about it collapsing. The high density foam is durable. It has a steel frame, so you don't have to worry about the structure not being maintained or standard use warping its figure. This chair will endure for years to come, maybe even outlasting your consoles or computers.
People spend hours of their lives working and sitting. In school or at your job, you could be trapped all day at a desk. When you get home, you might need to catch up on things that you have missed. If you enjoy gaming, you could find yourself turning to your trusty computer to both socialize with your friends while getting together with a squad to face overwhelming odds or to spend time alone saving a foreign world. Instead of just going with what is cheap or easy, a $259 gaming chair could stick with you for years. It can be there for you when you work and play, every day.