They say all the world is a stage, and with today's social media and streaming platforms taking over every aspect of our waking lives, that statement has never been more true. But have you been holding back? Perhaps because you're an introvert who doesn't have the biggest personality? Are you itching to create some fun content online, but can't stand the thought of stepping in front of a camera? Well I have a program for you that will literally change all that. In fact, it'll change you into just about anything you can think of! Dragon, super-solider, or otherwise!
I reached out to the folks over at Holotech Studios, as I was very interested in there FaceRig technology I'd stumbled across recently. If you're not familiar, FaceRig will map your facial movements, using a sophisticated tracking system, and then digitally animate a variety of avatars in real time. I know what you're thinking, that sounds like a lot of fun. I could get lost for hours just playing with the different load outs, making goofy faces, looking up, looking down, left to right and blinking a lot. And you'd be right…because that's exactly how I spent the first three hours after installing the program. I got absolutely nothing done, but had a blast doing it!
The program is installed through Steam and comes in a couple different flavors. There's a smaller, abridged version for those looking for something simple (or that just want to try it out). But there's a more advanced, full-fledged studio option available, for those looking to create serious content either for themselves or for a business. Licensing breaks down according to what your content model is, so be sure to check those prices online and on the FaceRig website first, to get a feel for where your channel would land.
But regardless of which version you use, there's a lot of really fun possibilities with this program. The first thing I noticed is just the sheer wealth of available avatar options. You would assume that in a typical program such as this, they'd slap together maybe five or six characters and call it good. Not only is the well of options extremely deep here, the customization is absolutely off the chain! If you like sexy or cute anime characters, you can have your pick. Goofy, cartoonish characters also are here in abundance. And not to take this article in a weird direction, but the furry crowd is actually going to find quite a few interesting choices! But hey, I don't judge, you do you.
Picking your character doesn't stop there. You're going to be able to customize so many different options, it's almost overwhelming. You can change eye color, facial positioning, add props and hats, virtually anything you can think of to make the avatar more a reflection of you and your personality. Each character even has several alternate skins and color swaps, if you just wanted to keep things slightly different than the default. And if that's not enough, there's even a Live2D add-on, that give you access to a set of animaze avatars, as well as the ability to use free 2D avatars on the Steam Workshop. So there is a lot of value here.
And for those tech-savvy artists that like to tinker, you can delve pretty deeply into the engineering and 3D animation side of things if you like. You can change up how the mapping works on your face, you can tweak speeds and sensitivity settings of various parts of the model, virtually anything you need to do to get the FaceRig working just the way you want it is available to you here. But the great thing is, you don't have to if you don't want to! I didn't want to spend much time changing settings. I wanted to jump right into content creation. I was pleasantly surprised that the default mapping, with proper lighting and camera angle, works just fine out of the box. However, if you did want to use this for more professional content (like a machinima series for example), you may find you'll need to tighten up some of the lip sync options a bit. But for my purposes (and the average streamer), you're going to find this works just fine from the jump.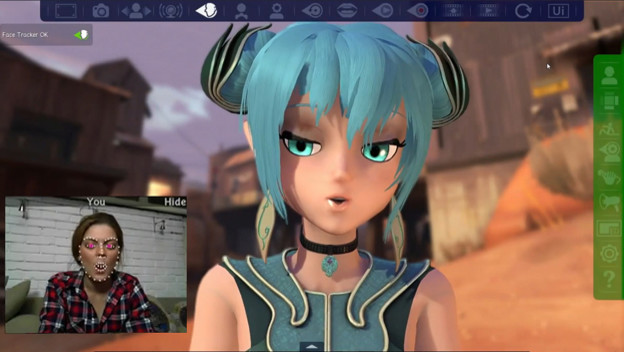 Speaking of streaming, this is exactly why I wanted to try FaceRig out in the first place. You can of course make some fun video content for uploading to YouTube, but for me, live streaming is where this program shines. They have a variety of backgrounds you can use for creating, but the green screen option is the most useful. This will allow you to drop the avatar into your OBS Studio as an element, and overlay it onto your live feed for your audience to enjoy. There is virtually no lag, from what I can tell. It also makes you different in the streaming world, which as most probably already know, is a huge asset in an already oversaturated market. The need to stand out is paramount.
So here's the bottom line. Whether you use this as a fun time waster, or a professional tool, you have to try FaceRig for the laughs if nothing else. But if you're a live streamer looking for a different edge, I can't recommend the program enough. I'm definitely going to use it on my channel soon , even if it's just a fun side piece of content for some of my subscribers to get a chuckle from. Be sure to check out their website and install FaceRig today! You won't regret it.