When you think about portable computers, certain kinds of devices come to mind. You may think about a laptop, which tries to pack everything into a folding device and meet your needs. You could also consider tablets that try to do it all, like a Microsoft Surface or iPad Pro. But, there's another alternative: a mini PC stick. E-Win makes a Mini PC Stick that is an incredibly compact way to work and play on the go. All you need is some sort of display, a USB or Bluetooth keyboard and mouse, and perhaps a controller of some sort. From there, you're ready to go.
The thing about the Mini PC Stick is that it is the exact sort of Windows 10 computer you might expect from a modern laptop or Microsoft Surface-sort of device. It has Intel Atom Z8350 built into it. You have 4GB RAM and 64GB eMMC. It has Bluetooth and WiFi compatibility. It is a complete computer that is ready to download all of the applications and some of the games that matter to you, then go absolutely anywhere. It even has a microSD card slot, so you could expand the memory and do even more with it.
Of course, the Mini PC Stick is so portable because it is smaller and maybe even thinner than your phone. It is only 4.8 inches long, 1.5 inches wide, and 0.47 inches deep. It could easily fit into a pocket or a bag, and you would have no trouble securing some sort of case if you wanted a little extra protection to look after it as you go from one place to another. If you're traveling, there's no need to worry about a laptop bag becoming one of your carry-ons. It allows you to pack even more.
The Mini PC Stick also has this versatility to it. How do you install it? You find a device with an HDMI port and pop it in. It is then immediately installed. Does someone you are visitor or the house you are in have a spare TV? You can came it into an instant computer. Do you have a projector with an HDMI port on hand? That could work too. What about the accessories you need to use it? It has two USB ports. You could plug a wired keyboard and a wireless mouse into it. If you don't want to deal with wires, going with Bluetooth peripherals works too. It is easy to go anywhere and be set.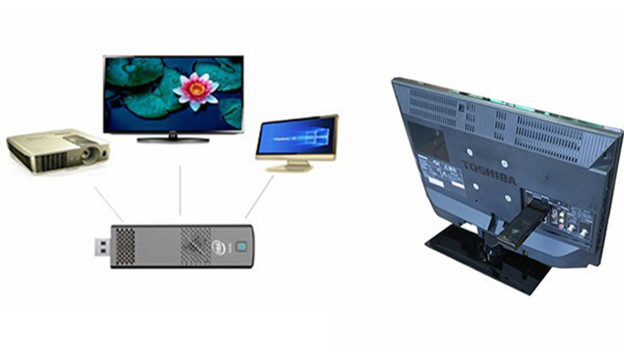 It also means the Mini PC Stick can be a perfect companion for your different activities. If you are still in school, it could be used to play games at a friend's dorm room or apartment, or you could connect it to a projector in a class to show off some kind of Powerpoint presentation. If you are heading away on business and traveling light, this would let you quickly work from anywhere, be it in conference rooms, hotel rooms, or other people's offices. People at a convention could load it up with some of the games it is capable of playing, plug it into the back of some monitors, and set up a quick and easy gaming room.
The E-Win Mini PC Stick 's key selling point is how much it can do for you, all without taking up too much space. For $189, you are getting a handy device that can help you in all sorts of situations. It can be a practical friend for when you are traveling or going to be in a position where maybe a tablet wouldn't be enough, but a full laptop wouldn't quite work either. But with this kind of PC, you can still do whatever you need.