In summer 2019, it feels like the 1980s are back and bigger than ever in the world of video games. From standalone projects like Stranger Things 3: The Game, The Dark Crystal: Age of Resistance Tactics and Wolfenstein: Youngblood to Rocket League's Radical Summer event and… well, everywhere the Terminator is popping up, there's a concentrated amount of '80s nostalgia. And while some of these standalone projects make sense, in huge ongoing games like Rocket League , it's something of a peculiar fit for a player base that, in large part, was born well after the end of that era.
Players of popular games are getting older and more diverse every day, but there's still a large component of the audience for online action games that's younger, with better reflexes and more time to play and train. And, well, spend on in-game items, which is a major part of what makes these games successful and profitable. The sweet spot may be somewhere just old enough to have a job but young enough to not have so many expenses, but even people in their early and mid-20s now were born well into the 1990s. So why are we seeing so many promotions that, in large part, you'd have to be over 30 years old to appreciate?
Perhaps it's a product of the people making them. After all, while many players are young, the project leads in development studios making these decisions? They're precisely within the demographic that would love this stuff. E.T .! The Goonies ! Cassettes and VHS tapes! These all mean a lot in the childhood memories of the people in charge, and while they're lining their desks and shelves in the form of figures and other memorabilia, they're bound to spring to mind when deciding what's next for their games.
Game production is a ridiculously difficult, thankless job with a ton of reasons to not stick around. It's not surprising, then, that many of those who have kept at it long enough to reach leadership roles have within them a strong desire to fulfill the dreams of their youth and the tenacity to keep at it despite conflicting forces. It's precisely the group that would want to equip a Karate Kid cosmetic item, and for games as successful as Rocket League , those sorts of opportunities are within grasp.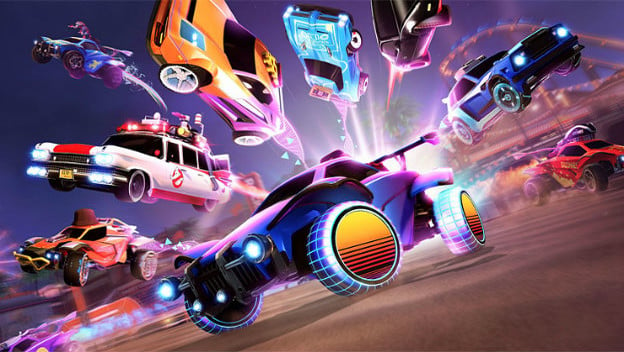 Maybe this sort of thing is okay, though? The effort taken by all sorts of companies recently to push the properties and aesthetics of the 1980s may have given it an appeal all its own to the younger audience. Much like the Fallout games lean upon the sights and sounds of an earlier era that none of its players really were alive to see, the '80s could be much more of a flavor or a concept than a real thing to the latest generation of players. While that could be damaging to accurate perceptions of the time (though those have already been warped by marketing and rose-tinted glasses), companies certainly have many worse options for making their games feel different by coating them in a new look.
And hey, maybe teens think Marty McFly Jr.'s hat from Back to the Future Part II is independently stylish? It could happen. Who knows.